Rebranded 483 10th Avenue Nabs Five Leases in Two Months
---
---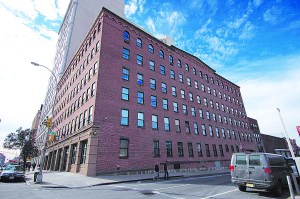 483 10th Avenue
Almost overnight, 483 10th Avenue has been transformed from an empty building on the fringes of Hell's Kitchen to the home of a $113-per-ounce truffle company and a fecund harbinger of gentrification.
"We've been on a roll," Jordan Spiegel of Sunburst Advisers told The Commercial Observer. Mr. Spiegel took over leasing for landlord 10th Avenue Holdings in spring 2009, when occupancy was around 20 percent; now the building is more than 94 percent full, he said. All of the recent leases were for more than five years.
In two months, five new tenants have signed in the building for a total of 14,176 square feet. Gourmet Attitude, purveyor of some very fine mushrooms, will open an office in the building. It's joined by California wine-seller Montesquieu; the Joe Torre Safe at Home Foundation (a project of the former Yankees' manager); and Yotel, which is about to open a new hotel at 42nd Street and 10th Avenue. Rounding out the five is European-style AQ Kafe, which will provide the area's first caffeinated alternative to a Dunkin' Donuts.
Mr. Spiegel attributed the property's sudden desirability to its rebranding from 500 West 37th Street to 483 10th Avenue. "The lobby needed to be upgraded a little bit to get people to come into the building to see the upper floors," he said.
He said asking rents are $35 a square foot. Considering the up-and-coming location, that's not exactly a bargain, but he said tenants are "wowed by the quality of the build-outs."
Geoffrey Robson of CB Richard Ellis represented the Joe Torre foundation. Gourmet Attitude was represented by Dan Schwartz of Winslow & Company. Gary Cedar of UGL Equis represented Montesquieu. Jeffrey Suchman of the Suchman Group represented Yotel. AQ Kafe represented itself.