Gandolfini's Nightmare Realized as City Buys Soho 'Dump' for $116 M.
---
---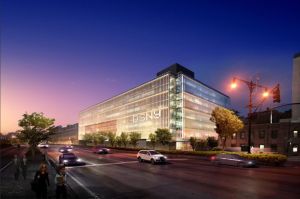 Not sure if James Gandolfini checks city records, but, if so, he might have had a heart attack on Friday night.
That was when the city completed its purchase of a UPS parking lot on West Street, at the corner of Spring Street, for which the city paid $116 million. That is across the street from the Urban Glass House and a number of other tony "West Soho"/"Hudson Square" condo buildings (505 Greenwich Street among them). Beside Mr. Gandolfini, boldface residents include couples Lou Reed and Laurie Anderson and Jennifer Connelly and Paul Betany plus Mad Men's John Slattery.
The plan is to replace the two-acre lot with an eight-story parking garage. For garbage trucks. Not surprisingly, the celebs and their neighbors are not pleased, but at this point, there's basically nothing they can do about it, despite a spirited campaign against the garage — including the celebs' own counter-plan for a publicly accesible garage that doubles as a park (albeit it with fewer truck spots).
The Bloomberg administration has been insistent that each neighborhood, no matter how well-to-do, must carry its fair share of the city's sanitation burden. In this case, can it even be that bad? The architects have told the Real Estate Desk it's costing millions of extra dollars just to make the facade — designed by Dattner Architects and WXY — not detract from the neighborhood. The celebs might want to just be grateful they're not living in Staten Island or the Bronx, where residents contend with actual dumps and transfer stations.