Cuozzo's Sweet Side (Sugar-Free)
---
---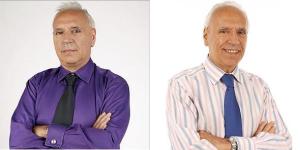 We always knew New York Post food critic, real estate columnist and jack-of-all trades Steve Cuozzo was a cuddly doll at heart. But rarely does he reveal that side in writing. Until now.
The Cuozz has an uncommonly sincere column in today's paper about his struggle with Type 2 diabetes — the same disease whose complications killed his father:
My case was unlikely to be mortal. But I review restaurants. Could I continue as a critic when I'd have to count carbs, practice portion control, give up sugar and shun certain foods altogether?

By summer 2009, I felt like I was falling apart. My symptoms were so severe — blood sugar above 300 compared to a healthy 90-140, spontaneous sweats and blurred vision — that my doctors feared I'd need to inject insulin.
And it goes on from there, ending with some helpful tips.
Read it all here.