Tenants Group: Some Senate Dems Betrayed Us
---
---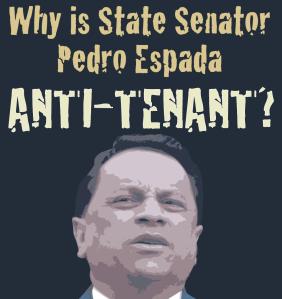 The pro-rent regulation folks are upset.
Last night, Tenants PAC, a group devoted to expanding rent regulations in New York, sent out a press release announcing that it was rescinding endorsements for three Senate Democrats from outside the city: David Valesky, Brian Foley, and Darrel Aubertine. The group had pushed to get all three elected over Republicans, but now it is, by its telling, finding them resistant to expanded tenant protections.
The display of displeasure toward the three Democrats seems to stem from last week's legislative session, when some of the more liberal Democrats in the Senate pushed for votes on a number of tenant protection bills, only to see them fail when there were not enough votes in the conference. The powerful landlord lobby opposed these bills, and urged its friends in the Democratic conference to oppose them as well.
"It was clear to those of us in the Senate gallery that evening that the Senate Democratic leadership attached no importance to our issues, and that their promises to deliver for tenants meant nothing," Mike McKee, a longtime tenant activist who has pushed legislation in Albany, said in a statement announcing the rescinded endorsements. "After tramping around in the snow in Oswego for several days to help the Democrats win control of the Senate, I felt that this was a terrible betrayal."
All helps illustrate how the landlords, who have become generous campaign contributors to Democrats, have had more success than many imagined in warding off any expansions of tenant regulations in the Democratic-controlled Senate. (For decades, until 2009, Republicans, who followed a pro-landlord agenda, had controlled the chamber.) This has frustrated tenant groups, who are now scrambling to get a scaled-back package through Albany.