Delta Said to Have Deal for New Terminal at JFK
---
---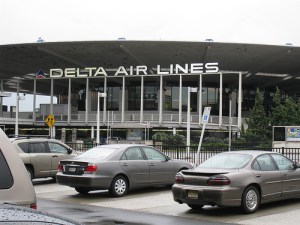 Delta's aging, crowded and generally unwelcoming base of operations at John F. Kennedy Airport may be nearing its final years, as the world's largest airline has reached a deal for a new terminal with the airport's owner, the Port Authority of New York and New Jersey.
According to multiple people familiar with discussions, the Port Authority's board tomorrow will be presented with a plan to give Delta a new home, a project that includes expanding a new wing onto Terminal 4 at JFK, the large International Terminal. The plans also call for demolishing Terminal 3, the larger of the two terminals out of which Delta operates, while keeping Terminal 2 intact, according to one person familiar with the talks.
The deal has been in the works for months, as Delta has been anxious to shed its aging terminal. Every other terminal at the airport has been redone in the past two decades now, as the airport has gradually tried to modernize.
This is not the first time such a deal has been announced. Back in 2000, Delta struck a deal with the Port Authority for a $1.6 billion new terminal that would have added on to Terminal 4.
ebrown@observer.com