Planning Commission Approves Domino Sugar Housing Development
---
---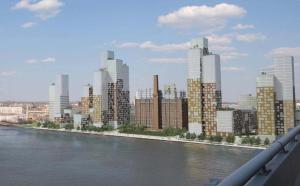 The City Planning Commission voted unanimously today in favor of a $1.5 billion residential complex along the Williamsburg waterfront. The vote brings the project one step closer to approval — and portends a potentially dramatic change to the Brooklyn skyline.
The project, located on the site of a long-vacant Domino sugar refinery, was hailed by commissioners for its commitment to affordable housing and historic preservation.
CPC Resources, a for-profit subsidiary of the nonprofit Community Preservation Corporation, is the developer behind the proposed 11.2-acre development called "The New Domino." Thirty percent of the slated 2,200 units in the development will be reserved for low and mid-income housing. The site, if approved by the City Council, will also hold retail and public space, including a waterfront esplanade.
Commissioner Angela Battaglia professed her delight at the project's commitment to affordable housing and the site's plan to reinstall the historic Domino sign on top of the old refinery.
"Many of you know that I grew up in Bushwick, but my mom's side of the family settled in Williamsburg," she said. "I spent many a day playing on streets not too far from that site. For me to see a new development with the Domino's sign up is just really remarkable."
Before the vote, CPC Resources announced two modifications to the plan, cutting the height of the tallest tower and reducing the parking. Early drafts of the proposal called for the tallest tower to stand at 300 feet, but after Commission recommendations, CPC Resources brought it down to 250. They also reduced the number of underground parking spaces from 1,694 to 1,428.
Even so, Ms. Battaglia, along with commissioner Karen Phillips, still had concerns about the height and density of the buildings. "My main concern with density is its impact on mass transit," Ms. Battaglia said. "I, myself, have waited for three or four packed trains to pass by during peak hours to get on a packed train. NYC Transit and the developer must, must work to address these concerns as the project develops."
In March, freshman Councilman Steve Levin rejected the proposal for those very reasons, arguing that the development is "simply too big" for the area just north of the Williamsburg Bridge. The City Council typically defers to the local member on land use decisions, suggesting that a compromise will likely develop at the Council level.
Still, the unanimous nature of the vote was a boost for the project. Senior vice president of CPC Resources Susan Pollock said the developers were exploring creative ways to alleviate the city's transportation concerns, mentioning yesterday's Times article calling for more ferry usage.
"Ferries would be great," she said. "We've got empty rivers, and we're only a few minutes away from Manhattan on a ferry."
Commissioner Irwin Cantor addressed the problem of density and affordability with a reference to an old Sinatra song.
"Affordability and density is love and marriage — you can't have one without the other."