Prokhorov, Ratner Seal Deal for Nets
---
---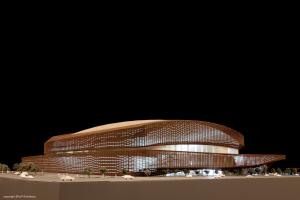 Officially, Mikhail Prohkorov owns the Nets.
Following Tuesday's approval from the NBA's Board of commissioners, the Russian billionaire today closed on a deal with developer Bruce Ratner to buy the Nets for $200 million (and fund tens of millions in losses), according to a joint statement put out by Mr. Ratner's Forest City Ratner and Mr. Prokhorov.
Per the announcement, the deal for the $900 million arena is now fully financed (Mr. Ratner apparently raised new financing needed to complete the deal), and the $510 million in tax-free bonds have been released from escrow.
Mr. Prokhorov's statement is below:
"This much-anticipated day has finally come and now the real fun begins of building a championship team with a state-of-the-art home in the Barclays Center at Atlantic Yards. It's a wonderful opportunity to combine great sports and good business, and I look forward to working with Bruce Ratner and Forest City and with the Nets organization as we move ahead. To the fans, whether in New Jersey, Brooklyn, or Moscow, I will do everything I can to give you a winning team. See you at the Draft Lottery."
And here's Mr. Ratner's: "This is a partnership that will allow us to bring Brooklyn and the Nets to a world-wide audience. I'm thrilled to have Mikhail on board and look forward to working with him as we embark on this journey to Brooklyn."
Update 3:55 p.m.
With the closing and a new $75 million investment by Mr. Prokhorov, credit ratings agency Standard & Poor's dropped a downgrade watch on the $511 million in tax-free bonds, leaving the existing BBB- rating on the bonds. Essentially, this means S&P believes there's less risk to the project than it did a few weeks ago, given that Mr. Ratner has found a way to get it fully financed.
Mr. Prokhorov, who now owns 45 percent of the arena development, put in an additional $75.8 million loan to help finance the project, according to the report, a loan that "has certain equity like characteristics."