In the Shadow of the Boom
---
---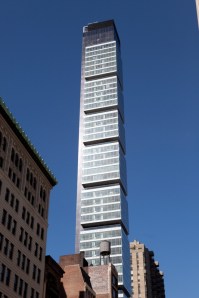 Once upon a time, two young men named Ira Shapiro and Marc Jacobs left Rockland County for the isle of Manhattan to build a tower all the way to the sky. Day by day, week by week, their tower at One Madison Park rose. New York's glitterati took notice. Parties were held. Photographs flashed. Messrs. Shapiro and Jacobs knew how their story would end: They'd walk away richer than before. More important than before. They'd be New York powerful.
They almost succeeded. Together, they built one of the tallest, most architecturally ambitious Manhattan skyscrapers of the decade. But in the end, their fairy tale was more Brothers Grimm than Walt Disney, ending with a fractured relationship between the onetime friends, a pile of lawsuits and, now, a looming foreclosure.
In February, iStar, the bank that now holds the more than $200 million debt on the 60-story condo tower at 23rd Street and Madison Avenue, sued for foreclosure. The men's firm, Slazer Enterprises, is the defendant in more than a dozen lawsuits. And Mr. Jacobs and his wife, Rochelle, are now accusing Mr. Shapiro of fraudulently misusing his and his wife's signatures.
Earlier this year, Mr. and Ms. Jacobs asked the Rockland County district attorney's office to investigate more than 18 instances in which they claim their signatures were fraudulently used on personally guaranteed promissory notes and other documents related to the construction of One Madison Park, according to their attorney, Lawrence McCarron. "The DA, from what I understand, is investigating," Mr. McCarron told The Observer. The district attorney's spokeswoman declined to comment.
"We're also pursuing a civil lawsuit," Mr. McCarron added. "Marc feels terrible about this. A lot of these investors are personal friends of his. He would have liked to see the project proceed, so maybe these people can come out with something.
"I think a lot of people are going to have to account for their actions."
BY MANHATTAN REAL ESTATE standards, Messrs. Shapiro and Jacobs, both 44, came from nothing. Which is to say they were successful, but not grotesquely so. Mr. Shapiro hails from a local real estate family; Mr. Jacobs was a successful commodities trader.
Prior to the construction of one of the biggest Manhattan condo towers in recent memory, Messrs. Shapiro and Jacobs had never built a project on the island. Earlier in the decade, they had erected their only other real estate project, a modest, 23-unit condo development, Mirabelle-on-the-Hudson, in … North Bergen. An ad that ran in New York magazine in November 2004 boasted of the seven-story building's "panoramic river and Manhattan skyline views"; and "Kohler cast iron soaking tubs." The asking prices ranged from $500,000 to $1.75 million.
A lot for North Bergen. Peanuts by Manhattan standards. Following Mirabelle's apparent success, their ambitions grew.
By 2005, they were scoping out the promised land. They called Eastern Consolidated broker Marcia Rose Yawitz. They wanted to see about a plot of land on 28th Street and Eighth Avenue. It was taken. Ms. Yowitz found them another one, a better one. Right on 23rd Street, between Broadway and Park avenues, on the unruly, un-landmarked south side of Madison Square Park. They snapped it up. In late 2005, in the middle of the transit strike, they entered into a contract to purchase 20 and 22 East 23rd Street from Peter Fine for $36.4 million. They closed on the purchase in spring 2006. In June of the following year, they bought 24 East 23rd Street, an adjacent plot, for, $16.8 million.
They decided they would call their project Saya. No, on second thought, they would call it One Madison Park.
At the time, construction loans were disastrously easy to come by. In May 2006, Column Financial, a subsidiary of Credit Suisse, whose New York headquarters happens to be located on Madison Square Park, issued separate mortgages to Slazer Enterprises for $25.3 million, $66.3 million and $8.4 million, according to city documents. Later in 2007, iStar, a private commercial real estate banker, purchased the debt on the building.
Meanwhile, Messrs. Shapiro and Jacobs hired architects Cetra/Ruddy, the firm responsible for 77 Hudson on the Jersey waterfront and the Orion on 42nd Street. The tower rose. Problems rose with it.
BY APRIL 2007, very few units (if any) had been sold," according to a Jan. 28 lawsuit filed by advertising virtuoso David Lipman against Mr. Shapiro and friends.
"In truth, and among other reasons, defendants were unable to market the Property because of their lack of a successful track record in the marketplace and their lack of standing in the New York City luxury condominium industry."
So, Messrs. Shapiro and Jacobs "approached David Lipman and asked him to enhance Property's brand and image (and in turn to increase its value) by turning the Property into a luxury brand, akin to Mercedes, Rolex and other well-known luxury items."
In return for two 15-floor units in the building and $800,000, Mr. Lipman would use both his agency's infrastructure and his personal network to help market the tower. By his own account, Mr. Lipman delivered.
He reached out to his contacts at Creative Artists Agency, which agreed to design a special screening room in the building. He reached out to Charlie Trotter, who agreed to open a restaurant in the building. He introduced the developers to Rem Koolhaas, who agreed to design the lobby, the spa, the fitness room, the screening room, the restaurant, the wine cellar and a 22-story annex to the original building. Celebrities like Naomi Watts, Liev Schreiber and Susan Sarandon were said to have purchased units in the building.
As all of these seemingly positive developments were going down, the two men were already casting about for short-term loans to keep the project going amid what had become the frothiest New York real estate market in a generation. They found willing and deep-pocketed lenders. On March 14, 2007, David Chu, the founder of Nautica and the owner of a gorgeous townhouse at 25 East 22nd Street, by the development site, agreed to lend Slazer $1.4 million, according to Mr. Chu's attorney, Christopher Chang. Five months later, Mr. Chu lent Mr. Shapiro another $870,000. A year later, in September 2008, Lehman Brothers collapsed.
Mr. Chu is now one in a long line of litigants suing Slazer Enterprises.