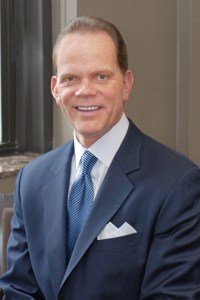 The Commercial Observer: Things seem to be looking up for SL Green. Just recently your stock went up.
Mr. Piccinich: You talk about the economic downturn, when we went into the single-digit range, and where we've climbed now—I see it as the same experience we had eight years ago, when we went from $28 [a share] to $150. The whole REIT sector, SL Green in particular, is trading very well. We've climbed up to upwards of $50, and I think that momentum is going to keep on going.
What updates can you share with me about 1515 Broadway, the former home of MTV's Total Request Live in Times Square?
We completed a $40 million redevelopment there. If you get a chance, in our lobby there, we installed the Schott glass that wraps around the entire lobby. I personally think it looks like a glacier. We brought in Lens limestone from France; we brought in some Italian marble. That whole lobby was transformed to make sure we touched upon all the important things. Look, there's a lot of activity there with the Viacom folks going in or out, and them being our anchor tenant. We have acoustical ceilings so there's no echo, because you have 30-foot ceilings. It's spectacular.
You have kids. Do they pepper you with questions about
Total Request Live?
They absolutely do. That and Nokia Theater. Having a 21-year-old and a 16-year-old—who just turned 16 this past Friday—and a 10-year-old, absolutely. And even with TRL suspending their operation there, you always see stars going in and out of that building, so 1515 is a topic of conversation.
You completed renovations last February at 1551 Broadway, home to the retailer American Eagle. What has the response been like since the store opened in November?
I'm really excited about American Eagle, which we finished when everywhere else in the city, you saw cranes stopped-and we were building during the downturn. If you get a chance, you might want to go by, because the 250-foot LED signage tower that's there? They came up with a pretty novel idea, American Eagle: If you make a purchase, they send you downstairs, they take a picture, and they give you 15 seconds live up on the screen. It's phenomenal. It's a great idea. That sign is a sight to see, so whenever I walk by, it makes me really proud. You have to see it.
You recently finished an M.T.A. office consolidation. Tell me about it.
With our tenants, one of the things we boast about is our ability to be able to move people in and around the city. They were located in Manhattan and they were relocating from another building, so we were able to take 333 34th Street. This is where they were going to consolidate the majority of their back office space. That building is just sparkling from a distance. We have a white-box retail space that we have some pretty active interest in. And the lobby ended up itself, it opens up, it's floor-to-ceiling glass. This is what we do-we look to do things in terms of curb appeal, because if you can't get someone to take a second look … I always tell my folks, you don't get a second chance on first impressions.
First impressions do seem to be at the top of SL Green's list of priorities. You guys have been pretty vocal about those chandeliers in the lobby of 100 Church.
We are getting rid of those chandeliers! Actually, those chandeliers may be coming down as we speak. We did what we do best; we walked into that lobby. Some interesting stuff the prior owner did there! You really have to go inside and try to figure out what can stay and what can't, and every building and every lobby has a budget, so you can't just go in and decide to cut out slab. You have to take into account what the building's meaning is in that particular area. It's sitting alongside the trade center complex, so you have to understand how to integrate that into a community where the church across the street sold their air rights to put up a residential needle building. So we're well under way. We feel we have a solution for 100 Church that will, again, reach out to the people that are passing by.
Speaking of the prior owners of 100 Church—the Sapir Organization—they and now Macklowe Properties have filed lawsuits against SL Green recently. What's the story?
I wouldn't say it's litigious. I always say that in those situations, I think there's going to be more situations as people go back to their lenders and refinance, and folks can arrive at a conclusion whether they can or cannot make it. You're going to have situations like that. It's part of the reconciliation process. You buy something, you own it, you build a fence around it-just like anything else in life.