Bar Association: Reform Community-Developer Dealmaking
---
---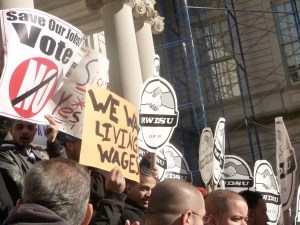 The Association of the Bar of New York City doesn't seem to think all that highly of the current process by which landlords cut formal, non-standardized deals with community groups—known as Community Benefits Agreements—to win approvals for planned developments.
CBAs proliferated in recent years, particularly in the late real estate boom, as community groups and elected officials rushed to try to wrest concessions and mitigations from developers who may or may not be financially prepared to shower a bounty on the community. The use of CBAs has been criticized, in part because of the somewhat arbitrary manner in which they are formed (there is no standard for which groups end up being signatories in a CBA or participate in the negotiations with a developer, for instance), and the offerings from developers may not necessarily benefit the larger public interest, but rather just assuage a certain small constituency that happens to be negotiating the CBA.
CBAs have popped up at Atlantic Yards, Columbia University's planned West Harlem expansion, and recently at the Kingsbridge Armory development in the Bronx, which was voted down by the City Council after the requirement of a "living" wage became a make-or-break for the elected officials involved.
The well-researched Bar Association's report piles on more criticism and suggests that the tit-for-tat linking of a council land-use approval with a CBA is improper, if not illegal, given that developers are effectively buying zoning changes by paying certain community groups.
It recommends that the city lead a discussion on how to adjust or standardize CBAs, and to formally separate them from the land-use approval process.
From the report:
"The goal is appropriate, but the history of such tools shows that negotiations between developers on the one hand, and either land use officials or community groups on the other, may lead to real or perceived conflicts of interest, compromise land use approval processes, and foster rent-seeking. CBAs accordingly must be carefully circumscribed."
The report, which comes as City Comptroller John Liu is organizing a committee to propose changes to the CBA process, also suggests reconsidering the manner in which communities are involved in land-use approvals, as the boom in CBAs could be attributed to a lack of voice that many community groups feel they have throughout the process.
"Community involvement is a good thing," said Ken Fisher, an attorney at Cozen O'Connor and a former councilman who chairs the Bar Association's land-use committee, "but the vehicle that's written into the land-use process—namely the community boards— doesn't necessarily meet all of the needs, and that's why these ad-hoc agreements have sprung up."
The full report is here.
20071844-TheRoleofCommunityBenefitAgreementsinNYCLandUseProcess