Boutique Tailor Takes 1K Feet in Cohen Bros.' 805 Third
---
---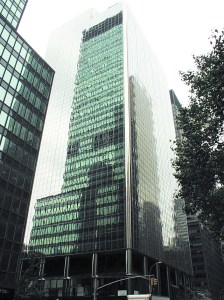 805 Third Avenue
Touting a setting of plush leather and custom cabinetry, Joseph's Custom Clothing for Men, a high-end boutique and tailor, is establishing itself on the Third Avenue corporate pinstripe scene.
"Could there be any better synchronicity than this stellar location," said Faith Hope Consolo, broker of the custom clothier's new 1,000-square-foot lease. "Surrounded by a virtual client base of executives from Fortune 500 companies in the immediate area, Joseph's will provide them with quality suits on a par with Brioni, Kiton and Loro Piana, but with that extra measure of care that truly defines custom tailoring."
If that litany of Italian branding means anything to you, then count yourself among the synchronous-also, according to a release from Ms. Consolo, you buy your clothing by the wardrobe, a not infrequent habit of Joseph's shoppers.
Ms. Consolo and Joseph Aquino of Prudential Douglas Elliman represented both the landlord, Cohen Brothers Realty Corporation, and the tenant.