New York's Biggest Brokerage: Real Estate Will Once Again Soar 'Like a Shooting Star'
---
---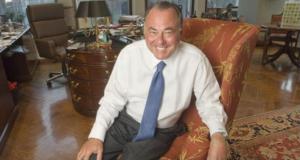 Painfully early Wednesday morning, on the 18th floor of the MetLife Building, CB Richard Ellis Global Brokerage Chairman Stephen Siegel, the patriarch of New York's brokerage community, held forth on the future of New York commercial real estate.
"This city will bounce back faster than any city in the world," said Mr. Siegel, who admitted he's thought to be something of a bull, though he considers himself a "realist." "Once it begins its real turn around the corner, it's going to shoot like a shooting star."
Mr. Siegel's fellow presenter, executive managing director Matt Van Buren, backed up the sunny prognosis with some surprisingly positive statistics. First, he pointed to a surge in temp jobs, generally thought to be a leading indicator of job market recovery. And, as Mr. Van Buren pointed out, "For us, employment is extremely, extremely important and the factor we track the closest." Jobs require people. People require offices. Offices require office buildings. You get the picture.
In the same vein, Mr. Van Buren said the amount of available space in the office market seems to be stabilizing. So are rents. And, the difference between asking and taking rents – which is directly correlated to how much power tenants have in negotiations with would-be landlords – is diminishing. Meanwhile, the amount of sublease space is shrinking.
Mr. Siegel was even bullish on downtown, in stark contrast to rival Cushman & Wakefield's assertion a day earlier that the vacancy rate in downtown Manhattan could soar to 15.75 percent. He pointed to tenants making long-term commitments in Lower Manhattan, like law firm Strook & Strook & Lavan's renewal of its 225,000-square-foot lease at Joe Moinian's 180 Maiden Lane, and even predicted that Merrill Lynch (aka Bank of America), which has a multi-million square-foot lease expiring in 2013 and a a brand new skyscraper in midtown, would stay put.
"This is a very resilient city, and downtown is going to be right at the heart of it," Mr. Siegel said.
drubinstein@observer.com