Proprietress of the Skyline
---
---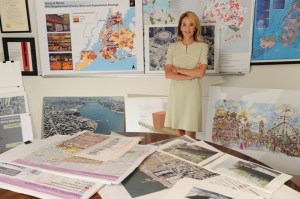 As the summer was winding down, Hines Interests, the Texas-based firm planning a 1,250-foot slender tower set to soar next to the Museum of Modern Art, visited the Department of City Planning's Lower Manhattan offices, designs in hand, to seek the approval of Amanda Burden, the agency's director. The tower, designed by acclaimed French architect Jean Nouvel, was lauded in the architectural community.
She wasn't pleased.
"They hadn't finished the design." Ms. Burden said plainly in her office last week. "They were asking special permission to penetrate an iconic zone of the skyline, and they hadn't finished the design. I was stunned."
Recalling her meeting, she winced as she gestured at a photo of the skyscraper plans Hines presented to her.
"It was an A-frame with a mechanical box in it," she said of the tower's top. "And I'm championing this building, and I'm telling everybody this is just thrilling, it's my favorite building, it's exciting, and then this is what we saw.
"And I told them, 'You want special permission to break the skyline. I applaud that. But with what?'"
So Ms. Burden, who is also chairwoman of the City Planning Commission, did what few saw coming: Acting at the commission meeting on Sept. 9, in a clean break, she cut the tower by 20 stories, restricting its height to 1,050 feet. The official reason, according to commission documents: "to minimize adverse effects on the character of the surrounding area" brought on by "highly visible mechanical equipment."
NOW NEARLY EIGHT YEARS into her tenure, and with the possibility of another four seeming rather likely, Ms. Burden is an increasingly powerful and apparently emboldened force in the Bloomberg administration—one whose often forceful views are imprinted and emblazoned on nearly every major skyscraper, mall, public plaza and large development that rises in city limits.