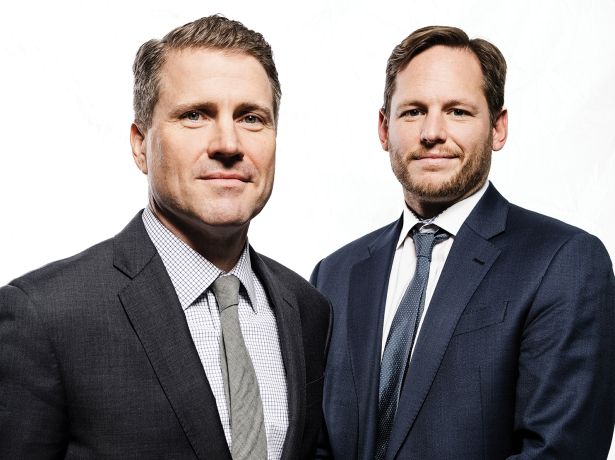 #15
James Millon and Tom Traynor
Co-Heads of Large Loans in the U.S. at CBRE
Last year's rank: 19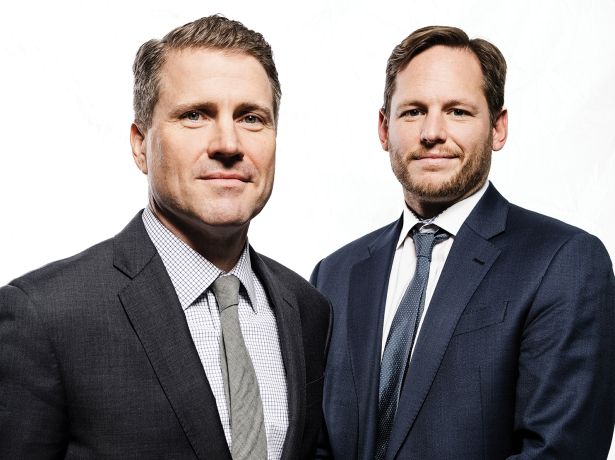 In the depths of the ocean of deals, there are some whales to be found — but only a select few advisory firms truly understand their songs. 
CBRE closed $16.1 billion in transactions over the past year, across 44 deals. That's an average deal size of a whopping $366 million, and represents 20 percent of CBRE's debt and structured finance volume overall in the U.S. Again, with a team of six. 
At any one point, the team typically had between $3 billion and $4 billion in the market or at the closing table, across various asset classes, markets and financing executions. Industrial comprised 48 percent of originations — followed by office at 30 percent — but Millon and Traynor also grew their life sciences activity, and closed their first data center deal. 
One standout transaction is the $1.25 billion construction loan the team closed in July 2021 on behalf of sponsors L&L Holding and Columbia Property Trust for Manhattan's Terminal Warehouse. It involved not one, but five lenders.
"Terminal Warehouse was big and complicated and closed in a really challenging market, so we had to put a lot of different lenders into it and structure it in a way that fit the capital that was out there at the time," Traynor said.
But, New York City "really needed that deal," Millon said.
Indeed,  a mammoth non-recourse construction financing on a 1.2 million-square-foot office with no pre-leasing in place would underscore a commitment to — and belief in — New York City office, and so the Terminal Warehouse loan became a canary in the coal mine of sorts. 
The financing closing was the ultimate validation, Millon said: "We were even getting emails from some of our competitors, saying 'Great job.'"
Another pioneering transaction was Medical Properties Trust's $1.7 billion equity recapitalization and debt financing of a portfolio of eight inpatient general acute care hospitals in Massachusetts. Apollo provided a roughly $920 million loan in the deal, arranged by Millon and Traynor.
"We're blazing a new trail in that field," Millon said. "It's not traditionally financed in our market, so that deal certainly sticks out in my mind as something that was different, unique and creative." —C.C.