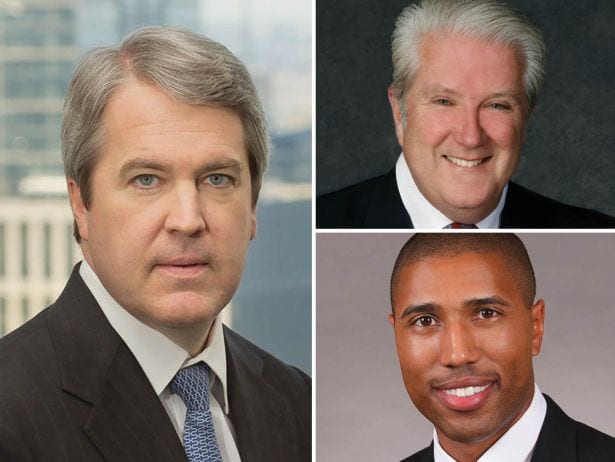 #3
Brian Baker, Al Brooks and Chad Tredway
Global Head of Commercial Mortgages at JPMorgan Securities; Head of JPMorgan Chase Commercial Real Estate; Head of Real Estate Banking at JPMorgan Chase
Last year's rank: 1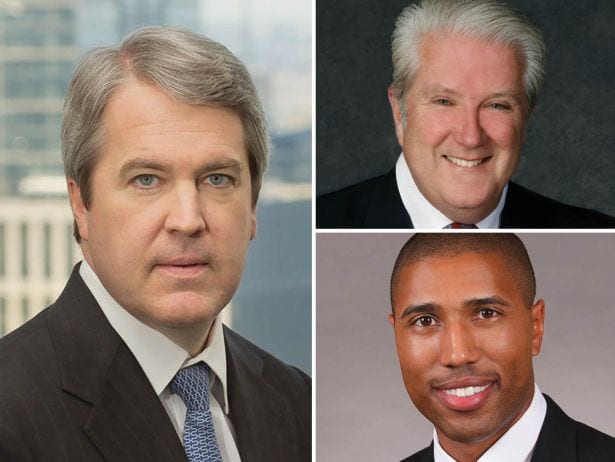 We expected our portfolio to do well, but, over the past year, it exceeded our expectations," Al Brooks said. "This was due to a combination of the fantastic clients we work with and a strong focus on major, core commercial real estate assets."
"Our client focus is at the heart of everything we do," Chad Tredway added. "We continued to lend consistently throughout the pandemic over the past year, and maintained a strong and consistent client base."
JPMorgan Chase racked up $19 billion in total CRE originations during the pandemic, with notable transactions that included a $316 million deal for LBA Logistics and RXR Realty's construction of Amazon's latest logistics hub in New York City, and a $20 million new markets tax credit financing for a birthing center in the Washington, D.C., area.
Throughout the pandemic, the bank has been a dependable, consistent source of capital for its clients, deepening relationships and helping to strengthen communities. Further, the Community Development Banking group reached record financing for affordable housing projects in 2020.
"We're fortunate to have leaders at JPMorgan Chase who encourage our teams to make the best decisions for our clients and be long-term thinkers, which is reflective of how we built this business," Brooks said. "In particular, we see a massive need for housing, which is why we've stepped up our goals in financing affordable housing. There's also going to be a bigger role in technology. We've been digitizing our business for 20 years and have one of the lowest efficiency ratios in the industry."
In October, JPMorgan Chase announced new long-term commitments to advance racial equity, committing an additional $30 billion over the next five years to provide economic opportunity to underserved communities, especially the Black and Latinx communities.
Then, in their corporate and investment banking business, the bank racked up a whopping $17 billion in originations over the past year. Further, JPMorgan Chase came in at No. 2 in terms of agency CMBS bookrunners in 2020, and was the second-largest contributor to U.S. CMBS conduits and SASBs CMBS.
Buzzed-about deals originated by Brian Baker's team included the $485 million loan for the luxury St. Regis Chicago condo tower; a $171 million loan for Silverstein Properties' mixed-use property at 529 Fifth Avenue; and a $600 million refinance for Chase Center Towers — two office buildings that encompass over 550,00 square feet and surround the new Golden State Warriors' arena in San Francisco.
"We've been in our seats the entire time," Baker said of the firm's accessibility during COVID-19. "We are solutions-oriented for our clients, and no firm has a larger commitment to the industry, in terms of balance sheet, people and resources." 
The bank devoted its time to financing new customers as well as existing relationships.
"We offer a wide range of services all under one roof and therefore see many repeat clients," Baker said. "Our comprehensive offering also positions us on the forefront to acquire new clients."
It's been a long year, but as we near the end of the tunnel, the industry has plenty to consider as it readies for a busy second half, Baker said: "If you think real estate got a little boring there for a while, maybe it did. Pre-COVID, the only thing people wanted to talk about was New York City condo prices. But, coming out of COVID, the conversation around real estate is extremely interesting, complicated and actually quite fascinating."—C.C.