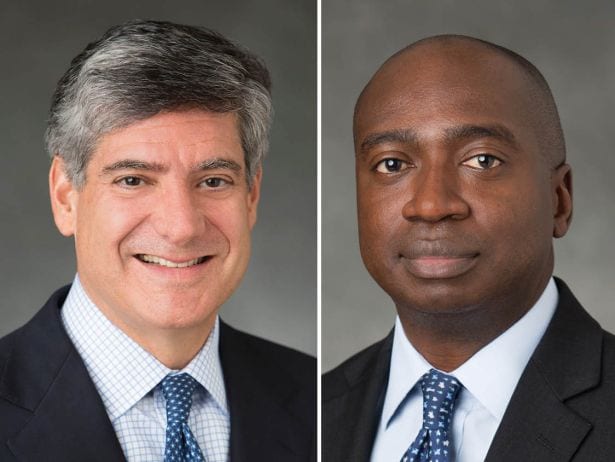 #6
James Flaum and Kwasi Benneh
Global Head of Real Estate Lending; Head of North America Commercial Real Estate Lending at Morgan Stanley
Last year's rank: 6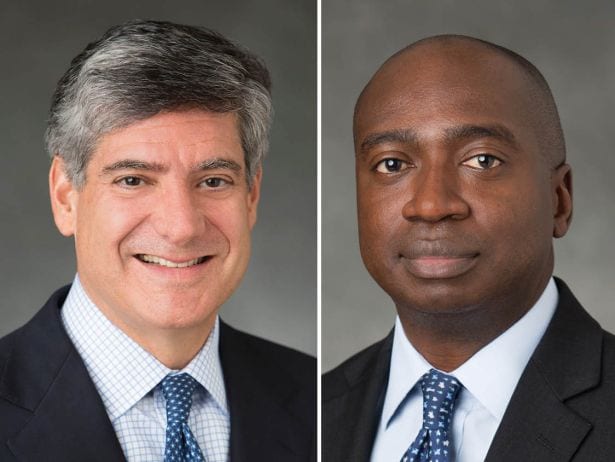 The capital markets complications that plagued most of 2022 forced the experienced lending operation led by James Flaum and Kwasi Benneh at Morgan Stanley to shift from a strategy that favored the CMBS market — as they had pursued in 2021 — to one with more emphasis on balance sheet execution. 
"The first quarter was basically the realization that the capital markets weren't going to be a big player for the year, and so the rest of quarters two, three and four was a huge pivot for the whole lending industry to execute deals as balance sheet loans," Benneh explained.  
The pivot wasn't without profit: The team completed $15 billion in total originations in 2022 —
$9 billion in balance sheet and $6 billion in CMBS. 
Unlike most firms, Morgan Stanely's real estate team runs its balance sheet and capital markets business side by side, which has allowed them to dance back and forth over the years from one market to the another in terms of which one is most efficient in delivering capital to clients. This ability to underwrite large balance sheet loans with syndication exits was the key to Morgan Stanley's success over the last (mostly tumultuous) 12 months. 
"Our ability to distribute balance sheet loans is probably second to none," said Flaum.  
The bulk of what the firm originated last year was for the industrial and multifamily sectors, but it also originated loans for projects in the life sciences, medical office and some traditional office spaces. Major deals included a $2.3 billion refinancing of a large part of Blackstone's industrial portfolio, half of which was executed in the CMBS market; and a $1.2 billion deal with Starwood for multifamilies that were executed in the loan syndication market. 
"Our clients have a very long memory on how their lenders are able to provide solutions even when other executions are sort of challenges," Benneh explained. "That has created a lot of value for our clients and made our team successful." 
Another secret to the duo's success is familiarity: They've been partners for 20 years. 
"We have a lot of longevity on our team, as most members have been here for over a decade, maybe longer," Flaum said. "We've been through multiple markets together, starting with the Great Financial Crisis [of 2008], and, when you've worked that long with people, you kind of adapt to each other. It's really good energy." —B.P.