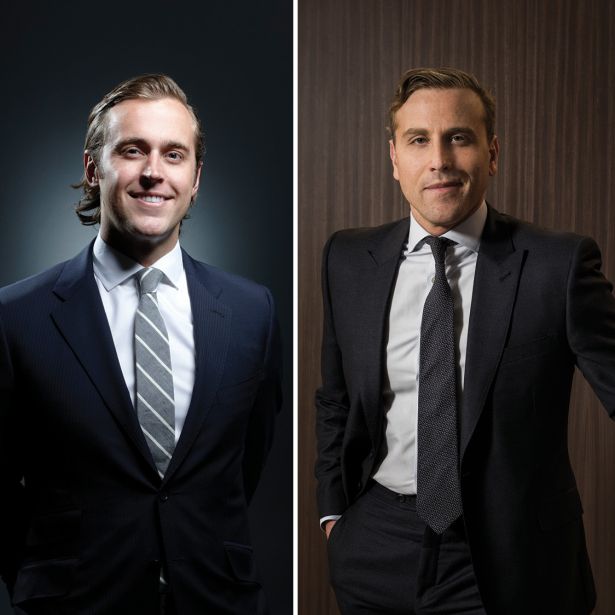 #5
Dustin Stolly and Jordan Roeschlaub
Co-Presidents of Debt & Structured Finance at Newmark
Last year's rank: 8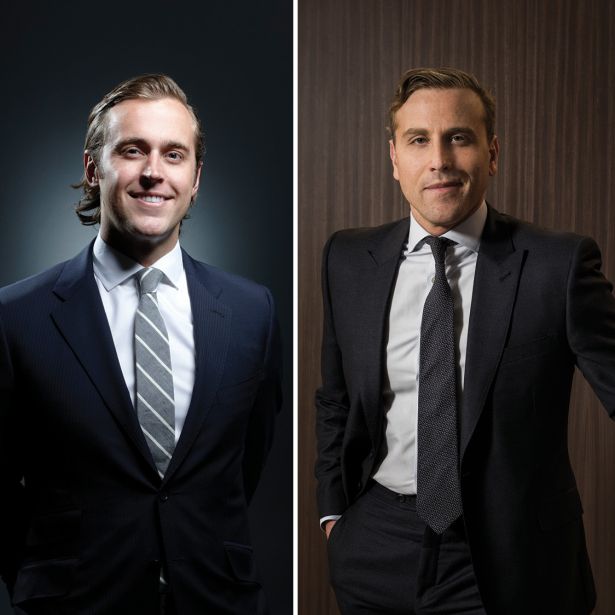 This year undeniably underscored the fact that savvy advisers are worth their weights in gold. 
When the market switched directions and borrowers couldn't rely on their normal lenders, they pivoted with them and found solutions. When deals fell apart, they pieced them back together, often pulling in new lenders at the 11th hour. When JV equity needed to be raised, they raised it from capital sources far and wide. And when loan sales started to materialize, they led them. 
Case in point: The largest loan portfolio sale in recent memory — one that couldn't be talked about— now rests in the hands of a Newmark team.
Dustin Stolly and Jordan Roeschlaub work hard to provide the best possible service to their clients, in good times and bad. "We pride ourselves on being at the forefront of ideas and information flow, and that showed in how we transacted in the brave new world," Roeschlaub said. 
It also showed in their overall transaction volume. Hang onto your hats — here come the stats. 
The dynamic duo arranged a whopping $29.1 billion of loans in the past year; raised $5.18 billion of equity; and closed $1.3 billion of loan sales in what Roeschlaub describes as "a year of true manual labor." 
"Our volume is based on sheer effort," Stolly said. "We're working with the most sophisticated capital in the world and finding new capital every single day. The biggest challenge was the meteoric rise in interest rates and the volatility associated with hyperinflation, which stalled transaction activity, stalled the investment sales market, and meant we had to work twice as hard as we normally do." 
Stolly describes Newmark's reach in assessing and meeting its clients' needs like the hub and spokes of a wheel, or the inner mechanics of a finely tuned watch — and, hey, their business rivaled Rolex in terms of accuracy of movement.
"Each of our deals tells a story about where the market was at that point in time,"  Roeschlaub said. 
Ain't that the truth. From straightforward refinances to programmatic equity raises and both performing and nonperforming loan sales, the team was continuously busy across the map, putting in days that started at 5 a.m. and ended at 10 p.m., even on weekends. 
As a mere sampling, there was the $536 million construction loan for GFP Real Estate, Metro Loft Management and Rockwood Capital's office-to-multifamily conversion of 25 Water Street; the $260 million refinance for RXR's 75 Rock; the $1.2 billion construction loan for the Fontainebleau Las Vegas; the $248 million refinance for BentallGreenOak's The Biltmore; and a $500 million JV equity partnership for Castle Park Partners focused on manufactured housing, recreational vehicle resorts and campground assets.
The team didn't shy away from office deals, either, which comprised one-fifth of their volume, with industrial beating office at 26 percent. 
Refinances — understandably — comprised the lion's share of the deal flow, at 62 percent, followed by acquisitions (24 percent) and construction (14 percent). 
As watch lingo goes, the finance markets are undoubtedly in need of some winding these next couple of years, and we're pretty sure borrowers are thankful to have Stolly and Roeschlaub continue to show up to push deals across the finish line, right on time. —C.C.