Presented By: Milrose Consultants
Scaling New Heights: Milrose Consultants' National Growth Through Strategic Partnerships
---
---
Clients from across the country are turning to Milrose Consultants and its family of companies to navigate the complexities of building code requirements, municipal compliance, and ongoing maintenance needs. For over 30 years, this company has partnered with industry experts to become trusted advisers and the nation's leader in the field of building code consulting, zoning analysis, and municipal permitting.  
"Across the country, clients can turn to Milrose for our expertise in navigating complex regulatory landscapes and obtaining the necessary permits," said Lou Milo, co-founder of Milrose Consultants. "By providing comprehensive support and fostering collaboration, Milrose empowers clients to confidently pursue large-scale development projects and outsource their ongoing building maintenance and occupancy needs effectively."
Founded in 1988, Milrose provides service in both city- and state-based municipal agency permitting across all 50 states. The company's comprehensive approach to projects has earned it a top spot as a respected industry leader. From local, state, federal, and international building code reviews to zoning consultations, real estate developers, design professionals, and the construction industry, Milrose continues to evolve by pursuing strategic partnerships to meet the emerging and changing needs of its clients. 
In 2019, Milrose partnered with Southfield Capital, a premier private equity firm that specializes in the scaling of growth-oriented midsize companies in the business services sector. With their sights set on expanding the company's service offerings and market reach, the New York City-based executives at Milrose were well positioned to elevate the company to a national level. "We view this partnership as building bridges to our future," said Dom Chieco, co-chairman of Milrose Consultants. "We value each one of our clients. Now, we can expand our expertise to provide world-class, one-of-a-kind support to our client base on a national level."
Milrose expanded its partnerships even further with a lineup of technical experts and specialists which currently comprise its family of companies. This team has grown to include Permit Advisors, SF Codes, McCormick Compliance Consulting, Integrated Group, Masterplan, JM Zoning, Project Expediters Consulting Corp and its strategic partner, Howard L. Zimmerman Architects and Engineers DPC (HLZAE). Now, with a national network of trusted code and zoning analysts, architects, engineers, special inspection technicians and other experienced projects advisers, Milrose is equipped to offer its clients consistent, high-level service wherever they choose to build. "We are proud to announce that our corporate vision has evolved significantly," said Milo. "We are now one nation, one firm."
Building on this vision, executives from McCormick Compliance Consulting, HLZAE, Permit Advisors and Masterplan have expressed their own excitement about the partnerships. "We're all one firm now, and we have you not only covered in this city, but with the best in that city. That's a really strong argument for any client," said Casey McCormick, founder and CEO of McCormick Compliance Consulting. The company's expanded suite of services can now support all project types and industry sectors across every major U.S. market. 
HLZAE, New York's go-to architecture and engineering firm for infrastructure and exterior restoration, preservation, and alteration of existing buildings, provides many of Milrose's new lines of services. Howard L. Zimmerman, president of HLZAE, commented: "At HLZAE, we strive to always give our clients the excellent service they deserve, and this partnership is just one more way for us to do that."
Roy Hasson, president of Permit Advisors, offered his take on the value of having a team of industry experts: "Clients no longer need to look for individuals in new markets to assist with their projects. One call to a Milrose professional is all it takes to manage your firm's national development needs." As the largest real estate planning firm in Downtown Dallas, Masterplan president Dallas Cothrum, Ph.D., added his thoughts: "It's an exciting time for our entire Texas team. This opportunity gives us a chance to expand our offerings and locations while still taking care of our clients. This is a new and promising chapter as we approach 50 years in business." 
The company credits its expansion and growth to a strong leadership team, complemented by support from its strategic partners. "As trusted industry advisers, our leadership team has been instrumental in introducing new services to broaden our national coverage," said Dominic Maurillo, chief executive officer of Milrose Consultants. "Our expanded coverage ensures that our clients receive consistent, world-class support across many strategic and mission-critical services, regardless of the geographic location of their projects or ongoing maintenance concerns."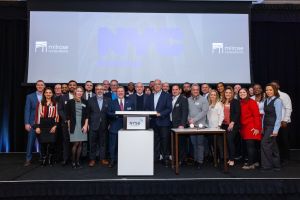 From coast to coast, the company's track record speaks for itself. Standout projects over the years have caught the attention of prestigious names in the industry. Name-dropping a few, these include: David Geffen Hall at Lincoln Center, New York Stock Exchange, Frank Gehry's The Grand, Google NYC Headquarters, American Airlines Center, and One Beverly Hills. Among the many iconic buildings the company has worked on, a key project that exemplifies Milrose's dedication to excellence is SL Green and KPF's One Vanderbilt.
Rising more than 1,400 feet into the sky, One Vanderbilt is the tallest office building in Midtown, not to mention one of the tallest skyscrapers in New York City. This supertall structure features an underground connection to Grand Central Terminal and has delivered $250 million in public transit improvements. Given the massive scale and complexity of the project, Milrose was brought in during the initial planning stage of the eight-year undertaking to develop a plan of action that allowed the project team to obtain the necessary zoning amendments and special permit approvals within a 48-month construction schedule. Through proactive planning, strategic coordination, and continuous communication among stakeholders, Milrose succeeded in helping to bring One Vanderbilt to project completion — under budget and ahead of schedule.
Milrose has numerous case studies that similarly demonstrate the company's ability to overcome challenges and deliver results on behalf of its clients. It is this unwavering commitment to providing an exceptional level of client service that has enabled this company to propel to its current size and standing.
With office locations in every major U.S. city and a dedicated team of over 400 employees, Milo states that Milrose is now the go-to destination for end-to-end solutions for building the compliance needs of clients throughout the nation. "As experts in our field, clients put their trust in us to spearhead challenges, form solutions, and execute the proper strategies to ensure project success." As Adam Lutz, regional design lead – Americas – at Google, sums up the experience of working with the company: "Milrose gets the impossible done." 
You can't get better than that. 
Connect with Milrose to learn more about their comprehensive portfolio of municipal compliance services throughout the U.S.