Urban Standard Capital Makes $38M Construction Loan on Crown Heights Rental
Haussmann Development's is one of the last to use the now-expired 421a tax abatement
---
---
Haussmann Development, a New York City-based developer, has secured $38.5 million in construction financing to build a 76-unit rental property on the site of a demolished parking lot in Crown Heights, Brooklyn, Commercial Observer can first report. 
The $55 million building will include 23 affordable housing units financed through the now-expired 421a tax abatement. 
Urban Standard Capital provided the construction loan, while Haussmann Development is contributing an additional $17 million in equity together with its development partner, Kriss Capital. 
"We are facing a housing crisis, and we will not be able to address that issue without
robust development of all types in every corner of our city," said Josef Goodman, principal of Haussmann Development. "There's a scarcity of new, high-quality rental housing in central Crown Heights, and we look forward to providing 76 new homes for New Yorkers in one of its best neighborhoods." 
Located at 827 Sterling Place, the building site is a recently demolished parking garage. When completed, the new rental building will include studio, one- and two-bedroom apartments, and will feature a fitness center, a resident lounge, a kids room, bike storage, a roof deck and on-site parking. Construction is expected to be finished by summer 2025.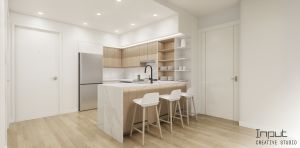 Seth Weissman, founder and president of Urban Standard Capital, said his firm was attracted to the project based on their previous work with Goodman and the needs of the neighborhood. 
"A big part of our business is serving as a talent manager and identifying who is up and coming, who is active, and who shares our passion and commitment to New York City housing," Weissman told CO. "We started financing three 421a housing projects with Josef in Harlem, and he brought this one to us."  
Weissman conceded it's been difficult to finance housing projects in New York since the state legislature let the 421a tax abatement expire last summer. 
"Obviously, building [here] has come to a halt," he said. "There's a huge demand and interest from developers, but, ultimately, capital markets aren't determined by the City Council or state legislature."
The 421a program had provided developers with a tax abatement of 10 years or longer in exchange for reserving a certain percentage of units in their buildings for the affordable housing market. Between 2013 and 2023, more than 3,000 properties, and 117,000 units, had utilized the program, according to the Furman Center at New York University. 
The 421a tax abatement program had been popular with developers, but it had drawn criticism from both the state legislature and the New York City Council for being a giveaway to the private sector. The program was not renewed after a contentious series of negotiations among legislators in June 2022. 
"It's harder in many respects, today, when people can park their money in Treasurys and earn 4 percent or 5 percent," Weissman added. "People won't invest in projects unless they can earn a financial return." 
Gov. Kathy Hochul has attempted to circumvent state lawmakers in recent months and impose a similar tax incentive program to spur development. So far, no grand bargain on housing has appeared among state lawmakers. 
Until then, Weissman said he hopes that the construction of a new building in Crown Heights demonstrates the good things 421a was able to do prior to its death in Albany. 
"It's creating new housing in a place where there's not much housing," he said. "Crown Heights is tremendously in need, and to take a site and add new housing with a mix of affordable and market units, it's just a nice thing to be part of."  
Brian Pascus can be reached at bpascus@commercialobserver.com