Delos CEO Paul Scialla On Maximizing Healthfulness in Buildings
The consultant says his company has become the benchmark in measuring the S in ESG
---
---
In the Aegean Sea is the island of Delos, the rocky mythological birthplace of Apollo, the god who toted the sun across Greek skies.        
First settled in the third millennium BC, the entire 875-acre island is an archeological site and considered a center of Hellenistic civilization. According to the United Nations, it was the "maximum emporium, totius orbis terrarum," the greatest commercial center of the world.
Delos is also the name of a company whose stock in trade is helping both landlords and tenants optimize the indoor work environment. In the post-pandemic world, this distinction is more important than ever. Workers, it is believed, have to be persuaded to come back to the office, and therefore making it the healthiest place you can is considered more important than ever.
The company, based in the Meatpacking District of Manhattan, is bifurcated. First, it is a consultant for tenants and landlords who want to maximize the health and well-being of workers who spend their days working in their buildings. Second, it runs what is called the International WELL Building Institute, which measures the success of a building in creating a healthy indoor environment the same way the U.S. Green Building Council's LEED program measures a building's success in its external impact on the environment.
Paul Scialla, founder and CEO of Delos, picked up the phone in late August to talk about his company and what it's trying to do. 
This interview has been edited for length and clarity. 
Commercial Observer: Somebody today asked me what Delos was. And I said Delos is a consultant that helps both tenants and landlords achieve environmental perfection. To what extent did I get it right?
Paul Scialla: Well, you got a small part of it right. 
I wear two hats. One is as founder and CEO of Delos, and the other as founder of our subsidiary, the International WELL Building Institute, which is the world's largest certification, rating and accreditation body for healthy buildings.The International WELL Building Institute is a wholly owned subsidiary of Delos. It is separately governed, and it is the creator and implementer of what's called the WELL Building Standard and the WELL Certification Program around the world
As an enterprise, we've got two sides. One is the International WELL Building Institute, and the Delos platform, which can get into very specific products, solutions and technology that are good health interventions for any type of real estate space. And that's where we get into the consulting and deployment of technology such as air filtration technology, water filtration technology, circadian lighting, active greenwall technology, what have you.
So one side of the business is the certification ratings and accreditation. The other side is the product solutions and technology.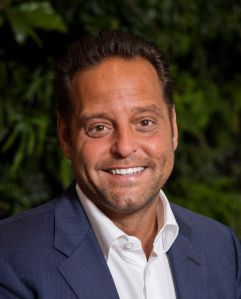 Importantly, by the way, if we recommend a product or a solution, that is not a requirement to achieve certification — there would be no integrity in that, obviously. The International WELL Building Institute is a separately governed, product-agnostic rating system that is an open ecosystem for any types of products or interventions to help achieve the required outcomes.
We have been merging the health sciences with the building sciences for the better part of 10 years. The initial several years of our journey was all research. We put over $100 million behind a global research effort to best understand our indoor environment and its impact on the human condition. We pulled in world-renowned institutions such as the Mayo Clinic, the Cleveland Clinic, and over 300 doctors of different disciplines from around the world. 
We got them together with real estate professionals of all types — owners, operators, developers, architects, engineers, facilities managers, HR professionals — to best identify all of the inputs indoors that surround us that have an impact on our health outcomes. And we map those inputs directly to our respiratory, cardiovascular, immune, cognitive, digestive and sleep health outcomes. Inputs such as air quality, water quality, lighting, thermal elements, acoustics, biophilic programming, surface-cleaning protocols, HR policies, operational guidance — mapping them to our health domains. 
That's the blueprint for the introduction of our WELL building standard.
Do you find there is a market that is willing and receptive to all this? Do users and providers of space want to be as environmentally forward and progressive as they need to be?
Absolutely. To give you some metrics: In the certifications and ratings side of the business, we now cover over 5 billion square feet of clients in 130 countries. We've got over 25 percent of the Fortune 500 as clients of our WELL Certifications and ratings.
And we've seen tremendous adoption of the WELL building movement as an important complement — not competitor, complement — to the green building movement. When you consider the green building efforts over the last 20 years — the focus on the environment, the environmental impact of our buildings, planetary health and the energy complex — we felt with the green building movement half the story was missing. There was a lot of focus on the planet but not enough focus on the occupants of all our buildings.
We spend over 90 percent of our lives indoors — our homes, our offices, our schools, our hotels. We felt an evidence-based approach to connect the indoor environment with the human condition was needed to really complete the understanding of sustainability in real estate. There's the planet; but there's also people, or human or biological sustainability, if you will. And that's what our efforts have been all about.
Is this some kind of tale of two cities? I can see this being popular in New York or L.A. or Frankfurt or London, but what about in Nairobi or Mumbai or Beijing, cities that are trying to compete but aren't quite there yet?
Our projects and programs are in 130 countries, including mainland China, over 1,000 different buildings in China, WELL-certified. We've got projects throughout Europe, we've got projects in Australia, in Southeast Asia, in the Middle East; tremendous adoption In Latin America. This is something that we've seen adopted globally, regardless of location.
Obviously, office has been a market, but I'm curious how much of a market you have seen in multifamily — buildings that people actually live in, not just work in?
We've seen great adoption across the residential spectrum, both in single-family and multifamily housing, from affordable housing all the way up to high-end luxury, and everything in between.
Clearly, people are focused on air quality and water quality and lighting and things that enhance the way people sleep, their energy levels, their respiratory outcomes, their cardiovascular outcomes. And so this is applied to both residential and commercial real estate.
Since you mentioned it first, what products are out there which actually enhance sleep?
Lightning has a huge impact on sleep. But air quality is an important consideration for sleep as well. 
For the better part of human history, we were outside entirely. Waking up with the sunrise, being active and energized and productive throughout the day under a very bright sky, high temperature type of light, and then we slept in complete darkness. And there's a nerve in your eye called your circadian optic nerve. That's nothing to do with vision. It takes this peripheral light or darkness, and, really, it's the only thing that's telling your body what time of day it is.
So, bright, high-temperature light that mimics an afternoon sky enters your eye and induces hormones for productivity, energy, mental acuity movement, what have you. Later in the evening, if you're getting exposure to artificial light indoors, that still is the type of light that an afternoon sky would be giving you, tricking your body into thinking it's still afternoon. And, thus, you're not creating the necessary hormones for sleep, such as melatonin. So light has a very, very big impact on our 24-hour, sleep-wake cycle.
Let's talk about ESG. I would think that ESG would be great for your kind of business. Making companies be aware of the impacts of things they are doing, the environmental or social factors that they might not have thought of.
We have become a material component of the S in ESG reporting. When you consider E is environmental, and that really kind of speaks to the green building side of things. 
But the S bucket — particularly human and social capital management in the S bucket — are the WELL certification and ratings programs. We've become a global benchmark and significant resource and reporting mechanism for ESG reporting for companies, again primarily in the S bucket of ESG.

How do you make money? I presume you are not a nonprofit.
There are certification fees for WELL Certification. They're not high. On the other side of the business, we will earn income on product sales.
So when somebody pays X for, say, an air filter, you guys get a cut of that. Can you talk about what level of market penetration you have achieved?
Five billion square feet of certified and rated projects in 130 countries, so we're seeing pretty considerable market adoption. But, as you well know, the real estate market globally is enormous. So we feel we're still  in the early days here in terms of a lot of forward adoption ahead of us. 
I think it's a $300 trillion industry. But 25 percent of the Fortune 500 as users, that's a pretty good indicator of meaningful adoption.  
One thing I noticed is that Delos is actually the name of a Greek island. I was curious about the origin of the name and what it has to do with the historical meaning of the word Delos.
It did inspire us. The island of Delos, in Greek mythology, was an island of healing and, in mythological terms, once you stepped foot on the island, you don't get sick and you don't die. So this is our subtle nod to well-being and longevity.
A share of your business comes from hotels. I've almost never seen a hotel that didn't have a fitness center and a pool. But I suppose you guys say it has to go well beyond that.
Exactly. It's one thing to have a fitness center, but what we wanted to do was look at the actual room itself and see what types of health and wellness features we can implement in the actual guest room as opposed to just a gym or a fitness center.
This is less about putting gym equipment in the room and more about looking at the lighting and the air quality and the spatial conditions of the room — what can we do through four walls and a roof to passively enhance the room as it pertains to health and well-being. 
We're really about the architecture and design, the air quality, water quality, the lighting, and things that are more of a passive delivery of health and well-being.