Brooklyn Investment Sales Activity Saw Uptick in Second Quarter: TerraCRG
No sleep till Brooklyn
---
---
"Spread love, it's the Brooklyn way," The Notorious B.I.G. famously noted, and when it came to investment sales activity, Brooklyn love was firmly in the house in the second quarter, according to a new TerraCRG report. 
The firm just released its Brooklyn investment sales market report, covering the first half of 2023, and while there's plenty of bad news out there, Brooklyn had some good news to report. 
The borough saw $2.6 billion in investment sales volume overall in the first half of 2023 across 554 transactions. Approximately $1.49 billion of that activity closed in the second quarter, across 281 transactions— marking a 35 percent increase in dollar volume and a 3 percent increase in transaction count over the first quarter. 
Ofer Cohen, founder and CEO of TerraCRG, said that while $2.6 billion is undoubtedly a dip compared to  $5.28 billion in volume in the first half of 2022, "if you look at the figures, historically speaking, we're actually back to 2019, pre-pandemic volumes again."

Indeed, for both halves of 2019, Brooklyn's investment sales activity hovered right around the $2.6 billion mark, before dipping in 2020 as COVID-19 cratered the market. Investment sales volume then rebounded to dizzying levels in the second half of 2021 and into 2022, as investors rushed to beat the 421a tax abatement's expiration, and pent-up capital was deployed. 
Rising interest rates played a big role in investment sales volume dipping this past year, unsurprisingly, as debt became increasingly expensive and uncertainty reigned supreme. 
As we entered 2023, the failure of Signature Bank — a prolific lender in the borough — and overall tightening of credit also impacted investment sales, Cohen said, although non-bank lenders stepped in to pick up some of the slack. 
"We saw debt funds and alternative lenders be extremely active in the second quarter and take on some of the lending volume," Cohen said, adding that all-cash deals were also frequent for smaller Brooklyn transactions in the $2 to $3 million range. 
Of course, when it came to the big deals, all-cash is not always an option, and there were plenty of sizable investment sales keeping lenders busy. 
Case in point, St. Francis College sold its campus at 180 Remsen Street in Brooklyn Heights to affiliates of Rockrose Development for $160 million in April, taking the crown for the top investment sale by dollar amount. The Sea Park Apartments housing portfolio sale was right behind, with the Coney Island property selling to a conglomerate of affordable housing developers that included Gilbane Development Company for $150 million. 
It was the properties classified as "special use assets" by TerraCRG — those that don't fit into traditional categories, including school buildings, nursing facilities and hotels—that provided Brooklyn with the biggest bump in sales activity, however. 
Those assets saw a chart-topping 686 percent jump quarter-over-quarter, thanks to some big, newsworthy trades, such as The Williamsburg Hotel, Hotel Indigo in Downtown Brooklyn and the Buena Vida Rehabilitation and Nursing Center facility in Bushwick. 
Digging further into neighborhoods by dollar volume, Downtown Brooklyn saw the lion's share of investment sales activity in the second quarter, racking up $597.4 million in deals, with Northern Brooklyn tailgating it at $535.8 million. Northern Brooklyn —which includes the Williamsburg, East Williamsburg and Greenpoint neighborhoods— also saw the highest volume of retail and special use asset trades. 
It was Central Brooklyn, however — encompassing the Flatbush, East Flatbush, Borough Park, Kensington, Flatlands, Prospect Lefferts Gardens, Midwood and Prospect Park South neighborhoods— that accounted for the most transactions by number count, accounting for 22 percent of closed transactions overall.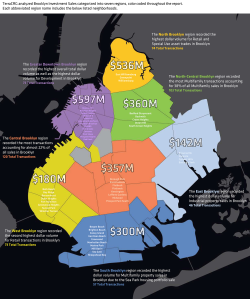 Cohen said he expects an increase in activity as we close out the year and into 2024, as distress plays out further and some sellers concede that it's time to part ways with their assets. "You never know what will happen, but that's what we're expecting," he said. 
Indeed, if this year has taught CRE anything, it's that nothing is certain. And, if crystal balls existed someone would have picked the Mega Millions numbers way earlier. 
Cathy Cunningham can be reached at ccunningham@commercialobserver.com