Jamil Lacourt, L&L Holding's New COO, On Opportunities Amid the Disruption
The former construction executive says the Class A landlord has a plug-and-play strategy perfect for the times
---
---
What strikes you about the 26th floor of L&L Holding's 425 Park Avenue isn't the sprawling views of Midtown or its slanted windows, plastered by webbed beams. It's the art exhibit Narcissus Garden, a series of reflective orbs meant to point out the viewer's vanity in wanting to see themselves in it. 
But when Commercial Observer sat down with Jamil Lacourt, it was almost impossible to get him to brag about himself (which, frankly, is saying something in the commercial real estate industry). 
That's despite the fact that Lacourt just scored a major promotion from the New York City landlord. L&L tapped him to become chief operating officer in June, three years after he joined the company as its executive vice president and director of construction in 2020.
Instead, Lacourt credited co-founders David Levinson and Robert Lapidus for pulling him into L&L in 2020 and his core team — Chief Administrative Officer Ronald Gentile, Chief Financial Officer Sebastian Rodriguez and Executive Vice President Howard Slavin — for his success. And he'll need his team to manage L&L's projects through the tricky economic climate.
L&L completed 425 Park Avenue last year but has a handful of projects in the works in Miami and New York. TSX Broadway — a 46-story hotel, Broadway theater and retail space all in one building — is expected to come online this year and has already turned on its massive Times Square billboard to display music videos by artists that include Doja Cat and Dua Lipa. 
Terminal Warehouse, a 1.2 million-square-foot, mixed-use redevelopment of a Chelsea industrial building, topped out in May. Down south, L&L is developing a 1 million-square-foot apartment, dining and shopping campus in Miami's Wynwood arts district with $215 million in financing from Bank OZK. 
Commercial Observer caught up with Lacourt about these projects and more on the 26th floor of 425 Park Avenue. 
This interview has been edited for length and clarity.
Commercial Observer: How did you get into real estate? What's your origin story?
Jamil Lacourt: I was actually born in Brooklyn but raised in Long Island. My father worked in New York. He was with the Metropolitan Transportation Authority police for a number of years. My mother was a stay-at-home mom from Ecuador. She emigrated from Ecuador to New York.
I went to SUNY Farmingdale. I always had this passion for drawing and buildings, and I didn't know if I wanted to be an architect or if I wanted to be an engineer. When I graduated from high school, I took a lot of drafting classes that got me into the architecture industry. I started working for an electrical engineering firm, and one of the subcontractors we worked with said, "Go into construction management, it pays a little bit more, and you have a little bit more management style instead of focusing on engineering." So I did that.
When I graduated, I was lucky to get a job for a general contractor in New York that no longer exists. This was back in 1998. I was petrified of leaving Long Island and moving to New York City. And, lo and behold, I get a job in New York.
Right out of college, they put me in a suit and tie, and they called me a project manager. I didn't even know how to put the carpet down. I didn't know how to put the toilet in the wall. I didn't know the first thing about anything. And it was just a trial by fire. That was my first step into the construction industry in the city of New York.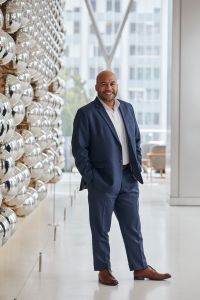 What is the most complicated project you've worked on in New York?
We're sitting in it right now.
David Levinson was telling me this story last week. We were on the corner and he said, "I remember being on this corner in 2006, looking at the existing building, and saying, 'We could build the impossible here. We could build it.' "
This was a very complicated project. It was the first of its kind on Park Avenue, there's nothing else like it. And then the vision that David and Rob Lapidus had to create value from an existing building, they figured out how to retain 25 percent of the building and then go vertical with this new structure. So when you get to the lower floors it's the existing building. 
We got hit with COVID during construction; the design of the building just created challenges from a sequencing perspective; we have top Class A tenants in this building that are very sophisticated. So there's a lot of interactions with the tenants and what their needs are and what their systems are, and you had components of this building come from all parts of the world. 
I think I got hit with a lot of things on this project that made me just a better person, made me stronger, made me see that there's always going to be problems. You can conquer anything, you'll solve it. It's like Rob Lapidus always says, "What's the art of the possible?" And I've learned that. There's always a solution. 
You joined L&L in 2020, right?
Yes. Me and two other close colleagues and friends of mine were offered the opportunity to acquire this midsize company [Metropolitan Building Services] and really grow the business. We officially launched that in 2017. I ran the project management side, my business partners were on the construction side, and David and Rob were our investors in that company.
In 2019, we started working on the new vision for that company that was really going to only primarily focus on construction. And that was an opportunity for me to think about what I wanted to do with my life going forward. 
When my wife and I were in Mexico on vacation, New York shut down. We came back to the states. I called David and Rob and I said, "Look, COVID happened. I'm sure you guys are dealing with a lot of stuff right now. If you want to postpone me coming on board, no problem. I can wait until September." David and Rob go, "Are you kidding me? Can you start immediately?" And then that's how I landed here in 2020.
What are your priorities for the COO role?
Given where we are, in this economic environment, my role is really providing context to all levels of the organization.
We truly are a vertically integrated company because not only do we develop the building, we have an acquisitions group that looks for potential opportunities, we have a leasing team that leases the building, we have a property management group that operates these buildings, and then we have all the other support functions. My job with the senior leadership of the organization, and David and Rob, is we set the mission, we set the vision, and we make sure that that's clear. Then we outline the goals for the business lines, and we create strategies that support those goals. 
You mentioned the economic climate. L&L has a handful of projects in the works in New York and Miami. Are you concerned at all about completing those projects and then leasing them up? 
We do have a lot of projects in flight. Fortunately, they're all very well-capitalized at this point. We were able to capitalize those projects and get construction loans pre-everything happening now. Now, did we get hit with high interest rates? We did. But we underwrote those adequately given the conditions and the risk that we see on the horizon.
TSX, thankfully, is reaching completion. It recently got its temporary certificate of occupancy for certain areas. That grand opening is already in flight. 
Terminal Warehouse is a behemoth of a project with a couple of billion dollars of capitalization there. But, again, our capital structure is very solid right now. We have great partners that we're working with. And we're really committed and leaning into the product that we're putting there, given what the new work environment is going to look like in the future, with bringing all these outdoor amenity areas. We have focused a lot on stabilizing the in-flight projects, because obviously that's the biggest risk for us.
We are strong believers in the multifamily market in Miami. That market is just on fire right now. The real estate game is all timing. I feel lucky that I've seen a couple of bubbles. Not only the Great Recession in 2008, but we saw COVID-19 and we're seeing what's happening now. Wynwood broke ground really at the right time because we're coming to market and we're bringing that product to market in about a year and a half or two years, where there's not a lot of other products available. But we closed the construction loan in December of last year, and we had our capital stack done way before that.
And then we're focusing here on our existing portfolio. We have some very good classic core assets, like 425 Park Avenue, like Terminal, that are going to add to this pedigree of office stock that we have. Then we have buildings like 150 Fifth Avenue — that was a redevelopment. Again, L&L, David, Robert and the team are just great at creating the highest and best use. 
Are you considering acquisitions or management partnerships? Have you already started on any of those? Is there a strategy to take advantage of some of the economic turbulence? 
So there's three strategies to that. We know, based on our experience, how to cherry-pick the best assets. And so there are going to be buildings that are going to trade at a lower value than whatever the previous owner had bought it at, however many years ago. There's money out there to inject new equity into that property, because we know that we're going to get a return on that, because we can unlock everything that that potential asset has. That's strategy No. 1, what I call the distressed asset side. 
One of our jobs is to give lenders confidence that you don't have to take back the keys and operate a building. We're a very quick, easy plug and play because we have the leasing, development, property management, asset management, security, cleaners — everything. 
We're trying to leverage all our lender relationships, to give them confidence to not opt out for a lower cost or put the loan out on the market and get below par on the loan. You can bring us in, and we fix problems. 
And then No. 3 is: Well, maybe we don't own the asset, but there's the potential to be the preferred equity provider there, where the lender, or the first position, is willing to subordinate to a lower position, because they don't want to lose the note. They want to stay in the deal. But we're willing to come in at a preferred equity standpoint until we stabilize the asset. So there's that opportunity that we're actively talking to various entities about.
Are there any specific buildings you're looking at?
Not specifically, but we're out there definitely hunting and looking. During these times, opportunities come up. 
We are also looking at how we do our part in the communities that we're in. Are there opportunities for a residential conversion that we know makes smart business sense in some cases? The city needs housing, or more of it, and we know that some commercial buildings are just never going to compete with the 425 Park Avenues, they're never going to compete with the Hudson Yards, they're never going to compete with the One Vanderbilts. So we have to get more innovative as to what we do with those particular assets. 
Are you looking at converting existing properties or acquiring distressed office and then converting?
We're looking at the whole gamut. So it could be an existing property that we have or it could be an opportunity that's out there to acquire for a conversion.
In terms of acquisitions, are you thinking about office? Or is it broader?
Good-quality office is leasing. We know that for a fact. While raising capital right now is nonexistent for office, we don't rule it out, because we know that we can unleash the value. 
How leased is 425 Park Avenue? Last I heard it was 85 percent. 
It's hovering a little bit above that right now [at 87 percent]. But it's a revolving door with tenants looking at this building. Our leasing brokers are constantly strolling through here. 
Who is looking at the building?
Private equity, financial services, and things like that.
Do you have plans for the opening of TSX Broadway?
TSX Entertainment operates the venue there. They're visionaries. They push the boundaries with what they can do there. I know they've partnered with some high performers. 
They're always working on something to explore there. The stage that goes out into Times Square is operational. I'm sure you're gonna see some big performances there, like at the Ed Sheeran-type level, the Dua Lipa-type level. Paris Hilton did something there a month ago.
More broadly, how do you feel about L&L's  position going into a tricky economic time? 
I feel great because of the people that I get to work with side by side, like our CAO Ron, our CFO Sebastian, like Howard Slavin who runs our asset management —  we're all aligned. We love what we do. We love who we do it with. And we want to push the business forward.
I'll give you an example. We've been churning our strategy over the next two to three years: this quick plug and play, where you can just plug us into an asset and we can manage it, lease it, we could finish the redevelopment and give confidence to the lender. It was remarkable how quickly we were able to put together all our ideas on paper and what our pitch material is, and all that stuff by looking at all these different groups coming together. They knew what the vision was, they knew what the goal was, and then they knew what their tactic was in order to support that. To see that in this new role was just absolutely remarkable. 
Yeah, it's going to get tough, but now I wake up and I think, "All right, it's no different than any other day." You push ahead. You work through the problem.
Do you anticipate using that plug-and-play model in New York, Miami or both?
I think New York is our epicenter. We have the resources, we have the skill set, we have the experience and the knowledge in our backyard. I think as we get more tenure and experience in Florida, it would be something that we could absolutely look at. But I think New York is a very easy transition for us because we have the infrastructure. I would say that we would feel comfortable doing it anywhere in the five boroughs.
You mentioned the comparison to 2008. The one main significant difference from 2008 is remote work. Do you feel like this is a unique challenge?
I'm in the real estate business. So, ideally, we like human beings in the office. I do think that a hybrid environment is here to stay in some shape or form. I don't think we can dispute this social interaction you and I are having. 
It's important for us to be together in some way, shape or form. I'm not one that has an opinion as to whether it's one day a week, two days a week, three days a week. We work five days a week and we elect to do four days in the office. I get anxiety sometimes about not being home. I've always worked at home pretty much my whole career. Because working with these large real estate services providers, you don't work in an office because they don't want to pay for your space.
But, now, not being able to talk to the legal counsel or not being able to talk to the guy that I'm glued with day to day (our CAO Ron), stresses me out. So I do think that organizations are going to look for innovative ways to inspire people by creating wonderful spaces like 425 Park Avenue. I wouldn't mind working here. I'd actually want to be here.
You're always gonna have the economic area where it costs money to rent space. But there's also this output of having people that are together, creating high-performing teams, communicating at high bandwidths, and you're going to excel.
Is there anything else you want to add?
Ron, our CAO, is somebody that I don't think I could do this without because we just work so well, and Howard, I couldn't do without the two of them or [project coordinator] Madison Hart. It's just the people you work with. 
Rob's really good at speaking to you and setting you up to get your head right. And then David, the way he empowers me particularly, and the conversations that I'm part of, and understanding how his brain operates, and how he thinks about the business and how he thinks about growth is really cool. 
David, you can give him a building. He studies it. He knows how tenants want to use this space because of his broker background. He knows how to unlock its maximum opportunity — stuff that I would never see. And then Rob, I see Rob when he walks throughout the day with a three-dimensional chess board, because he knows how to put all the pieces together. He knows the money. He knows the capital stack. He's got these deep financial relationships. It's like watching one of these movies of people on Wall Street where you pick up the phone, and you're talking about all these transactions. It's remarkable how the two complement each other with those unique skill sets. 
How long have you guys all worked together? 
Since 2017 [with Metropolitan Building Services]. You can really see how they're invested in the organization and its growth. I wouldn't be in the role that I'm in if they wanted this to be just a two-man show. They would have never empowered myself, Ron and Howard to really manage the day-to-day. To see where they've come in 23 years, it's empowering a lot of people. They're really letting their senior leadership team really push this company forward. 
They're always going to be the name, they're always going to be the brand, they're always going to be that confidence for the market. But now the market knows to look at the tier behind these guys. They have a powerful force behind them.