Three Major Life Sciences Projects Charging Along Despite Headwinds
New York City's life sciences industry still has a lot of runway even with a slowdown in leasing and financing challenges. A trio of projects makes the case.
---
---
After several years of incredible growth, New York City's life sciences industry is finally coming down to earth. 
Gotham's life sciences firms boomed during the pandemic, setting leasing records in 2021 and again in 2022 with more than 455,000 square feet of deals. But now that the city has begun to recover from the pandemic, the life sciences market has started to shift to more normal — and slower — growth. 
Life sciences companies took just 7,000 square feet of lab space in New York City in the first quarter of 2023 compared to the 170,000 square feet they scored in the same period last year, according to CBRE. Nationally, banking turbulence, an economic slowdown and a decline in venture capital funding have helped push lab vacancies up and curb the industry's expansion as well.
That doesn't mean that New York's life sciences story is over; in fact, it's just beginning, especially compared to much larger industry hubs such as Greater Boston, the San Francisco Bay Area and San Diego County. Gotham's progress in the life sciences sector is measured in decades, not years, said Chad Phillips, global head of workplace, retail and mixed-use sectors at Nuveen, one of the developers on two major life sciences projects on the West Side and Upper East Side. 
"From a broader lens, we still believe in the tailwinds of the sector," Phillips said. "This is a decadelong or longer run for the innovative sciences cohort."
Three major life sciences projects are underway in New York City: West End Labs, a 400,000-square-foot development at 125 West End Avenue; Iron Horse Labs, an Upper East Side development at 309 East 94th Street; and the state- and city-sponsored Science Park and Research Campus (SPARC) campus in Kips Bay. 
With West End Labs gearing up to open and SPARC not due to be fully completed until 2031, Gotham can rest assured that the next decade will be chock-full of life sciences space.
West End Labs
What do you get when you try to turn a former Chrysler dealership into a state-of-the-art life sciences campus? The answer: a very complicated construction project.
The full-block building at 125 West End Avenue between 65th and 66th streets has a storied history, some of which can still be seen even after Taconic Partners and Nuveen's redesign. Constructed in 1929 for the Chrysler Corporation to store and service cars, the property still sports a central rail ramp that Chrysler would use to raise vehicles to its upper floors.
"We have repurposed that as the helix, a floor-by-floor collaboration zone, where tenants can come together to host meetings in conference rooms or in open forums," said Matthew Weir, executive vice president of developer Taconic and president of its life sciences arm, Elevate Research Properties. "It's simultaneously celebrating the history of the building, while creating something very modern and very useful for today's research talent base."
The building later became a printing plant for The New York Times in 1957 and then was used by ABC for some of the company's radio operations and set design facilities, West End Rag reported. By 2019, Silverstein Properties was looking to offload its Disney and ABC-occupied Upper West Side Campus, and Taconic and Nuveen swooped in to purchase the building as part of a $230 million deal. 
The redevelopment has cost a whopping $600 million, though the duo scored a $300 million loan in February from a firm tied to Apollo Global Management to refinance the eight-story building, PincusCo reported. 
Today, the property's completion is "imminent," Weir said. In fact, Taconic and Nuveen have already signed their first tenant in a pre-built lab space, though Weir declined to disclose the name of the user or the square footage it took. 
Weir did say that the building is attracting a diverse array of life sciences firms, from early-stage, venture-backed private companies to larger academic, biotechnology and pharmaceutical firms. 
Those larger users will likely be drawn to the property's 54,000-square-foot floor plates, the largest of any commercial laboratory building in New York City, he added. 
"Our goal is to create a cross-section of the industry [at West End Labs]," Weir said. "The idea of the ecosystem — that's really our vision on a per-building basis. And then each of our buildings then serves the larger New York City ecosystem."
Taconic and Nuveen have also pre-built 54,000-square-feet of lab space across one floor of the building for tenants who need to get up and running fast. 
It's a "significant investment," but one Weir expects to pay off given how time-consuming traditional buildouts can be.
"The idea is that they are adaptable, flexible, for any type of science and for any type of company and there really lies their value," Weir said. "And our tenant that we're about to announce is proof of that. They were able to move in on day one."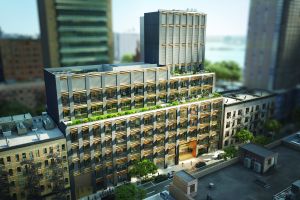 Iron Horse Labs
Iron Horse Labs takes its name from the legendary Yankees baseball player Lou Gehrig, who died before he turned 40 from the degenerative nerve condition amyotrophic lateral sclerosis, that has assumed his name  as "Lou Gehrig's disease." The project at 309 East 94th Street hopes to capture the spirit and perseverance of Gehrig — and tenants looking to be close to some of the city's biggest medical centers.
The planned 200,000-square-foot development — developed by Elevate Research Properties — Nuveen Real Estate and Flatiron Equities, will sit next to Rockefeller University, Mount Sinai Medical Center and NYC Health + Hospitals, and within two miles from Weill Cornell Medicine, Memorial Sloan Kettering Cancer Center and the Hospital for Special Surgery on the Upper East Side. 
And the property is already getting interest from several large tenants, though Weir said the building could fit a single user. Given the shortage of life science space in New York City, Brian Wallick, a senior associate of asset management at Nuveen, expected that interest would only continue as Iron Horse nears its 2026 completion date. 
"We're seeing some larger tenants look at Iron Horse," said Brian Wallick. "We're in a submarket with Cornell and Memorial Sloan Kettering, and some of those larger groups that we'd like to talk to, given that there's a natural fit from the existing space they have in that submarket cluster, versus what we can provide. It's a pretty broad base of prospective tenants."
Elevate, Nuveen and Flatiron are on the hunt for financing for the $370-million project to start construction next year, though Weir and Wallich declined to disclose how much money the partners were looking to raise. The duo did expect to be able to find the unknown amount of cash, despite the slowdown in the debt markets.
"It is a challenging environment, but we believe that there is capital available and interested in this sector, in New York City," Weir said. "If you look at the demand versus supply dynamic, there's a real imbalance. And, therefore, we're finding that the market sees that opportunity, and is interested and enthused by that opportunity."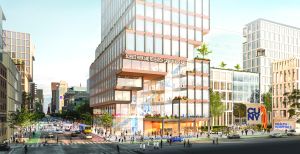 Science and Research Park
The city and state are also getting in on the rush to build more life sciences space in New York City.
Gov. Kathy Hochul and Mayor Eric Adams have pledged to split down the middle the $1.6 billion cost of constructing the Science Park and Research Campus, known as SPARC, in Manhattan's Kips Bay. 
The development will cover an entire city block, or about 1.5 million square feet, on East 25th Street and First Avenue and will help the city reach its goal of creating 14,000 jobs and 10 million square feet of new life sciences space in the city in the next 10 to 15 years, said Cecilia Kushner, the chief strategy officer for the New York City Economic Development Corporation. 
"Life science is a growing set of the economy overall, and New York City is extremely well positioned to be able to be competitive in that space," Kushner said. "It's also a sector that pays high wages, which is really important to us to make sure that we're growing the economy with the type of jobs that allow families in New York City to sustain a high quality of life."
Designed by Skidmore, Owings & Merrill, the project is scheduled to break ground in 2026, after undergoing the city's lengthy Uniform Land Use Review Procedure and identifying a private company to develop between 650,000 and 1 million square feet into commercial life sciences space on the site. 
While the private side of the project is up in the air, a handful of tenants are not.
SPARC will house the City University of New York's nursing school, a New York City Department of Education high school, a forensic pathology center and an ambulatory care center for NYC Health + Hospitals. 
CUNY currently has space at the existing buildings on East 25th Street, and may be relocated for part of the construction process, Kushner said. 
Kushner expects to bring the complex online in what will likely be a very different economic climate. But Kushner was certain that whatever the 2030s may hold, demand for life sciences space will definitely be there.
"We've seen tremendous growth in [life science] and that growth is continuing despite economic cycles, that may create more complexity for the capital markets or investment in general." Kushner said. "We feel very positive about the trajectory. What we're hearing, from companies and incubators, is that New York City is really beginning to be a new center."