Lev Rolls Out CRE Financing Marketplace, Lev Match
---
---
Call it financing matchmaking, speed dating or maybe even a "meet cute."
Lev, the digital brokerage platform, is launching a new marketplace for debt financing called Lev Match, Commercial Observer can first report. 
Removing the middleman, or middlewoman, from the commercial real estate financing equation, Lev Match's technology will allow borrowers to access thousands of lending programs from national and regional lenders — including both banks and non-banks — and communicate directly with those potential financiers to close deals. 
Inputting their specific loan requirements, borrowers can utilize the software to connect with lenders whose programs are the best fit for their financing needs, while lenders will have detailed, transparent information about that vetted borrower, their deal and their broader portfolio. 
"We have spent the last several years building, refining and stress-testing the technology behind Lev Match, and I couldn't be more excited to now be putting the product directly into the hands of borrowers and lenders," Yaakov Zar, Lev's co-founder and CEO, said. 
As such, Lev Match is tried and tested, and ready to go, Zar said. So far, Lev's capital markets team has closed more than $2 billion in debt deals with the software, but it's now available in a self-serve format. 
"By creating the first highly scaled digital marketplace for debt financing, we are able to connect borrowers and lenders in a way that will completely transform the CRE financing experience," he added. 
Lev Match is being released at a time when credit is tighter than jeans after Thanksgiving Day and new financing is often painfully hard to come by, but Lev Match isn't built just for a one-off "swipe right" when a financing need arises. It's a tool to help borrowers build new and lasting relationships.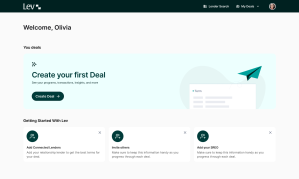 Via a communication hub, borrowers can upload a "schedule of real estate owned," or SREO, detailing information related to their wider real estate portfolio, providing instant transparency to potential lenders and aiding swift financing decisions. Meanwhile, borrowers have access to the most up-to-date information around lenders' available programs and financing preferences as the market ebbs and flows. 
Once the two parties are in communication, Lev Match allows the borrower and lender to take things to the next level. Borrowers can submit digital deal books and then negotiate term sheets directly within the program. The result is both speed and certainty of execution, and hopefully a long-lasting and meaningful connection. 
Alturas Capital Partners, a real estate investment company based in Idaho with $520 million under management, is one of the first Lev Match users. 
"Even when you have a trusted stable of lenders, there is always value in building new relationships, particularly when exploring new geographies or asset classes," Devin Morris, COO at Alturas Capital Partners, said in prepared remarks. "Lev Match takes the headache out of the process, letting you easily identify and connect with lenders that are a fit for your investment strategy, and then quickly source term sheets when you're actively working a deal."
Cathy Cunningham can be reached at ccunningham@commercialobserver.com