Presented By: Bilzin Sumberg
South Florida Real Estate Spotlight: Developers, Lenders & Investors Break Down Today's Market 
---
---
As South Florida experiences a surge of domestic migration and inbound investment, hundreds of real estate developers, lenders, and investors attended the 2023 Annual Bilzin Sumberg Development Conference in Miami to explore the latest trends driving the regional market.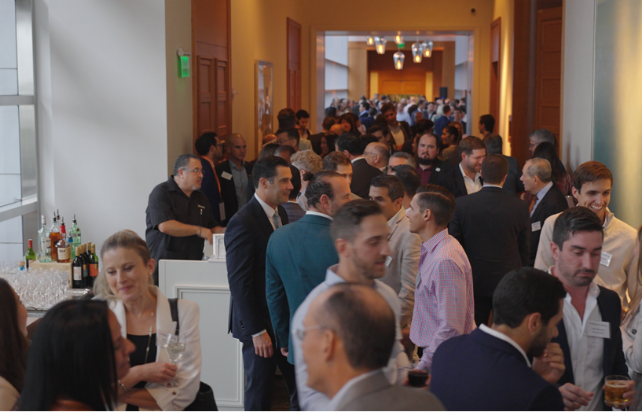 Panels covered everything from sustainability and transit-oriented development, to condo redevelopment and methods for effectively structuring joint ventures. A candid conversation between Rialto Capital Management CEO Jeff Krasnoff and Bilzin Sumberg's Real Estate Group Chair, Suzanne Amaducci, delved into the dynamics unfolding in specific asset classes, and what economic uncertainty means for the industry.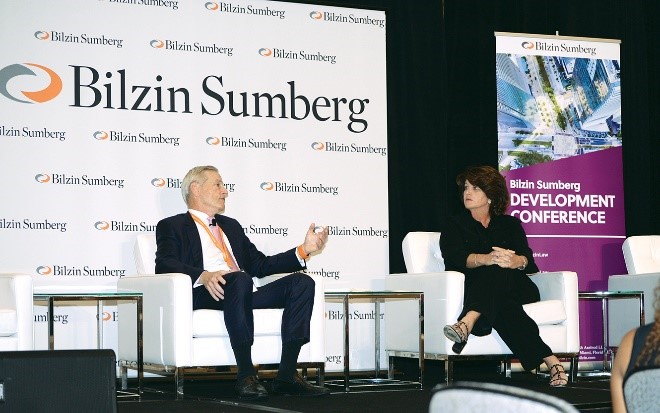 The annual gathering brings together policy-makers, planners, developers, lenders, investors, and attorneys from South Florida and beyond who are eager to expand their knowledge of the region's diverse and complex real estate market.
National Developers Align With Local Partners
One of the clearest paths for out-of-market investors looking to enter the South Florida market is the creation of a joint venture relationship with a locally-based firm. These joint ventures are an opportunity to marry national development and investment expertise with a deep understanding of the subtleties present in the local market.
South Florida-based partners bring relationships with local consultants, public officials, potential investors, and community nonprofits – all of which can be helpful in securing approvals and executing a development.
While the idea of working alongside a local firm may be appealing, structuring the partnership correctly is critical to realizing success, according to Bilzin Sumberg Partner David Resnick, who specializes in negotiating and structuring real estate joint ventures in Florida and nationally. 
"Allocating risk during the pre-development phase, navigating capital stack shortfalls, and negotiating exit strategies are among the realities of a joint venture," said Resnick. "How an entity is conceived and structured from the start can go a long way toward delivering all partners a healthy return on their investment, as well as ensuring all parties have a clear understanding of, and an agreed upon roadmap to resolving, potential issues that may arise later in the partnership."
"As a litigator with expertise in resolving real estate related disputes, it's very important to have documents that are specific as well. While you might not want to look at it, I do, and I want to make sure it's drafted with no room for ambiguity," added Jake Greenberg, Bilzin Sumberg Real Estate Litigation Partner.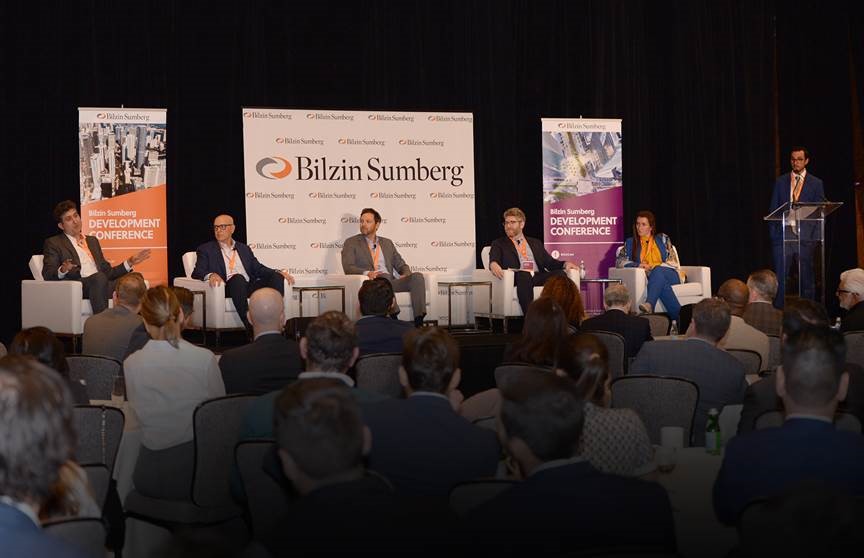 The Aging Condo Conundrum: Opportunities for Redevelopment
Condo redevelopment has become an especially appealing niche for joint ventures. As South Florida's real estate market has matured and demand for housing intensifies, the region is facing a scarcity of developable land.
Couple that demand with recent legislation addressing condominium safety and budgets which is rendering some older communities 'functionally obsolete,' and developers and investors are increasingly pursuing the redevelopment of existing condominiums. 
When residents cannot afford to fund special assessments and repairs or decide to monetize the value of their property, it presents an opportunity for South Florida developers to focus on a new, modernized use that will meet demands in today's market. 
"Major assessments combined with a coming prohibition on waiving reserves will be a wakeup call for condos, and we're seeing many communities go down the path of termination and redevelopment as a method for alleviating costly repairs and realizing the value of their property," according to Carter McDowell, a Partner in Bilzin Sumberg's Land Development and Government Relations Practice, who guides clients through the condo redevelopment process.
Navigating a Changing Development Landscape
With South Florida experiencing more domestic migration than any other state, one of the most pressing questions facing local residents is how to secure attainable housing. Developers are looking to satisfy this demand by structuring creative cost models and planning and zoning strategies. 
Municipalities are also playing a significant role by ushering in privately-developed housing on publicly-owned land.
To ensure that all parties are benefiting from these public-private partnerships, developers are working with government authorities to improve public transit systems and amenities. 
One example is Grove Central, a partnership between Terra and Grass River Property, which is bringing transit-oriented development to Miami's Coconut Grove neighborhood, adjacent to Miami-Dade County's Metrorail system and along the new Underline linear park.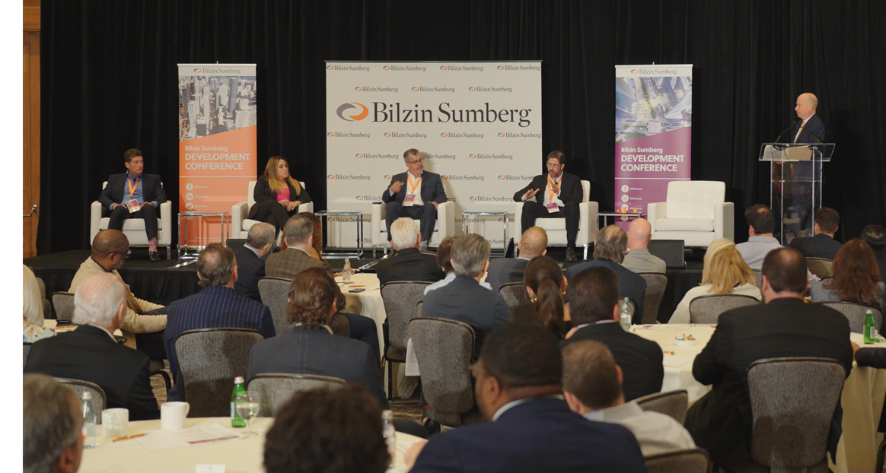 As the landscape for underwriting deals and lending is changing, developers are looking for ways to mitigate construction pricing and insurance costs.
Sustainability and resiliency have also been top of mind for new projects, as public and private sectors plan for the future.
"It's critical that we incorporate climate resilience solutions and sustainable improvements for the neighborhood in order to really make these projects a win-win for the government from a tax and revenue standpoint, and also for the surrounding community and its residents," said Terra's CEO David Martin.
Anthony De Yurre
,
Arden Karson
,
Asi Cymbal
,
Ben Gerber
,
Bilzin Sumberg
,
Camilo Miguel Jr.
,
Carter McDowell
,
david martin
,
David Resnick
,
Development Conference
,
Erin Spears
,
Felix Rodriguez
,
Jake Greenberg
,
Jeff Krasnoff
,
Joshua Patinkin
,
Lissette Calderon
,
Miami
,
P. James Mehalso
,
Peter LaPointe
,
Rialto Capital Management
,
South Florida
,
Sustainability and Green Development
,
Suzanne Amaducci
,
trans-oriented development
,
Victor Ballestas