Developer Ramtin Nosrati Harnesses LA Lifestyle at Casa Madera on Sunset
---
---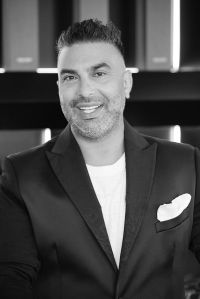 The Iranian-born and Los Angeles-bred Ramtin "Ray" Nosrati, CEO of Huntington Estate Properties, is a developer to watch from Sunset Boulevard to Sherman Oaks in the San Fernando Valley.
He is an investor in Nobel 33, which owns the Toca Madera chain of casual chic Mexican eateries, with the crown jewel being Casa Madera in the iconic Mondrian Hotel on Sunset Boulevard. The white-hued, open-air dining room for coastal Mexican fare and top-shelf tequila or mezcal cocktails opened earlier this year. The group plans to expand to New York, Houston and Miami, following its recent expansion to London, Toronto and Las Vegas.
Nosrati is also a partner in another popular Mexican eatery, Casita, that serves Japanese A-5 Wagyu tacos and lobster rice in Sherman Oaks, and is working on the next project called BLVD Steak nearby.
However, Nosrati does not consider himself a restaurateur, and also has nine "colossal" luxury residential projects opening soon, in addition to high-end condominium developments.
His investment career started in the Inland Empire in 2002. Nosrati bought chicken ranches, subdivided the land, and built housing developments and tract homes. This evolved to building custom dwellings in the San Fernando Valley, opening an office in Pacific Palisades, and creating a portfolio of very high-end luxury homes throughout the tony neighborhoods of Palisades, Santa Monica, Brentwood, Beverly Hills and Bel Air.
From foundation to the finishing touches, Nosrati wears many hats as the owner, designer and contractor for Huntington Estates Properties. He spoke with Commercial Observer about the commercial and residential projects filling his plate. The interview was edited for length and clarity.
Commercial Observer: As a successful residential developer, tell us why you wanted to go into the restaurant business?
Ramtin Nosrati: I wouldn't necessarily say that I'm in the restaurant business. I am a developer first, but when these incredible opportunities were presented with the restaurants, I knew I wanted to be a part of it because they fit right into the high-end lifestyle brand we have created. 
The properties that we have developed combined with the hospitality businesses that I am now involved in all offer white-glove services that have never been seen before. That is what is important to me. The level of service and lifestyle we are creating is most important.
How is Casa Madera at the Mondrian property a reflection of your lifestyle brand? 
Prime location of course was a big factor. Plus, the fact that the design is top of the line and high-end absolutely reflects our lifestyle brand. The service and quality offered at Casa Madera matches the luxurious lifestyle brand we offer.
As a much more casual concept, why did you initially want to expand the Toca Madera brand to Sunset Boulevard? 
When my partners called and said there was an opportunity here, I immediately jumped on it. First, Sunset Boulevard is an iconic location known all over the world. You could not ask for a better spot in L.A. And with the success at the other locations, I knew I wanted to invest in a location here in Los Angeles. The Sunset Boulevard location still brings in an upscale crowd which, again, lends to the lifestyle brand that we have created.
To that end, what can we expect from BLVD in Sherman Oaks? 
Location is key here. Casa Madera is a very sophisticated restaurant, but is not available in the Valley, so people would always have to drive into the city for that type of dining experience. 
I felt that the Valley needed something of this caliber, and my partners here are restaurateurs that have been in the game for a very long time with extremely successful restaurants in the Valley already under their belt. BLVD Steak will bring a level of excellence, luxury and fine dining to the Valley.
Do you have other restaurants in development at this time? 
Partnering with Noble 33 has been a great experience, so I look forward to the expansion of other restaurants in big cities like Houston, Miami and New York City.
What's next for you on the property development side? 
We are excited for our full-service high-rise buildings in Phoenix, Miami and L.A. Combined with The Hospitality Group, our exclusive penthouses will offer the same exact designs and livability that our homes offer, just in a smaller space. For example, we will offer Rolls Royce car services, luxurious spa services, gyms with top-of-the-line equipment, and pretty much everything you can expect from a 7-star luxury resort, but at home. Owners will be given membership access to our hospitality partners as well. 
When will they be ready?
The penthouses will be ready within the next 24 months and locations will be in Arizona, Miami, New York and L.A. The L.A. [specific neighborhood] is not being disclosed at this time but they are in negotiations.
We understand that you have nine luxury housing developments about to launch. Can you tell us more, and what we can expect in the L.A. area?
All of these homes have a wow factor in each room. … They are family-friendly yet seductive, inviting and contemporary. Natural elements were prioritized when designing each property, utilizing moss and living walls. White and walnut woods, as well as a ton of natural light, were used extensively throughout each house to create a warm atmosphere. 
These properties are colossal houses with incredible amenities right at their fingertips giving homeowners the feeling that they live on a high-end resort. Pickleball courts, organic gardens and expansive rooftop decks were incorporated in the development of these properties for outdoor entertainment where buyers never have to leave home. 
What separates me from other developers is that I have created a lifestyle brand like no other. Our customer service will continue even after buyers purchase a home. During and after escrow, we offer white-glove service and our goal is to maintain relationships with buyers giving them the best customer care plus VIP access to all of our hospitality services. 
When will the properties be open and available? 
Our first three properties will be ready to go on the market in the next 30 days. The properties are being staged right now.