PacWest Hooks $1.4B Lifeline After Losing 20% of Deposits
Shares have dropped 65 percent in two weeks after customers pull $6.8 billion
---
---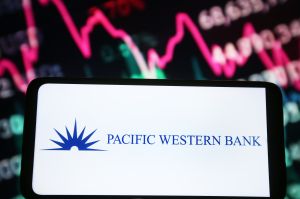 PacWest Bank's stock value was down 10 percent midday Thursday — despite announcing it secured $1.4 billion in cash the day before — after watching customers take back a fifth of its total deposits this year.
The Beverly Hills, Calif.-based lender said Wednesday that Apollo Global Management (APO)'s Atlas SP Partners provided the 10-figure cash proceeds through a senior asset-backed financing facility. The move was aimed at establishing stability after a spike of $6.8 billion in customer withdrawals at PacWest, equal to 20 percent of its total, just since the start of 2023.
PacWest also announced Wednesday that it's ending efforts to raise money by selling stakes in itself, citing market volatility and its other liquidity measures. The bank has already borrowed $3.7 billion from the Federal Home Loan Bank, $10.5 billion from the Federal Reserve's Discount Window and $2.1 billion from the bank term funding program.
"In light of the current volatility in the market and depressed market prices for regional bank stocks, as well as the availability of other options to enhance capital, the company determined it would not be prudent to move forward with a transaction at this time," the lender said in a statement regarding its push to raise funds through a sale.
PacWest has been engulfed in worry and speculation over dreaded bank runs since the collapse of Silicon Valley Bank (SIVBQ) and Signature Bank (SBNY) this month. Like those banks, PacWest is exposed to tech startup and venture capital industries, and its shares have dropped about 65 percent over the past two weeks.
"As we look ahead, we have continued confidence in the strength of PacWest and are encouraged by the stability we have seen in our deposits and liquidity over the past week," Paul W. Taylor, Pacific Western Bank president and CEO, said in a statement. "Additionally, we continue to be encouraged by the clear message from government officials, regulatory agencies and industry leaders, including Secretary [Janet] Yellen's recent remarks regarding the protection of smaller bank depositors."
San Francisco-based First Republic Bank scored a $30 billion rescue package in mid-March from 11 banks in an attempt to stabilize the lender after customers similarly pulled more deposits. However, its stock is still trading 90 percent lower than it was a month ago. Credit Suisse secured a $54 billion lifeline days before it was acquired by rival UBS in a $3.25 billion deal, but its stock value is down 70 percent this month.
Gregory Cornfield can be reached at gcornfield@commercialobserver.com.