Another Grocery-Led Retail Center Sells in Southern California
Sakioka Farms acquires fully leased shopping center in the Inland Empire for $54.3 million
---
---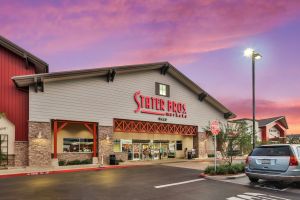 Another grocery-anchored retail complex has traded hands in Southern California, extending a trend that's picked up momentum in the wake of the pandemic. 
Sakioka Farms has acquired the fully leased, 2-year-old New Haven Marketplace shopping center in the Inland Empire for $54.3 million, Newmark (NMRK) announced. Frontier Real Estate Investments sold the 95,020-square-foot shopping center on 10 acres at 3420 East Ontario Ranch Road at the intersection with Haven Avenue in Ontario, Calif.
Grocer Stater Bros. is the anchor tenant along with Chase Bank, Carl's Jr., Pacific Dental and Starbucks. The sale represents the lowest cap rate for a grocery-anchored shopping center in California over $50 million over the past 12 months, per CoStar.
Retail was the only sector to see an annual increase in 2022 in investment sales, according to Newmark, with gateway markets leading the retail rankings. Real estate investment sales across all property sectors declined 15 percent annually in 2022, but retail sales increased by 4 percent to $85.7 billion, the highest annual total since 2018.
Earlier this week, Erewhon opened as the anchor retail tenant at Hackman Capital Partners' Culver Steps development in Culver City.
Other recent grocery-anchored investments in the region include Kennedy Wilson unloading a 136,580-square-foot strip mall led by tenant Vallarta Supermarkets in the San Fernando Valley for $57.8 million. Edens also recently put down $136.8 million for three grocery-anchored shopping centers in Los Angeles County, and Maxxam Enterprises secured $84.7 million in refinancing for a 456,390-square-foot grocery-anchored retail center in Thousand Oaks.
Costa Mesa-based Sakioka stems from the late real estate and farming mogul Roy Sakioka, who was once one of the richest men in the nation. 
Newmark's Pete Bethea, Rob Ippolito and Glenn Rudy represented Sakioka Farms. SRS Real Estate Partners' Pat Kent and Parker Walter represented the seller.
Gregory Cornfield can be reached at gcornfield@commercialobserver.com.
3420 East Ontario Ranch Road
,
Glenn Rudy
,
New Haven Marketplace
,
Parker Walter
,
Pat Kent
,
Pete Bethea
,
Rob Ippolito
,
SRS Real Estate Partners
,
Frontier Real Estate Investments
,
Newmark
,
Sakioka Farms