New Life Sciences Design Can Fill Empty New York Towers
---
---
The life sciences sector has become a formidable economic driver for cities around the world. Today, New York City is becoming a regional force for job creation in life sciences, top-notch science education, and state-of-the art research that capitalizes on all the incomparable energy and talent that this city alone can offer.
The naturally catalytic environment of New York City creates cross-disciplinary connections between academia, tech and creative culture that are crucial to innovation, while its mixed-use zoning mandate sponsors building designs that promote this kind of exchange. New York's favorable regulatory environment permits chemical use throughout the height of a building, something that is unique within the United States.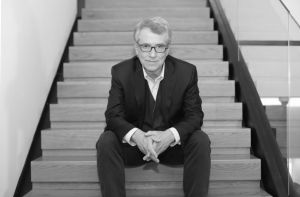 This building code has allowed for the emergence of a new typology: the New York vertical lab. This 21st-century vertical campus model lends itself to a full spectrum of interdisciplinary programs and public spaces connected vertically and horizontally. Labs can be paired with commercial and educational spaces, or they can be incorporated into large podiums at the base of commercial or even residential programs. 
While the idea of the vertical lab isn't new, the notion of the vertical lab as a radical mixed-use building is new and has potential still to be tapped in the New York market. It's a solution so obvious as to be overlooked, but important for New York, which needs it. This type of building sets the stage for innovation like no other mixed-use program. Importantly, too, it is less risk-averse within a market than a huge single-use building, making way for multiple programs within a large building.
This creates an ideal mixed-use community and, crucially, a possible antidote to the commuting woes of the pandemic that have shaken New York City's commercial real estate sector. Now the 15-
minute city, the utopian focus of urban planning worldwide, has translated into a 15-second commute between live-work-play as a seamlessly integrated, hybrid lifestyle.
Demand for life sciences space in New York City grew 67 percent in 2021 alone, and the demand for life sciences space continues to surpass other sectors. Joining these government agencies and private-sector investors are leading institutions and nonprofits, merging the interests of the life sciences sector, academic institutions and the real estate community into a powerhouse partnership. 
The city's Economic Development Corporation (EDC) even created a Real Estate Life Sciences Advisory Board to ensure that life sciences companies secure the infrastructure and physical properties they need to thrive in New York. Along with the city Department of Planning, EDC issued a life sciences report for the New York area that detailed the reasons why it has a quantitative edge in terms of attracting life sciences businesses, jobs and physical spaces.
While some life sciences companies are isolated in clusters, in New York City they are seamlessly integrated into diverse neighborhoods. The city's mixed-use buildings offer a variety of ways to accommodate the business of science. The region offers diverse commercial spaces such as industrial buildings with large floor plates that can easily convert to labs. 
From an architectural standpoint, it turns out that the standard Manhattan city block is an ideal size for lab buildings. New York has a huge inventory of these under-utilized commercial and manufacturing buildings that have surprisingly "good bones." Their robust structural frames and high floor-to-floor clearances make them adaptable to life sciences laboratories.  
In a commercial environment that is still sluggish from the pandemic, New York's major real estate dynasties see the opportunities in the life sciences because people want to do more than just work in New York. This is particularly important for biotech and life sciences companies, and their employees, who expect and seek high-performance environments with amenities and shared spaces. The dark lab isolated from the outside world with rows of lonely cubicles is a thing of the past. Researchers want the same quality of space as creatives. To remain competitive, real estate firms need to consider design quality along with user preference to attract life sciences clientele. 
The 21st century is becoming a new age for science, and New York City is the hub. New York is the place where creativity prospers, and creativity and hustle drive innovations in life sciences. 
Peter Schubert is a partner at Ennead, an international architecture firm based in New York focused on life sciences, cultural, educational and mixed-use facilities.