Developers Have Rediscovered Bedford-Stuyvesant. Can It Sustain the Boom?
---
---
The gentrification of Bedford-Stuyvesant has been in full swing for more than a decade, but it seems to be entering a new phase.
A small Nigerian restaurant that opened on Nostrand Avenue during the pandemic has just been named a finalist for a James Beard Award; Chipotle and Shake Shack are coming to the corner of Franklin Avenue and Fulton Street; and the Bedford-Stuyvesant Restoration Corporation plans to redevelop its eponymous Fulton Street plaza into office buildings. 
The Nigerian restaurant is Dept of Culture, a nondescript storefront at 327 Nostrand Avenue, between Lexington Avenue and Quincy Street. With 16 seats, one large table and a bring-your-own liquor policy, it's both of the neighborhood — unassuming, relaxed, West African — and somewhat high end, with its $97-a-head four-course tasting menu and limited reservations released in seven two-hour blocks. Chef-owner Ayo Balogun does all the cooking himself, The New Yorker reported last year, with the help of a hostess-waitress and a dishwasher. He told the magazine that he wanted it to feel like a buka, which is a casual, hole-in-the-wall-style Nigerian eatery.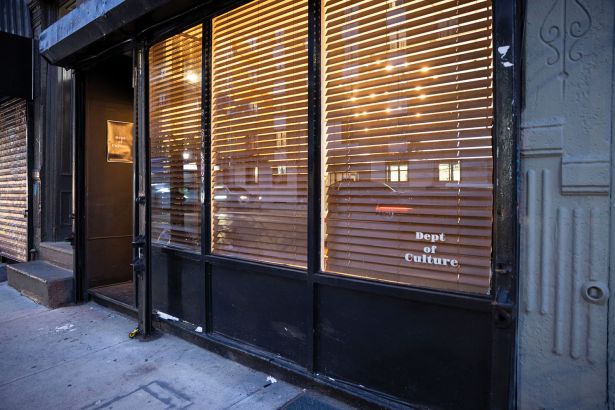 The evolution of Fulton Street, another main drag in the Brooklyn neighborhood, has followed a different but related path. National retailers have increasingly flocked to Fulton between Classon and Nostrand avenues in recent years. Shake Shack announced plans in January to open at the corner of Bedford Avenue and Fulton Street, where a new residential building replaced a discount store during the pandemic. Chipotle, too, is opening on the ground floor of the building at 1190 Fulton. Bond Vet, a fast-growing veterinary chain with outposts in New York, Boston and D.C., recently leased space one block west at 1134 Fulton, another new apartment building at the corner of Franklin Avenue and Fulton. They'll join a third national chain, Blink Fitness, along with boutique local grocer Lincoln Market. 
Retail rents have risen accordingly, sparking concerns that small, local businesses will be pushed out by landlords who think they can get higher prices. Asking rents for retail space in the neighborhood range from $40 to $90 a square foot, with new buildings like 1134 and 1190 Fulton at the higher end of that range, according to Cushman & Wakefield (CWK) retail broker Mitzi Flexer. 
"Back when I started in Bed-Stuy in 2015, we were eager to get $50 a square foot," said Flexer. "Now that corridor between Franklin and Nostrand on Fulton is so hot. There's lots of foot traffic, there's lots of people that live there. So it's a no-brainer when you see these national [quick-service restaurants]." Flexer added that these days she's seeing a lot of interest in Bed-Stuy retail from accountants, banks and financial advisers.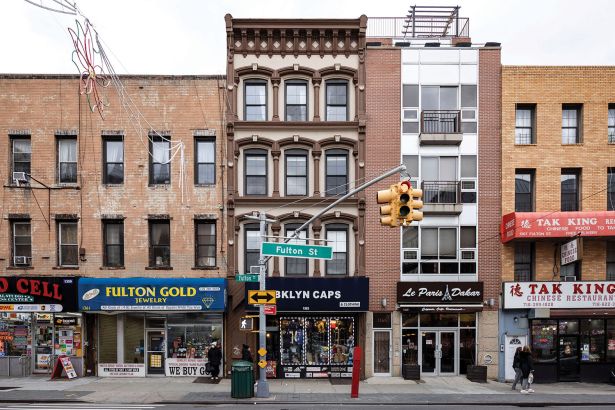 Residential rents have risen dramatically, too, over the past few years, even with the overall decline in rents that the pandemic brought on. 
"We've been working in the area for 20 or so years, and what I can tell you is that if properties were close to [Classon Avenue], we used to push it more towards Clinton Hill," said Andrew Barrocas, CEO of residential brokerage MNS. "But now Bed-Stuy is a destination, it's desirable. It always had great roots, great history and a great makeup. And now there's great retail coming into the area."
He estimated that Bed-Stuy rents were about 15 percent higher than they were pre-pandemic. Many Brooklyn neighborhoods, he said, "are at the highest price points they've ever been." Average monthly rent for a Bed-Stuy one-bedroom swung from $2,358 in March 2020 to a low of $2,059 in January 2021, and hit a recent high of $2,834 in August 2022, MNS rental data shows. 
The condominium market in the neighborhood, however, is seeing a slowdown. A number of small condo buildings have been completed over the past few years, both new, ground-up construction and brownstone conversions. However, rising mortgage rates have priced out many potential buyers, many of whom would be buying their first home. 
"If you're a condo buyer, two years ago you could borrow at 3 percent, and now you have to borrow at 6 percent," said Matt Cosentino, an investment sales broker at TerraCRG. "Your mortgage payment may be too high now; you may be priced out. I think condo developers may be hesitant to build in a neighborhood like Bed-Stuy now because there's more price sensitivity." 
He added that the June 2022 expiration of 421a — a developer-friendly tax exemption for new construction — is complicating both rental and condo development in Bed-Stuy. "With the interest rate environment where it is now, there are not many people looking to do condo projects in Bed-Stuy without a tax abatement," said Cosentino. "If you can't do a rental project because of 421a and you can't do a condo project, you're just going to have to wait to build." 
Multifamily sales in the neighborhood are on the upswing, he said, with 37 apartment building trades last year, up from 28 in 2021. Market-rate rental buildings in the area are selling well because the rental market is strong. However, 2019 changes to state rent laws that dramatically limit rent increases on stabilized apartments have dampened the sale of rent-stabilized buildings. 
"Bed-Stuy has a lot of six- and eight-unit rent-stabilized buildings, and buyers were not as interested in those types of deals," he said. "They don't benefit from the rental increases, but utilities increased and taxes increased." 
And, while new residential construction in Bed-Stuy might be slowing to a crawl, the redevelopment of Restoration Plaza would be the neighborhood's largest new commercial project in decades. The Bedford-Stuyvesant Restoration Corporation (BSRC) applied to the Department of City Planning in January for a rezoning that would allow a new three-tower commercial and retail project on the plaza, which has occupied Fulton Street between New York and Brooklyn avenues for nearly 60 years. 
The 2-acre complex will be torn down to make way for three buildings — projected to be 16, 13 and four stories — to be built over the next five to 10 years. The 840,000-square-foot development would include space for local nonprofits, which occupy existing office space in the plaza, as well as new cultural and program spaces for BSRC. The community development corporation currently operates an art gallery, an amphitheater, a large public plaza and multiple retail spaces, as well as programs for workforce training, financial education and home ownership assistance.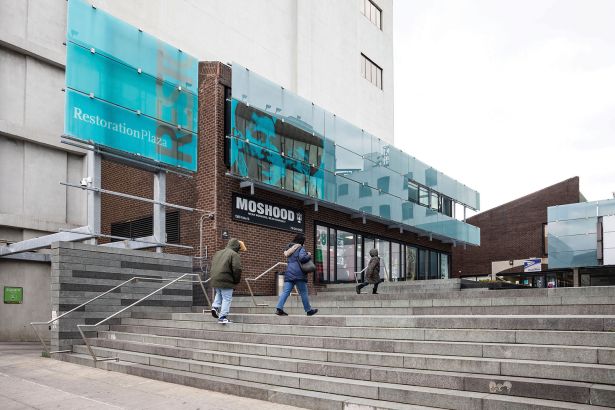 Restoration Plaza's new iteration will have all of that, plus more office and retail space. The largest retail tenant is a Super Foodtown, which will remain in place for the first half of construction. The first phase consists of the two smaller towers, and once that is complete the supermarket will move to the finished portion of the project. Applebee's, a U.S. Post Office, and clothing store Nicholas have also been in the plaza for years. It's not clear whether they'll stay, but the new development is slated to have 190,000 square feet of retail. 
"We're talking to them about relocation plans," said Blondel Pinnock, the president and CEO of the BSRC. "We would be able to relocate some of the office spaces we have to a building on New York Avenue."
Pinnock said the full cost of the project is likely to range from $500 million to $700 million. The four-story "cultural building" — which will be BSRC's offices — will be subsidized by $50 million in funding from the city. The rest of the project is not funded yet, but the nonprofit hopes to snag financing from city and state sources, as well as private investors like Goldman Sachs Urban Investment Group, according to Pinnock. 
She said she hopes to provide subsidized offices for nonprofits as well as subsidized storefronts for local businesses. Providing job training programs, and potentially space for a local college, are high priorities for BSRC, she explained.  
"Restoration has been in the community since 1967," said Pinnock. "What we know is when Restoration was started, it was started to stabilize and bring much-needed services into a community that was in desperate need. We know Brooklyn is in a much different scenario now than it was then. It's one of the fastest-growing boroughs. Black and Latino residents have not benefited from the growth that has happened in the borough and in Bed-Stuy. We have to make sure we are meeting our community where it is from a racial equity standpoint. We have to make sure we are bridging the racial wealth gap." 
Rebecca Baird-Remba can be reached at rbairdremba@commercialobserver.com.