Jessica Goldman Srebnick on Art, Wynwood and Being Her Father's Daughter
---
---
Jessica Goldman Srebnick stepped in as co-chair at Goldman Properties in September 2013, just five days before her father, visionary developer Tony Goldman passed away.
"It was a tsunami of emotions, but it was a really extraordinary privilege," Goldman Srebnick said. "It was something he trained me for. The role of leader for me is living a life that would make my dad proud."
Goldman Srebnick's arrival ushered in a new era for the company, which had built its reputation revitalizing historic neighborhoods in New York City, Miami and Philadelphia since 1968. She had first joined the family company in 1997 after earning a degree in child psychology from Boston University, followed by a stint at Saks Fifth Avenue as associate fashion director.
As co-chair, she currently oversees a portfolio of restaurants, office buildings, a boutique hotel, commercial and retail properties and large-scale public art projects. She also founded Goldman Global Arts, a company that works with developers on their arts programming, from commissioning large-scale murals on the facade of apartment buildings to purchasing fine art for office spaces. 
"Not only have we done this for ourselves for decades, but now another element of our business is to do it for other real estate developers," Goldman Srebnick said.
Goldman Properties was an early investor in Miami's Wynwood, purchasing more than 25 properties in the then-blighted neighborhood, beginning in 2004. The mostly industrial area, which consisted of abandoned warehouses and a smattering of artist studios and galleries, may have lacked historic architecture, but it made up for that with abundant warehouse walls that could act as a canvas for street art. 
When Tony first set his sights on Wynwood, it was desolate. "You could roll a bowling ball down NW Second Avenue—there was literally nobody there," recalls Goldman Srebnick, but her father could see the potential. "He said, 'This is going to be the center for the creative class.'"
The crown jewel of their holdings is Wynwood Walls, an outdoor museum dedicated to street art, which opened in 2009. It has become the de facto heart of the neighborhood, attracting three million visitors a year to view works from street art legends like Shepard Fairey and Keith Haring, as well as emerging talent like Maya Hayuk and the London Police.
Over the years, Wynwood has transformed into a hotspot for dining and nightlife, while many of the artists and galleries that initially gave the area its street cred have dispersed to neighborhoods north and south, like Little Haiti and Allapattah. 
Commercial Observer caught up with Goldman Srebnick to learn about the early days of Wynwood, her path to leadership at Goldman and the future of Miami's ever-changing real estate landscape.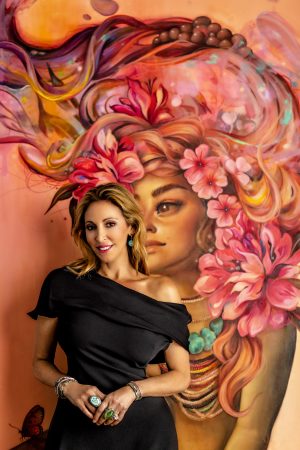 Commercial Observer: Your father didn't like being called a developer, but thought of himself as a long-term investor in revitalizing historic neighborhoods. How does that speak to the ethos of Goldman Properties, then and now?
Jessica Goldman Srebnick: For most of his career, going into these downtrodden neighborhoods, people wouldn't understand why he was doing it and I think it really drove him. He had to have an intense amount of optimism. My mother used to call him a cowboy because he really would take big risks and be unafraid, but because he was super passionate, it just seemed natural. 
The markets change, technology changes. Doing business 30 years ago is so different from doing business today, but what remains is elevating the quality of life in the places where we work and doing it with love, joy and authenticity. 
What was it like growing up in a family business with an appreciation for architecture, history and art?
It was a very unusual upbringing. We lived over one of our restaurants in Soho in a loft when lofts were kind of a new thing. You talk about business seven days a week at the dinner table. You're exposed to the challenges of business at every age. I loved being exposed to all things creative as a young person. 
When did your interest in the business spark? 
Growing up, I didn't think that real estate was a sexy, interesting business. I didn't think it was something I wanted to be a part of. I was applying to business school because I wanted to run my own business and my mom said to me, "Your father is an exceptional teacher. The way that he thinks is so visionary. You should take the opportunity to learn from him." We joke that I was going to the Tony Goldman School of Business. 
Talk to us about your initial roles at Goldman Properties.
I was a sponge. I chose to be a sponge. I loved sharing a desk with my dad. I gave him a one-year contract because I was concerned that our relationship as father and daughter would change and I wanted an out if I needed one. 
He put me through all the different parts of our company: real estate, finance, hospitality. And I loved it. We were a smaller company back then. I found it to be really interesting and creative, structuring deals, design projects, hotels or office spaces, incorporating art into your real estate project. 
What potential did you see in Wynwood early on? What makes it so special?
Wynwood is just a really unique environment. It's covered in color, texture and grit. It's completely and totally unique. It's a real incubator for ideas where people push the envelope when it comes to design. 
We're New York City people and we like to walk. There was no walking in Miami—Miami was a very vehicular community. Here was a neighborhood that had all of the elements of walkability, so then you curate the neighborhood and make sure that you have businesses that would service people in the morning, in the afternoon, in the evening. You want the bakery and the coffee shop and the interesting dry goods retailers. You want incredible food and beverage providers. 
We try to utilize real estate as a canvas and then you have the ability to create really exceptional, one-of-a-kind destinations. You're creating landscapes of cities, of neighborhoods. You're putting your fingerprints on a community by how you design your product—that's exciting. 
As a family, we've had a huge hand in helping to make Wynwood what it is. It was my dad's last project and I think he'd be really proud of what we've done.
When you reflect on the area's transformation, what comes to mind?
Wynwood Walls has given joy to millions of people by providing a platform to an art form that's been underappreciated. We've contributed to people having a different relationship with art by putting it into an environment in an unusual way. We've used walls to change—to change neighborhoods. 
It's very fulfilling to walk down the street and see lots of new businesses opening and people smiling and know that you've had a positive impact on the lives of a lot of people by things you're doing as a company. 
What do you see as the future of the neighborhood's development?
We still have a ways to go as far as the kind of evolution you're going to see over the course of the next five years. There's going to be tremendous growth and new product—office, residential. We're seeing investments continue to grow; construction will continue to grow.  
We're going from a neighborhood that was predominantly horizontal to a neighborhood that's becoming vertical. How do you adjust to that? How do you lead by example? One of our really exciting new projects, we're in the design phase of a new office product, which I believe is going to be the intersection of art and design, between raw and refined, creating environments that support culture and technology. 
Obviously we're not the only developers here. Businesses want to be here. We're seeing the tech world wanting to plant their roots here. There's not enough product—there's not enough office product, residential product—but businesses want to be here because people that work within organizations, they want to be inspired, they want to be surrounded by creativity. That's when ideas flourish. 
Why is art such a central pillar to your business? 
Art is good for business, but it's also good for the soul.
At Goldman Global Arts, we're doing a huge project in Deep Ellum in Dallas where we're infusing art into an entire neighborhood, everything from large-scale sculpture to 16-story murals on the facade of apartment buildings to buying fine art for office spaces. 
I think it's becoming an expectation of customers. People want to live in a building that provides a hospitality feel, same with office buildings. We also have a lot of people buying new homes in 
South Florida and new homes have blank walls and blank walls need great art. 
What's your view of Miami's recovery from the pandemic? 
Hospitality, the restaurant business, got crushed over 2020, but if you ask restaurateurs from around the country what cities they're focusing on, Miami is a top tier city to have a presence. We're seeing a lot of national names, whether they're restaurateurs, hoteliers, major business players, they want to be here. Wynwood has emerged as one of the hottest neighborhoods, certainly in the country, but it's being talked about around the world.
You grew up in New York and have made Miami Beach home for over 20 years. What's attracting newcomers right now?
What I see as a result of the pandemic is a real appreciation of Miami as an international city. It used to be considered just a resort, party town. It's not like that anymore. There's serious business happening here. There's serious opportunity happening here. There's opportunity for investments. 
I know how special this city is and I think the pandemic has opened up a window into the world to really appreciate the fact that Miami is the city of the future, and Wynwood, within that, is the creative core of this international city. We're seeing people wanting to move here permanently. We're seeing people moving their offices here, their families here. I think the job market is going to be super interesting because any great city needs a lot of different components in order to attract a solid workforce. I think that's growing. 
For people who want quality of life and great job opportunities, that's here. We have culture, beautiful people, beaches, the weather, the architecture. We have everything. I'm a self-proclaimed ambassador.