Hudson Companies Picks Up Controversial Crown Heights Site for $41.5M
---
---
Hudson Companies picked up a controversial Crown Heights, Brooklyn, development site — where the previous owner came under fire for planning to boot the longtime supermarket on the property — for $41.5 million, according to brokers on the deal.
The developer picked up the property at 975 Nostrand Avenue from Midwood Investment & Development with plans to build a mixed-income housing building there, and vowed to keep the agreement that will let Associated supermarket remain at the site for another 15 years.
"As long-time believers in this neighborhood, we're excited for the opportunity to create much-needed housing, while supporting the preservation of a valued neighborhood business," David Kramer, president of Hudson Cos., said in a statement. "We know that thoughtful development can serve multiple needs and look forward to delivering an excellent project to our neighbors in the Crown Heights and Prospect Lefferts Gardens communities."
Midwood bought the one-story property in 1970, which formerly housed an A&P before Associated opened more than 30 years ago, online news site Bklyner reported. Earlier this year, Midwood announced plans to redevelop the site into a mixed-use building with housing and retail, and gave Associated a 30-day vacate notice in February, The City reported.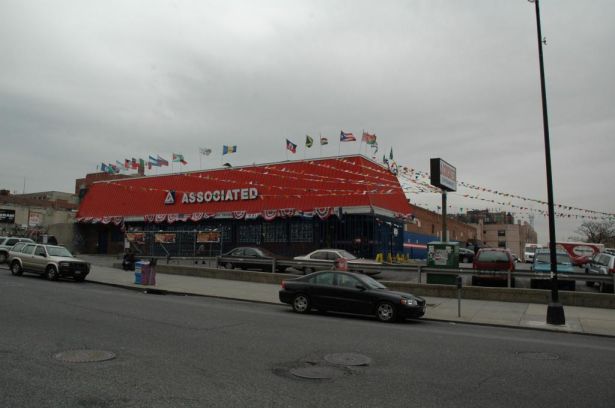 The eviction notice spurred petitions and protests from neighbors trying to save the supermarket, and Midwood sued Associated owner Pablo Espinal in March, accusing him of starting a "smear campaign" against Midwood, per The City.
However, in July, Midwood announced that it signed a new 15-year lease for Associated to remain at the property once the development is complete, with it temporarily shuttering starting in July, Patch reported.
Hudson's plans for the 59,633-square-foot lot also call for Associated to take at least 21,000 square feet in its new development, which will have mixed-income housing, retail and a community space, the landlord said.
"Over the last 50 years we have remained a committed member of the Crown Heights community and are proud to have worked with Hudson, a developer who shares our commitment, to ensure that this site continues to play a vital role for the neighborhood," John Usdan, president of Midwood, said in a statement.
Cushman & Wakefield's Daniel O'Brien, Adam Spies, Josh King, Marcella Fasulo and Caroline Hodes represented Midwood in the deal. The C&W brokers declined to comment.
Nicholas Rizzi can be reached at nrizzi@commercialobserver.com.