Steven Kamali Thinks Gourmet Food Can Entice Office Workers Back
Can getting gourmet food from the likes of Mission Chinese Food and La Esquina be the secret to getting workers back to the office? Steven Kamali's Kitchclub is going to find out.
---
---
The re-entry from COVID lockdowns to something approximating normal life has been rife with challenges on every front, from the pressures of safely coordinating offices full of employees to evaluating the potential dangers of the Delta variant. Given this, anything that lessens these challenges could be seen as a lifesaver — sometimes literally.
One aspect of this is the emergence of delivery services designed to minimize the number of people entering a building.
Kitchclub, developed by restaurant consultant Steven Kamali, is one service that allows office workers to order from a wide variety of chefs and restaurants, then have it delivered in bulk all at once.
"We have the ability to provide for group ordering, whether that be individually packaged or family-style meals," said Kamali, who maintains a Kitchclub commissary — or ghost kitchen — in Manhattan, and is currently developing two more in Downtown Brooklyn and Stamford, Conn. "If you're an administrator and want to order food for 50 to 500 people, they have their different tastes and some have allergies. We're producing food off of eight different menus from a variety of brands, both our own and brands that we license."
That, plus there's a gourmet factor. While ghost kitchens have been up and running since well before the pandemic, Kitchclub customers have access, or will have access, to cuisine from brands that include La Esquina, Mission Chinese, Mister Poke, Sushi Standard, Plant'd, Fortunato, Tisserie and more. Some of these offerings are currently available, while more are on the way, and the bulk ordering allows Kamali to keep prices reasonable.
According to listings on the Kitchclub website, current items include Cold Sesame Dan Dan Noodles from Mission Chinese for $7, an eight-piece Salmon Avocado Roll from Sushi Standard for $8, and Kitchclub's own Fresh Mozzarella Focaccia sandwich for $7.
Kamali credits bulk ordering for allowing Kitchclub to keep prices low.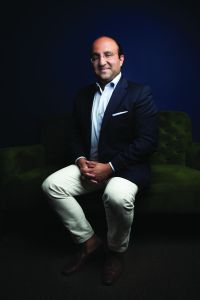 "When we're able to do things at great volume, we're reducing our packaging and logistics costs," Kamali said. "If I'm delivering one meal to one person, you could imagine the amount of materials we're using, including taking the car out and [the employment of] the delivery driver for just one person. If I'm able to deliver it to an office that has 150 or 300 employees, I pass that savings along and it's dramatic."
On the technology side, the orders are handled by Zuul, a company that also runs their own ghost kitchen in SoHo for other clients, such as Silverstein Properties.
"We have technology that allows any kitchen to become a ghost kitchen, from the kitchen management system all the way through streamlining logistics," said Shoba Patel, strategy manager at Zuul, which delivers around a thousand meals a week. "We power kitchens throughout New York City, and then, on the front end, we have a marketplace that allows folks like Silverstein to order from these kitchens. So, ultimately, we're building demand for all of the kitchens that we're powering."
This technology is also the secret to Kitchclub being able to keep prices down.
"The fact that we transport multiple orders on the back of one courier is, ultimately, the real value-add here," said Patel. "You look at delivery, it's incredibly inefficient in the context of food. It's typically one order transported by one courier who's making tips off of just that one order. 
"With Zuul, we've got one courier transporting anywhere up to dozens of orders, collecting tips across all of those orders, and then a building only having to manage the entry and exit of one courier. The batch logistics is where this whole equation makes delivery profitable, and, ultimately, very different from the food delivery we're used to at the moment."
Kitchclub's clients have the advantage of flexibility in how orders are handled administratively, as companies can pay for all of their employees' meals or just some, have employees pay for their own, or some blend of these approaches.
"There's this really amazing bookkeeping and financial planning side of the company that allows people to work with different budgets, and allocate money to guests as they see fit," said Helah Kehati, Kitchclub's chief culinary officer. 
Kitchclub's ordering and delivery process through Zuul also helps starkly decrease an office building's foot traffic, allowing for safer, food delivery transactions, while also helping restaurants develop additional sources of income.
"Buildings with a lot of offices will say there's too many deliveries coming in, and we're getting pushback," Kamali said. "Here's a way we can reduce the traffic, the number of bikes and couriers, and the amount of interaction security services have to have with these folks."
Kamali is no stranger to the ins and outs of the restaurant industry. His Hospitality House, a consortium of hospitality-based services, has developed or consulted on food and beverage strategy for Moxy Hotels, Related Companies' Equinox Holdings, the Gramercy Park Hotel, and 30 Park Place, among others.
Kitchclub started delivering food this past April, and the company's client list currently includes Stellar Management, The RealReal, WeWork, and the corporate offices of Equinox to start.
"We utilize catering platforms to be able to find distribution, and we also seek out native sales through our sales team," said Kamali, who is currently focusing on expanding the business throughout the tri-state area, and hopes to eventually raise capital or develop strategic partnerships that would allow him to expand the company further.
According to Kamali, Kitchclub has had its greatest success so far with law firms, private equity firms and hedge funds — companies where employees are more likely to work through lunch. Kamali said that the response to Kitchclub has been especially strong in the areas just outside of New York City, while he believes that the city itself has had fewer potential customers so far.
"In New Jersey, Connecticut, and Long Island, there has been an overwhelming response," Kamali said. "Because they're [thinking], I can get city-quality food brought to our door, and not at a retail cost. So, that — especially when they have larger offices — is very important to them. There aren't many offices that have 250-plus folks back in the office in New York City, so our target audience in the city is the 50- to 100-person team or office. Right now, that's who we've had the most success with." The company's minimum for delivery is 15, though. 
Kitchclub hopes for an eventual expansion not just geographically, but by business line as well.
"What's more important to me than geography is relationships with different verticals," said Kamali. "There will be three foundations to the business. Schools and universities. Health services — i.e. hospitals and doctor's offices, medical life science offices and laboratories — because those folks, to a large extent, don't have the benefit of being able to race out for lunch and enjoy a meal outside, so this gives them a great variety and allows them to also remain healthy. And offices."
Kamali is also exploring franchise partnerships, where Kitchclub would be a brand's exclusive delivery partner, and said he's currently in negotiation with seven different brands. With franchisees, he would also open Kitchclub to home delivery.
While all of this leads to affordable meals, there is also a belief that this sort of delivery is a particular COVID-era benefit for offices and other institutions, in that it could make employees less reluctant to return to the office.
"Food has become an integral part of what attracts people back to work," said Kitchclub co-founder and CEO Carolyn Vahey. "The convenience of what they're able to access, especially when you're talking about offices that might be opening before local food and beverage establishments open back up, [allows us to] provide them with every option they could possibly want."
And, as Zuul's Patel notes, food-related amenities were already in growing demand pre-COVID. The pandemic has provided yet another reason for companies to consider the service.
"To have food easily accessible is something that a lot of landlords were thinking about prior to COVID. But, now, it's much more of a necessity when you're dependent on getting people into the building," said Patel. "The fact that landlords can opt into this, turn it on, and activate their building in less than two weeks makes this a very simple amenity for them to roll out, and they ultimately start to see the conversion across their tenant base. Ultimately, what their goal is — and our goal as well — is helping people get back into the building safely, and feeling like it's an even more elevated experience than before."
Given all this, Kamali said he believes that once people start returning to offices in larger numbers, bulk food delivery services like Kitchclub have the potential to become not just a widely used amenity, but an essential health and safety offering.  
"I do think that come September, it's going to become overwhelming. Imagine it's 12 o'clock, and you have an entire building emptying out to go back outside and then waiting in line," Kamali said. "And, now that folks will have less days in the office, we think that they're going to be more compelled to eat in the office, given that they want to be able to interact with their coworkers."