Self-Storage Rents Rising Post-COVID Amid Steady Demand
---
---
The industry that thrives on death, displacement, divorce and disaster is — surprise, surprise — thriving coming out of the pandemic.
The average monthly rents for self-storage increased markedly in April compared with the same time last year, according to new figures from Yardi Matrix. The property management and investment company tracks nearly 29,000 multi-unit self-storage properties in major markets nationwide.
The average rent for 10-foot-by-10-foot, non-climate-controlled, self-storage units increased 8 percent annually in April. The average for 10-foot-by-10-foot, climate-controlled units was up 9.5 percent. The average rents for both types were also up slightly from March. In fact, for the first time in four years, all the metro regions that Yardi Matrix tracks saw rents increase month over month for 10-foot-by-10-foot, non-climate-controlled units.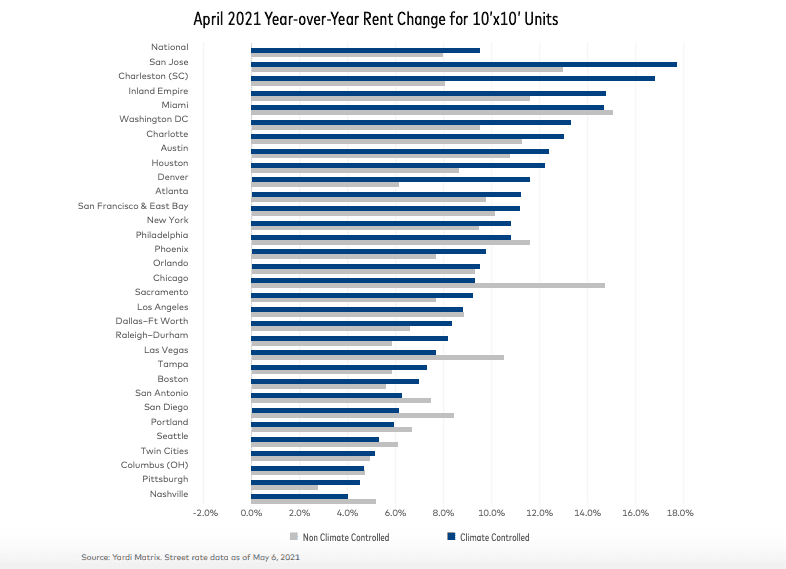 What's more, April's national average rents of $122 for 10-foot-by-10-foot, non-climate-controlled units and $138 for 10-foot-by-10-foot, climate-controlled ones were higher than any recorded during 2019 and much of 2018, pre-pandemic.
This all suggests that, far from dampening demand, the pandemic has only sustained self-storage, or at least not gotten much in the way. The industry has long ridden what insiders call the four D's: death, displacement, divorce and disaster.
"Self storage continued to benefit from ongoing demand tailwinds in April," the Yardi Matrix report, released Tuesday, said. "Street rates had another strong month and continue to rise nationwide, while there has not been a meaningful shift in development activity."
That last point is particularly important for self-storage in the near term.
The biggest risk to the industry, particularly for owners, investors and operators, was the threat of over-saturating some markets. Self-storage was proving so popular after the Great Recession with its steady revenue returns that it was drawing in ever more players. The number of U.S. self-storage facilities grew to more than 186,000 in 2020 from around 155,000 in 2011, according to research firm IBISWorld. Rents started to wobble; revenue projections slimmed.
Then came the pandemic. Construction freezes in major metro areas, plus the general uncertainty of the business and some states deeming self-storage an inessential business that had to shutter to curb COVID's spread, slowed the development of new self-storage cubes.
The pandemic appears to have dramatically slowed that development. From March to April, the national new-supply pipeline as a percent of existing stock increased 0.1 percent. The share of projects in planning or under construction equaled 8.3 percent of existing inventory in April, according to Yardi Matrix. Just before the pandemic, that share stood at 9 percent.
Still, the resiliency of self-storage could yet prove its undoing from an investment standpoint.
As it picks up in popularity coming out of COVID, that development pipeline could swell with new projects, a point the Yardi Matrix report underscores: "[W]ith each forecast update since the pandemic began, new-supply projections for the next five years have increased and climbed closer to pre-COVID levels. This could be a sign that in the long term, storage may face more supply headwinds, especially as developers continue to see the strength of the industry."