Related Group's JP Pérez Is Just Getting Started
The new president dishes on his goal for dominance in Miami and beyond
---
---
He's got big shoes to fill. 
Jon Paul Pérez, the eldest son of Related Group founder Jorge Pérez, was promoted last fall to take over one of his father's top positions at the storied development firm. 
In his new role as president, he's been helping to guide the firm, famously known as Miami's largest condo developer, through a market ripe with opportunity. And while the elder Pérez carries on as CEO and chairman, the younger Pérez, or "JP" as he's known, is steadily picking up responsibilities and mastering the game. After all, a move to CEO isn't far behind. 
In March, Related secured Silicon Valley venture capital firms Founders Fund and Atomic to 10-year leases at its newly constructed Wynwood Annex office property. The signing served as a win for an up-and-coming market that JP, as executive vice president, had originally championed. 
And the 36-year-old executive is bullish on a condo market that's being propelled by northerners escaping high taxes and closed-up cities. Solemar, the group's luxury condo project in Pompano Beach, is already 70 percent sold, despite construction not starting until recently. Similarly, the Ritz-Carlton Residences in Tampa will break ground in the next three to four months and 30 percent of its units are already sold. The Baccarat, an ultra-luxurious, high-rise project in Miami's Brickell, began sales earlier this month.  
Commercial Observer sat down with JP Pérez to discuss his transition to the top role, his outlook on Miami's condo market, and why an insane amount of pressure isn't necessarily a bad thing. This interview was edited for length and clarity.
Commercial Observer: A lot has been made of the current migration of northerners to Florida. How is that translating in terms of demand for the condo market?
Jon Paul Pérez: It's pretty amazing what's been happening. Coming into the pandemic, we thought we had about two years left of inventory, but we sold out within six months. Most of the buyers — I would say 95 percent — are domestic. The majority are from the Northeast, and then, I would say, the Midwest and California. 
These new buyers are relocating and making Miami their first home, as opposed to their second home. And they're bringing their companies with them. It's diversifying Miami's economy. 
Now, you have real firms — anywhere from venture capital, private equity, hedge funds — that are making Miami their home. They're signing 10- to 15-year leases. So, it's not like they're just coming in and going back to New York when it opens up. They're making a commitment. 
So, you're not fearful about northerners moving back? 
We're extremely bullish on the demand continuing over the next couple of years.
I think our best realtors are Cuomo and de Blasio. The political environment in New York is not great for business and the wealthy. That's hard to change. So I think the movement from New York to Miami, or even the Northeast to Miami, is going to continue. 
Before, people thought that no one worked in Miami. If I'm a young guy working for a firm in New York and I take a job in Miami, if I lose that job in Miami, there's not another firm that's going to hire me. Now, there's a lot more of these jobs available. So, people are realizing they don't have to be in New York.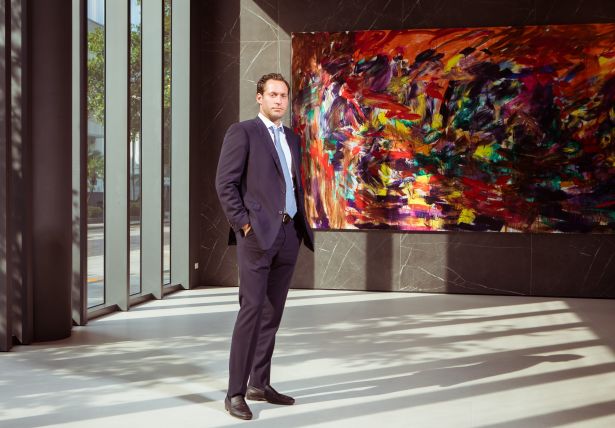 Many of these companies are either looking or have signed leases in Wynwood, and you pushed the company to develop in Wynwood. Do you feel validated by that bet?
So, Keith Rabois, the founder of Founders Fund, was looking to move his fund from California to here. He decided on Wynwood. Since that announcement, we now have [letters of intent] on the remainder of the space. That was the rubber stamp on Miami, and specifically on Wynwood, for those kinds of companies.
I always thought Wynwood should be the market where tech companies, marketing and advertising firms would want to be. Pre-COVID, we had only one lease with Live Nation. It was pretty quiet. I was sort of second-guessing my bet. But now, it all makes sense. So, I'm glad.
Where do you see Wynwood in the next couple of years? 
Wynwood is basically still in its infant stage. 
Remember: Before we developed there, there was no residential. It was old warehouses that people were just renovating. Today, there are probably 1,000 units under construction, with another 2,000 to 3,000 planned along with 2 million square feet of office. All that will get built over the next four to five years. So, it's almost like the Meatpacking District before it became what we think of it now. We continue to buy more properties there because I think this is just the beginning. 
What other neighborhoods are high on Related's radar right now?
In Brickell, we are pursuing two very large deals that would be iconic projects for the city. Those two, coupled with the Baccarat and the rental we broke ground in, we have 4 million square feet of development just in Brickell. 
We're also focused on our office building site in Miami Beach called Terminal Island. That will be 140,000 square feet of office catered to the hedge funds and private equity firms. We're trying to recruit companies to lease and, hopefully, break ground this year. 
What's your vision for the company?
I want to stay on top — be the biggest and offer the best quality for the price, whether it's affordable housing, market rate, multifamily or condos.
In addition to that, there's a lot of competition from national and New York firms, especially now that South Florida is the hottest place to be. We need to stay on our toes and be aggressive. If you're not, you could not become as prominent. So, that's definitely a focal point of mine: to make sure we control as much of Miami and South Florida as we can. 
One of these New York-based firms is Stephen Ross' Related Companies. While separately owned and operated, Related Group is an affiliate of Related Companies. Just as your company is making inroads in office development, Ross' Related became a leader in Class A office space in West Palm Beach. Do you feel like Ross is encroaching on your territory?
Early on in COVID, Steve made a bet that there was going to be all these companies moving down. Which was the right bet. He bought existing office buildings in Palm Beach. We're not big buyers of existing buildings. It's just not really our business. We're more developers.
It actually helps us, because we're building the multifamily, he's bringing the tenants, and those tenants need a place to live.
So, how do you share responsibilities and power between you and your dad?
He's more just giving his two cents, as opposed to him really leading the charge.
He likes to do the fun stuff. He loves looking at interior design presentations when an architect first comes up with the initial rendering. He likes to know how we're going to reposition our next condo in the market. I'll find a deal — whether it's condo, rental, mixed-use — and say, 'Hey, this is what we're going to do. Here's how we're planning on financing it and here's the business plan.' 
Was it daunting to take over the family business?
I'm the eldest son. I have an older sister and two younger brothers. [One of the younger brothers, Nicholas, serves as a vice president at Related]. So, I always felt the responsibility of the family, other than my father. That feeling of having to be the one responsible for the next generation, whether it was to go into the business or not.
[My father] said, 'Hey look, I think you're ready. It's time. I'm going to announce you [as] president.' And I was very excited and appreciative. I felt like I was ready to step into those shoes. The next morning, I wake up and I'm like, 'Oh my god. You have a lot of responsibilities now for a lot of people. You need to continue and carry on this legacy, and keep this company great.' We don't produce widgets. So, every year, we have to reinvent ourselves and find deals. It's challenging.
[But] I love what I do. So, I wake up every day excited to go to work. That makes it easier. My role model is still there in the company and guides me. I know I'll make mistakes, but he'll never let me go too far off the road. 
What's life without pressure, right? If you didn't have pressure, you wouldn't try as hard.  
What do you say to your critics, who think you only got the job because of nepotism?
We always had to earn everything that we had. We obviously grew up in a privileged lifestyle. But we've never been given anything. Like in college, I got $300 a month. When I graduated college, [my father] said, 'You're not working for me. You have to be out for five years and get your MBA.' I had to earn my stripes in New York before he would even consider hiring me. 
When he did hire me, I worked as a project manager, just like anybody else. I had to prove myself and work harder than anybody else. People's initial opinion would be that 'he's only the owner's son and he can do whatever he wants.' 
But you actually have to act the exact opposite — and earn people's respect.