Silverstein's $700M Loan to Fund Construction of Massive Seattle-Area Project
---
---
Silverstein Capital Partners (SCP), the lending arm of Silverstein Properties, has made its first foray into the West Coast with a $700 million construction loan it provided to Fortress Development. The loan funds the construction of Avenue Bellevue, a 1.1 million-square-foot, mixed-use project in Bellevue, Wash., according to information from the lender. 
The financing will help see the expansive hotel, condominium and retail mixed-use development to fruition, as excavation started in January 2020 and it's scheduled to be delivered to market in 2023. 
"We are excited about the opportunity to continue expanding our lending platform and development expertise to Bellevue and other cities across the United States," said Silverstein Properties CEO Marty Burger, adding that the SCP lending arm has "far exceeded our expectations" since it was founded in 2018. The platform has underwritten more than $50 billion in debt and has grown its total assets under management to more than $2 billion since it was launched. 
Cushman & Wakefield (CWK)'s Dave Karson, Chris Moyer, Alex Lapidus and Emily Johansen sourced and arranged the financing.
"Condo, hotel and retail assets are not easy to finance today, but the Puget Sound is one of the few markets in the country where you can get these types of deals done," Karson told Commercial Observer. "We're on track to bring over $2.5 billion into the market this year as investors from all over the world are coming to this market for the safety of the big tech expansion and the tens of thousands of new high paying jobs being created."
The Pacific Northwest's first-ever InterContinental Hotels & Resorts hotel will be hosted at the development, which will also sport 365 residential condos across two 25- and 26-story towers, as well as around 73,000 square feet of retail and fine-dining space, according to SCP.
Fortress is leading the development team, and Seattle-based general contractor JTM Construction is serving as the construction manager. Local architecture firm Weber Thompson is handling the design.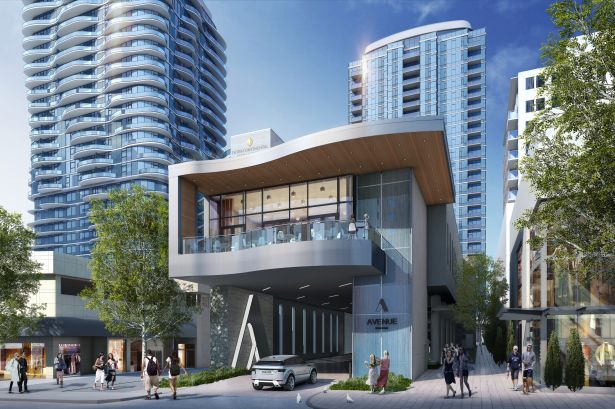 "We are creating something that will set a new standard for hospitality and residential design in the region," said Fortress Principal and CEO Andy Lakha. "As a Bellevue resident for more than 20 years, I am deeply committed to the future success of the community and Avenue Bellevue is my most important project. Silverstein's history of developing large-scale, mixed-use projects makes them the perfect lender to complete my vision of adding [this project] to the skyline of Downtown Bellevue."
By the time construction wraps, the project at Northeast 8th Street and Bellevue Way will be able to leverage new transportation infrastructure development, as the location of Bellevue's upcoming East Link Extension light rail line station serving the eastern edge of the Seattle metro area is scheduled to be in operation by 2023 and is located nearby Avenue Bellevue.
"SCP likes being involved in large-scale, mixed-use construction projects consistent with many of Silverstein Properties' developments," said SCP Senior Managing Director Shawn Katz. "We believe that Avenue Bellevue will be the premier residential, hotel, and retail project in an incredibly attractive market."
SCP's first splash into the West Coast has come on the heels of Silverstein Properties' recent expansion efforts into Seattle. Larry Silverstein's firm bought a development site at 801 Blanchard Street in Downtown Seattle — adjacent to Amazon (AMZN)'s global headquarters — in July 2020; the company also bought the massive, 1.4 million-square-foot U.S. Bank Tower in Downtown Los Angeles in September 2020 for $430 million.
This story has been updated since publication to include a quote from Cushman & Wakefield's Dave Karson.
801 Blanchard Street
,
Alex Lapidus
,
Andy Lakha
,
Avenue Bellevue
,
Chris Moyer
,
Dave Karson
,
Emily Johansen
,
Fortress Development
,
InterContinental Hotels
,
InterContinental Hotels & Resorts
,
JTM Construction
,
Larry Silverstein
,
Marty Burger
,
Shawn Katz
,
U.S. Bank Tower
,
Weber Thompson
,
Amazon
,
Cushman & Wakefield
,
Silverstein Properties