Downtown LA's Trust Building Inks Deal for Rooftop Restaurant 
---
---
A new rooftop restaurant from a Michelin-starred Australian chef is coming to the Trust Building in L.A.'s historic downtown. After a stalled start in 2019 due to the coronavirus pandemic, the concept is expected to open in April 2022 at 433 Spring Street.
With no name for the eatery yet, but a famous duo at the helm — award-winning chef Curtis Stone and his brother and managing partner Luke Stone — the restaurant will occupy 3,500 square feet of ground-floor space and, during evening hours, expand to the office building's 11,755-square-foot rooftop.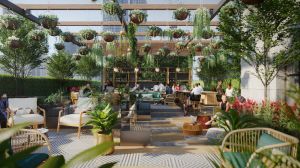 "The Trust is an incredibly iconic building in Downtown L.A. with a huge history," Curtis Stone told Commercial Observer. "I've always loved beautiful architecture and old buildings. You walk through the doors and think, 'If these walls could talk … "
Located on the corner of Fourth and Spring streets in Downtown L.A., the 1928 Art Deco building was newly restored and is welcoming the restaurant as its first tenant into the ground-floor and rooftop space. Stone said he's excited to host events in the space, especially as the restaurant will be distinct from his other two L.A. restaurants — Maude in Beverly Hills and Gwen in Hollywood — which lack outdoor seating. 
"We've been looking to move into Downtown L.A., and this is an ideal time and opportunity to do so," Stone said. 
The building plans to keep the rooftop space closed during the day, to be used as an open-air, Wi-Fi-enabled lounge for office occupants. But, after 5 p.m., happy hour begins, and the space will be transformed into a restaurant outfitted with a cocktail bar and views of the Downtown L.A. skyline.
Stone had previously announced plans to open a spot last year at the Trust Building, only to find those plans stymied by the pandemic. 
"This is a milestone for office culture, Downtown Los Angeles and our city's rebounding restaurant economy," Christopher Rising, co-founder and CEO of Rising Realty Partners, said in prepared remarks. "To see Curtis Stone remain hopeful and excited about this burgeoning area above all others across the city truly validates its future and contributes to its reawakening. We can't wait to finally welcome companies and their employees back to the office."
The restaurant marks the second Downtown L.A. rooftop space to make headlines recently, with U.S. Bank Tower opening a new rooftop restaurant some 69 floors above street level, according to Eater LA.
The new addition was brokered for Stone by Cultivate Hospitality Group, and for Rising Realty Partners by Aram Pogosian of Industry Partners.
Rising Realty declined to comment on the asking rents or the length of the lease.