Office Aquarium Providers Get Boost From Pandemic
Far from tanking due to shuttered workplaces, the niche industry experiences renewed demand
---
---
Some people think you need a calming agent to get you through your workday, and they have prescribed fish — tropical fish, to be more exact.
The thinking is that if you take a little time to relax your mind by looking at colorful fish swimming around inside aquariums built into the architecture, you'll think better and, therefore, work better.
It's not just some crazy, New Age notion more suited for a hippie commune than a hedge fund. It's been endorsed by some pretty credible ergonomics experts, and is now seen in such progressive, big-city workplaces as Amazon, Citigroup, Bloomberg and, yes, hedge funds.
What's more, the business of providing these aquariums to offices seems recession-proof to a degree. The aquarium people thrived during the Great Financial Crisis a dozen years ago, and they're weathering the coronavirus downturn well, too.
In fact, the renewed emphasis on healthier workplaces, driven by the pandemic, is proving an additional boon to the tropical fish trade.
"As health and wellness become more and more integrated into the design of the workplace, employers are more apt to be looking at aquariums,'' said Ellen Fisher, vice president of academic affairs and dean at the New York School of Interior Design. "They're seen as providing a natural environment."
Having aquariums built into an office will draw a higher rating, too, from the International WELL Building Institute, Fisher said. She described the institute's WELL Building Standard as a "cousin of LEED," the rating system for a building's overall environmental impact. WELL, like LEED, is governed by the U.S. Green Building Council, a corporate organization which promotes environmentally forward-looking buildings.
"The idea is to bring nature into your office," Fisher said.
Be that as it may, it's not for the destitute. Prices for a single aquarium installation can range from $30,000 to $1 million, said Martin Schapira, one of the lead designers at Okeanos Aquascaping, a provider of custom aquariums, fish tanks and koi ponds, based in Manhattan's Chelsea neighborhood. Just the fish, if they're saltwater, can cost from $30 to $3,000 each.
In some corners, in fact, it's recommended for an aquarium to be set up on its own backup generator, so that if there's a power failure, you don't have to replace a lot of dead fish. As anyone who has had their own standalone tropical fish tank in their home can attest to, fish can require a lot of maintenance to keep the water clean and the glass from accumulating algae. The water has to be constantly churned, too, to aerate it so the fish can breathe.
Upkeep of these higher-end aquariums can range from $250 a month for a fairly simple display to $3,000 a month for something more elaborate, Schapira said.
He and his partner have been designing custom aquariums since 2004. "You're not going to get a gazillion jobs," he said. "The aquariums we do are mostly for the luxury market — luxury residential or luxury commercial. There are definitely more design-oriented clients that are willing to spend money."
About 75 to 80 percent of their jobs are in the New York area, but they will do installations anywhere in the world, he said. They've gone as far away as Australia and Dubai.
Among the companies that have incorporated fish into their decor are bike-share program Citi Bike at its Pier 40 offices; camera store Adorama; real estate company Cammeby's International Group; and the New York offices of Weber Shandwick, the public relations firm.
Amazon has incorporated fish displays in its Spheres in Seattle, which are a trio of bulbous, glass-enclosed conservatories that are part of the company's headquarters that contain lush plantings from all over the world. The conservatories have been partially closed to the public due to the COVID-19 emergency.
(And, lest you wonder, aquariums can be dismantled — and the fish saved — should an office have to close for extended periods, suppliers say.) 
But aquariums tend to be more commonplace in more "boutiquey" financial services firms, such as hedge funds and private equity companies, as well as doctor's offices, Schapira said. This interest in fish appears to have grown out of hospitals and health care companies, which have long had an affinity for aquariums, Fisher said.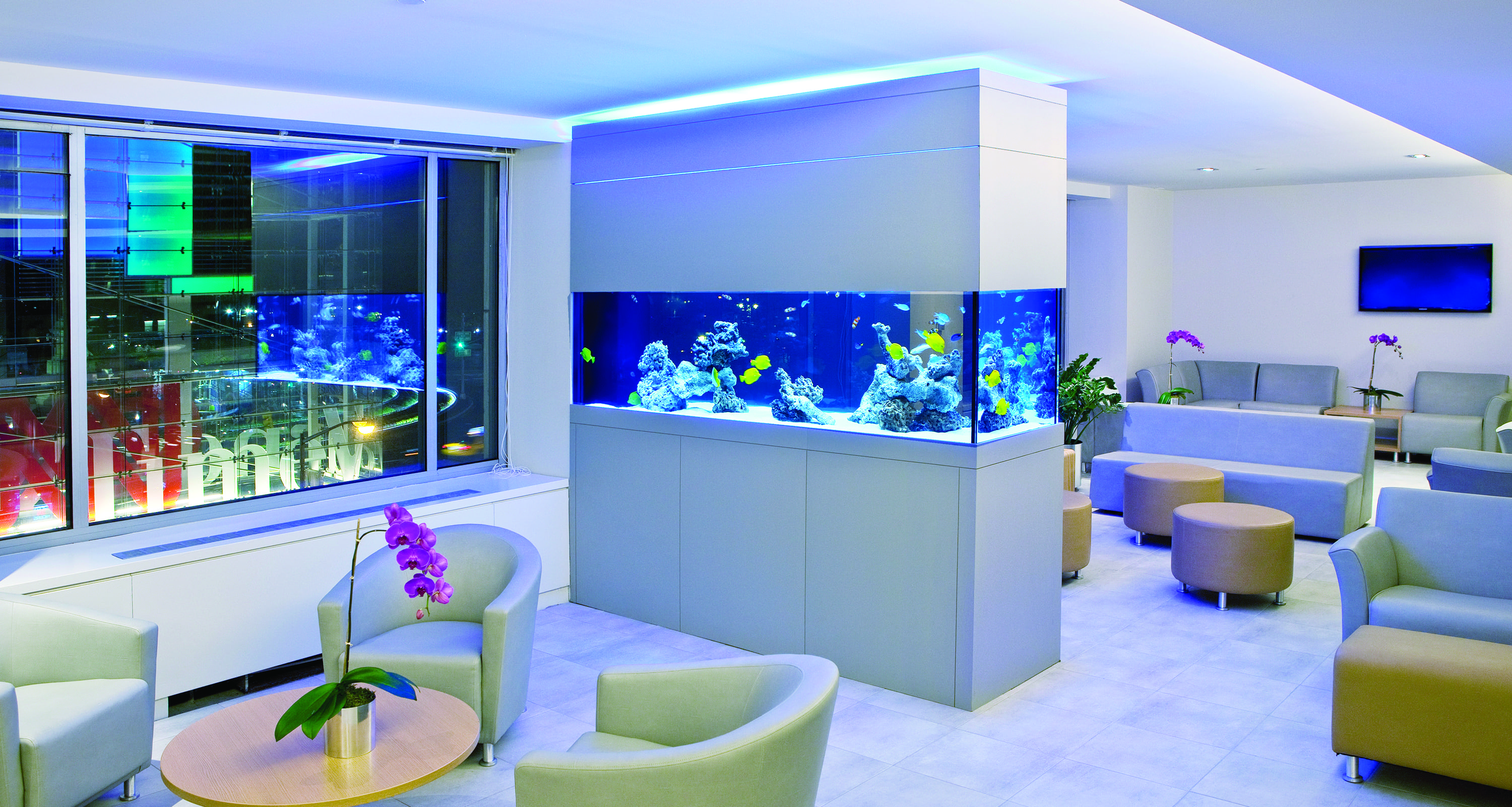 Some of the best-known aquarium displays are at Bloomberg LP's headquarters on Lexington Avenue in Midtown Manhattan and in its satellite offices around the world. (Two calls to Bloomberg's media relations office were not returned. The author of this article is a former Bloomberg staff writer.)
"Mike likes fish," said Rob Urban, a former Bloomberg editor, who worked there 28 years before his recent departure, referring to company owner and former New York Mayor Michael Bloomberg. "He says they're calming."
Urban, a veteran of Bloomberg's Eastern European and Moscow operations, said there were fish in those offices as well.
A more affordable installation is available from the Aquarium Design Group of Houston, founded by brothers Mike and Jeff Senske in 2000. Mike Senske said displays in their shop can range from $2,500 to $50,000 or more each. He described 2020 as an "incredible year" for demand, and said top-line revenue is 55 to 60 percent ahead of what it was in 2010. One of their largest clients is Texas Children's Hospital of Houston, which has about 80 aquariums, Mike Senske said.
Economic dislocations, Senske said, like the one everyone's suffering through now due to COVID-19, tend to be good for the aquarium business because "you don't have people traveling as much. They're wanting to make their home their staycation.
"People, especially with COVID, are getting back indoors," Senske added. "In '08, when we had the recession, I saw my business become more high-end. But since COVID, which has been a little over a year, the aquarium industry as a whole, not just nationally but globally, has seen a big uptick. They're realizing the joys and the benefits of having an aquarium, and being connected to nature inside their home or office."