Harbor Group International Nabs $242M Financing For Multifamily Portfolio
---
---
Harbor Group International (HGI) started this year on a multifamily buying spree, and continued that momentum this month, securing just under $241.5 million in agency debt from Newmark to buy more than 2,300 units in North Carolina and Virginia, Commercial Observer has learned. 
The Freddie Mac-backed debt package, comprising a collection of floating-rate loans, helped fund HGI's $309 million purchase of the units, which are spread throughout eight properties that make up the Southern Piedmont Portfolio, from a joint venture between McDowell Properties and Angelo Gordon. 
Newmark's John Heimburger, Christine Espenshade, Dean Smith, Sean Wood, Alex Okulski, Jason Kon and John Munroe brokered the sale. Multifamily capital markets professionals Henry Stimler, Bill Weber, Matthew Mense and Daniel Sarsfield arranged the debt financing on behalf of HGI. 
HGI has dipped its foot back into North Carolina with the purchase, a deal that follows a larger, $1.85 billion acquisition of a portfolio of nearly 13,500 units and 36 properties from Aragon Holdings that HGI closed and announced in January. That deal brought HGI's multifamily portfolio up to about 50,000 units, and this new deal with McDowell and Angelo Gordon has allowed the firm to eclipse that, at a time when the multifamily sector has continued to exhibit strength amid ongoing economic uncertainty. 
"[The portfolio drew] interest from a deep pool of domestic and international capital sources … the scale of the opportunity, the unit renovation upside and the strength of the rental market fundamentals in the properties' [metropolitan statistical areas] all galvanized buyer interest in this portfolio," Newmark's Heimburger said in a statement. "HGI's track record of portfolio execution success and strong desire to re-enter the Carolinas multifamily market gave us confidence in their ability to close the transaction on time at the contracted price."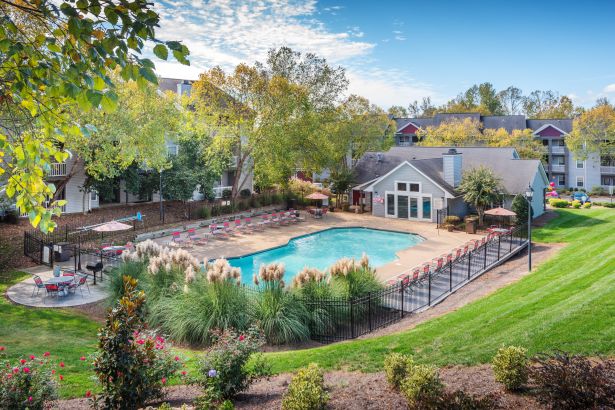 The bundle of assets includes seven properties in North Carolina and one in Virginia. There's Harlowe Apartments and The Residences at West Mint in Charlotte; 200 Braehill Apartments, The Corners at Crystal Lake and Mill Creek Flats in Winston-Salem; 7029 West Apartments in Greensboro, N.C.; Woodlake Reserve in Durham; and The Samuel Apartments in the coastal town of Hampton, Va., which is located just north of Norfolk.
The garden-style apartment complexes, which were built in the 1990s, will get a $13 million injection as part of a capital expenditure program to renovate and modernize each of the properties, according to Newmark. 
Stimler said in a statement that his team is "grateful to continue to foster our very strong relationship between Newmark and HGI, on both the sale side and the financing side," adding that it's been alongside HGI helping it to "seamlessly acquire portfolio-sized transactions like Piedmont and last year's $2 billion Aragon portfolio to build out their national brand." 
200 Braehill Apartments
,
7029 West Apartments
,
Alex Okulski
,
Angelo Gordon
,
Aragon Holdings
,
Bill Weber
,
Christine Espenshade
,
Daniel Sarsfield
,
Dean Smith
,
Freddie Mac
,
Harbor Group International
,
Harlowe Apartments
,
Henry Stimler
,
Jason Kon
,
John Heimburger
,
John Munroe
,
Matthew Mense
,
McDowell Properties
,
Mill Creek Flats
,
Newmark
,
Sean Wood
,
The Corners at Crystal Lake
,
The Residences at West Mint
,
The Samuel Apartments
,
Woodlake Reserve