Brookfield Reveals Renderings for Its South Bronx Megaproject
---
---
Brookfield Properties has finally released renderings for its massive planned residential development on the South Bronx waterfront. 
The development, known as Bankside, will bring 1,350 rental apartments to the Mott Haven section of the South Bronx, according to a press release from Brookfield. 
Thirty percent of the units will be "income-targeted," or rented at below-market rents, in exchange for a tax break through the state's Affordable New York program. The project will include a new 34,000-square-foot public waterfront promenade, 15,000 square feet of retail and community facility space. The 4.3-acre complex is expected to cost $950 million. 
Plans for the project have not changed much since Brookfield purchased the site for $165 million from its original developers, Somerset Partners and Chetrit Group.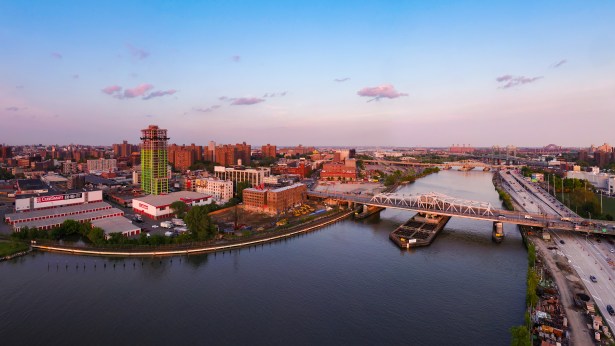 Construction recently began on the first, 17-story building at 2401 Third Avenue, which will include 450 apartments. Work on the first building is expected to wrap by the end of 2021. The second phase, slated to include more than 900 apartments, will rise to 25 stories at 101 Lincoln Avenue. The development will encompass seven towers total—three towers in the first phase and four in the second phase. The two parcels sit on either side of the Third Avenue Bridge, between Bruckner Boulevard and the Harlem River. 
Brookfield also retained the project's original architect, Hill West Architects, to handle the design for Bankside. The facade will consist of a combination of brick, masonry, glass and metal.
"We are excited to unveil the new Bankside name and design and to commence construction, bringing the development to life," said Brookfield Property Group Chairman Ric Clark, in prepared remarks. "Mott Haven is a special neighborhood, and we think Bankside will be a great addition, bringing much-needed housing, a new public waterfront park and esplanade, and hundreds of construction jobs, many of which will be filled with Bronx residents through our local hiring program."