Presented By: Partner Insights
BIDs and Neighborhood Associations: Not Your Parents' Neighborhood
---
---
Business Improvement Districts (BIDs) and neighborhood associations have made great strides to ensure New York City remains vibrant and full of opportunity. The way New Yorkers live, work and play today is a 180-degree shift from the way the city operated 20 years ago.
Once segmented into neighborhoods doing business only for one specific industry where people worked and then commuted home at the end of the work day, the city now encompasses "crossover" neighborhoods that are vibrant with office, retail, restaurants, activities, hotels and residential space. Instead of going to work and leaving, New Yorkers now live in and enjoy the same neighborhoods as well.
BIDs are doing transformative work throughout all five of the city's boroughs. The Downtown Alliance, Grand Central Partnership, The Meatpacking District, East Midtown Partnership and the Avenue of the Americas Association all represent communities seeking to enhance the economic vitality and quality of life for their residents and businesses, creating a marked transformation of New York City's neighborhoods.
Recent Improvements
In the last five years, BIDs and associations have made significant contributions toward enhancing the quality of life for their residents and tenants. In the storied area of Manhattan around Grand Central Terminal, "probably the biggest improvement to the area in the past few years has been the passage of the greater East Midtown rezoning in the summer of 2017," says Alfred C. Cerullo III, president and CEO of the Grand Central Partnership.
This rezoning has created expanded opportunities for both transit infrastructure and public space improvements to the district, such as enhancements to the streetscape on East 43rd and 53rd Streets and the funding for a permanent plaza at Pershing Square East to compliment the recent opening of Pershing Square West, 30 years after it was first envisioned as part of the Grand Central Partnership's masterplan for the district. The plaza provides pedestrians a safe space to sit and relax in a common area shared by tenants and business owners alike.
The Partnership has also created a custom street asset condition application for field staff to track and identify the maintenance needs of the district's multimillion-dollar streetscape beautification program. This has increased the efficiency and speed of addressing those needs. Relatedly, the company has completed several updates and upgrades to streetscape lighting infrastructure to increase energy-efficiency and make them more sustainable.
Additionally, the Partnership has seen improvements with a streamlined and more efficient organization of field supervisors who oversee its supplemental sanitation, public safety and tourist greeter programs. This has helped the organization to position itself as the go-to source for data on the neighborhood for which it compiles various demographic and other data sets that it then makes available to stakeholders and other interested parties on request.
The work of the field supervisors also supports the exciting programming sponsored by the BID, like its annual food-tasting event called Grand Gourmet: The Flavor of Midtown® held at the famous Cipriani 42nd Street location. Last year, the partnership also launched an annual music event called Summer Solstice Music Festival that showcases live music at multiple locations along Park Avenue and throughout the district.
Over the last few years, the Avenue of the Americas Association has continued to expand its membership and has teamed up with local restaurants and eateries to exhibit their diverse dining options at their annual Gala and summer food festival. The Association has also expanded its Workout Wednesday-themed classes to include Zumba, yoga and stationary surf classes.
In recent years, the association has seen record leasing, at least in part due to the investment of over $2 billion in infrastructure that enhances a community offering arts, culture and lifestyle.
Acting on behalf of its members, the association addresses issues affecting business operations and real estate values on the Avenue. The group has become a who's who of prominent community business leaders and major building owners along the avenue who are committed to ensuring that the avenue will be a thriving business corridor for generations to come.
The Meatpacking District's streetscapes have also been dramatically enhanced over the last seven to 10 years, according to Jeffrey LeFrancois, executive director of the Meatpacking Business Improvement District. The design, planning and construction that has taken place include reconstructed cobblestone streets, with more than 20,000 square feet of new public plaza space that's maintained through the district's partnership with the City's Department of Transportation Plaza Program and its sanitation, landscaping, and public safety teams.
Waste Management and Beautification
"The Downtown Alliance has had a creative and determined focus on resilience and sanitation," says Jessica Lappin, president of the Alliance for Downtown New York. "We've implemented best practices to increase recycling and protect the environment. As the BID which encompasses the gateway to New York harbor, we are ever mindful of the need to prevent and adapt to climate change and are working with stakeholders — both in government and the private sector — to grapple with this great challenge."
The BID has also been focused on improvements that can be made in the neighborhood's streetscape. Just last year, the Downtown Alliance worked closely with members of the community on a study for the area surrounding the New York Stock Exchange, which laid out a series of recommendations to make one of the most heavily visited and historically important parts of New York City more welcoming, vibrant and secure. They also advocated for a zoning text amendment to create ground-level retail spaces along the Water Street corridor, currently populated by approximately 100,000 workers and several under-utilized public plazas. Earlier this year the BID also broke ground on Elizabeth Berger Plaza Park, a space named after the organization's former president, which will conjoin two smaller plazas into a public park.
Rob Byrnes, president of the East Midtown Partnership, notes that the BID has focused on beautification and environment. Among its initiatives has been a sidewalk recycling program that added 100 paper recycling cans to the neighborhood, which served to reduce waste on the streets and increase environmental responsibility throughout the district.
The BID has also focused on beautification treatments including planting 150 tree beds in the district three times per year to enhance the streetscape. One other area the BID has focused on includes community involvement. Last year the district brought in over 6,000 trick-or-treaters who participated in a Halloween celebration with businesses in the area and the organization will repeat the event this year. In June, the neighborhood also held a district-wide WorldPride celebration and has also sponsored Lunar New Year celebrations.
Changing Neighborhoods
The Meatpacking District is a 24-hour neighborhood with nightlife, shopping and attractions such as the Whitney Museum and the High Line. "The neighborhood now offers first-of-a-kind experiences, including Intersect by Lexus, a space for people to experience the Lexus lifestyle through dining, entertainment and atmosphere; Samsung 8377, a space where technology and culture collide; and ARTECHOUSE in Chelsea Market with a first-in-the-city digital art gallery," says LeFrancois, the Meatpacking BID's executive director.
For visitors and residents alike, the experience is much different than years ago given that the neighborhood now offers entertainment as well as typical brick-and-mortar business opportunities. Even as the Meatpacking District has remade itself with these enhanced experiences, it maintains its historic beauty and charm.
Cerullo, president and CEO of the Grand Central Partnership, says today there's a greater variety of dining options in his district. The neighborhood offers both fast-casual and fine dining options from many high-profile chefs and restaurateurs.
There's a greater emphasis on amenities and amenity space in office buildings and at the street level. Cerullo points out that there's more public space and beautification of the streetscape, along with more events and activities for the public and community.
New Residents
"East Midtown was once exclusively a heavily commercial district," says Byrnes, president of East Midtown Partnership. The BID is now attracting many residential developments. And, as the neighborhood continues to expand with a vibrant healthy retail mix including new restaurants, nightlife and small shops, more people are deciding to live there as well.
Lappin of Downtown Alliance notes, "Lower Manhattan is a younger and more vibrant neighborhood than ever before. With an expanding mix of shops, restaurants and entertainment options, we now have as many young professionals living here as in downtown Jersey City and Williamsburg. Who would have guessed that 10 years ago?"
A New Identity
Indeed, as the city changes from neighborhoods featuring one industry segment to many, there has been a visible shift in the city's identity. LeFrancois, of the Meatpacking District, notes that "what were once meatpacking houses are now top technology and marketing firms as well as fashion houses."
Lappin says one of the Downtown Alliance's favorite taglines is "New York's oldest neighborhood is new again," demonstrating how Lower Manhattan, while steeped in history and classic architecture, has become a hub for emerging industries and cutting-edge design. That's what makes the district thrilling, according to Lappin. "This is one of the most popular live-work neighborhoods in the country because it is authentic and historic, yet vibrant and nimble enough to embrace change."
As diversity continues to expand through the city, The East Midtown Partnership is increasingly becoming more of a 24/7 neighborhood with activities for all ranges of businesses and residents. The area is home to a large stock of commercial office space but has managed to become a vibrant district while maintaining its main businesses, such as home decor and interior design. But because there's also a heavy mix of luxury residences, the neighborhood is seeing a change in retail along with increasingly younger demographics.
In contrast, while Sixth Avenue is still a very business-oriented neighborhood, the Avenue of the Americas Association is making great strides in building a more inclusive environment with community activities, making for public space that's both relaxed and enjoyable for all types of people, whether they work in the area or are just visiting.
Diversity
New York City has always been a melting pot, with lots of people from varying backgrounds as a key to its strength. Diversity, too, in the kinds of business that make up our commercial districts is essential for the city's long-term health.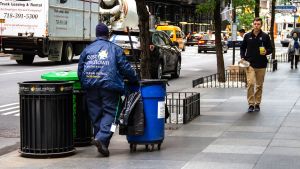 To that end, the East Midtown BID hosts many events that bring people within its boundaries. With the rezoning taking place, this district is seeing an increase in residents as well as new commercial buildings that would never have been built under the old zoning laws.
With such easy access to public transportation and increased awareness of East Midtown and the activities there, Byrnes feels the new developments will bring increasing diversity to the area. Similarly, Cerullo says the Grand Central Partnership is diversifying as part of its natural process of staying at the forefront of urban commercial centers.
Cerullo says, "With its central location, the public that travels through the district really includes people from all areas in and surrounding the city." The Partnership takes great pride in providing public spaces that accommodate this diverse mix of people, he adds.
Finance has always had a strong presence in Midtown East and, because of that, smart startups and emerging industries have more recently situated themselves nearby, benefitting from their proximity. Health technology, urban technology, fashion, and other businesses that haven't been traditionally associated with this central business district have recently moved into the neighborhood.
Diversity comes through the landscape as well.
The Meatpacking District is installing seven new trees and 24 new planters on 14th Street between Ninth and 10th Avenues, which connects the High Line. From a street perspective, 14th Street is very wide, says LeFrancois, who says the BID believes the investment in greening the streetscape will help to bring a more human scale to the block and drive foot traffic. The beautification of streetscapes is a way to enhance commercial corridors that are shared by many different types of business owners, tenants and residents and also help attract visitors to the area in general, he says.
One district that has focused on diversity over the last 25 years is the Downtown Alliance. Since 2001, Lower Manhattan has witnessed a seismic shift in its employment opportunities. While the number of jobs available has rebounded to pre-9/11 levels, the workforce has diversified from nearly two-thirds belonging to either financial services or real estate in 2001 to less than one-third in those same industries in 2019. The influx of advertising, media, publishing and fashion along with other industries has effectively literally changed the face of employment downtown. "This is a place that is at its best when it is evolving and changing," says Lappin.
The Avenue of the Americas Association has monthly meetings with keynote speakers, such as prominent local government officials. The Association has also established an extremely popular art exhibition for two years running and regularly gives back to the community with donations and community service.
Commercial Businesses
LeFrancois says, "Food and beverage continue to make headlines and draw attention in the Meatpacking District." The offerings include everything from rotating chefs at one restaurant to former restaurants coming back into the neighborhood. There is fine dining as well as grab-and-go lunch spots, and Chelsea Market, the city's first food hall. That's not to mention the fact that the district offers a range of hotels and retail, including new retail such as Neighborhood Goods, a new concept department store from Austin. When taken as a whole, the district has a true cross-section of industries combined with fashion, art and culture.
Ground-floor businesses and a large concentration of retail and wholesale home décor businesses are centered in East Midtown Manhattan. Byrnes says these business staples are drawing a wave of complementary new businesses to the neighborhood, including restaurants and hotels. The office professionals shop at the retail level and the retail professionals tend to work with the businesses residing at the office level. East Midtown is also seeing an increase in medical practitioners in the area.
Downtown has a unique blend of commercial businesses in their district. Nowhere else in the world can boast a Bottega Veneta, Spotify (SPOT), HarperCollins, GroupM and the New York Stock Exchange. Yet this incredible mix of commercial sectors now dictates tenancy and employment downtown. This mix also drives the growth of storefront businesses with new bars, restaurants and retail all serving up a culture of innovative experiences.
This trend has also been seen with businesses on Sixth Avenue. The Avenue of the Americas Association is seeing a range of tenants in technology, media, publishing and more. Sixth Avenue is now well known for infrastructure and amenities for any industry.
The Current Neighborhood
The Downtown Alliance is looking forward to the forthcoming Perelman Performing Arts Center, slated to come online in the next couple of years. The Alliance also looks forward to continued programming and activity on Governors Island and the opening of the 12-screen Alamo Drafthouse Cinema. McNally Jackson Books just arrived, and Shakespeare & Company will lay stakes in the district shortly.
Likewise, the Meatpacking District also offers many programs to engage the community. Its summer programming includes The Sweat Sessions, which are workout classes held every Tuesday from May to September that bring in more than 400 people into the community seeking to get their sweat on. The district also offers programming with jazz music played outside on the plaza, as well as a Harvest Fest, which just took place on October 12th and had over 7,000 visitors. It featured an outdoor market showcasing local businesses, live music, Drag Queen Story Hour, and a dog costume contest.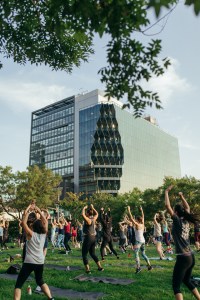 The recent completion and ribbon-cutting ceremony to open the newly reconstructed cobblestone streets and plazas of the Meatpacking District provides a beautiful backdrop for the many new programs available to the public as well as beautification of the streetscape and public space.
Of course, more new businesses will be opening in the next few years in East Manhattan as well. Among the most noteworthy will be the newly renovated Waldorf Astoria, which will be reopening its doors in the next few years, as well as 425 Park Avenue, a significant commercial structure. What was once the Sony Building is also being renovated and will reopen a great new public atrium in the next two years. As old mixes with new in the commercial space, over the next five years, new residential buildings will also be available and interspersed with beautifully renovated buildings to meet the needs of the modern current tenants.
Not only does Midtown East provide access to everything, such as vibrant restaurants and service businesses; art, community and infrastructure, but the district's accessibility through the public transportation system also makes it a central location connecting all Manhattan neighborhoods.
Continued growth of new commercial, residential and public space as an outcome of the rezoning, while massive infrastructure projects such as the Metropolitan Transportation Authority's East Side Access project, which will extend the Long Island Rail Road from its Main Line in Queens into a new station under Grand Central Terminal, will radically change the physical dimension of the Grand Central Partnership district in new and beneficial ways, says Cerullo.
Building a Complete NYC Community
As the city continues to change, its neighborhoods will continue to change with it. The BIDs will continue to strive to drive initiatives and support programming that appeals to existing and new innovative businesses as well as residents, restaurants, retail and experiences you can't find anywhere else.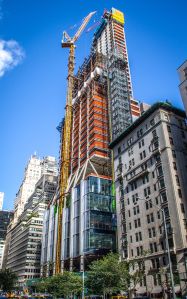 Although each BID works to enhance their community separately, whether it be through cleaning up the neighborhood, beautifying the streetscapes, creating public space or engaging the community through programming, New York and the business districts and neighborhood associations that reside in the city work together to create an overall sense of community.
Many BID experts point out that New Yorkers are all connected through the neighborhoods in which we live, work, and play. Moreover, the BID organizations themselves naturally offer connections and access to practically anything and everything within the city. As we continue to grow and expand our neighborhoods to include a diverse range of people and businesses, what was once a city separated by districts is becoming a more centralized community we know as New York City.
Alamo Drafthouse Cinema
,
Alfred C. Cerullo III
,
BIDs
,
Bottega Veneta
,
Chelsea Market
,
Cipriani
,
Downtown Alliance
,
East Midtown Partnership
,
Elizabeth Berger Plaza Park
,
Grand Central Partnership
,
Grand Gourmet
,
GroupM
,
HarperCollins
,
High Line
,
Jeffrey LeFrancois
,
Jessica Lappin
,
McNally Jackson Books
,
Meatpacking District
,
neighborhood associations
,
New York Stock Exchange
,
Park Avenue
,
Perelman Performing Arts Center
,
Pershing Square
,
Rob Byrnes
,
Sponsored
,
sponsored-link
,
Summer Solstice Music Festival
,
Whitney Museum
,
Avenue of the Americas Association
,
Spotify