Bank Shot: Meridian's James Famularo on Downtown and Gotham's Glorious Grit
The retail leasing veteran joined Meridian last year to head up its leasing division following the closure of his former shop, Eastern Consolidated.
---
---
James Famularo sits in a corner office that used to house Meridian's co-founder, chairman and CEO Ralph Herzka. Herzka gave the office to the retail leasing guru upon his hiring, choosing to move downtown to the firm's One Battery Park Plaza location. 
That's quite a tip of the cap. 
Behind Famularo's desk are two signed basketballs — one signed by new Brooklyn Nets point guard Kyrie Irving — straddled by two signed photographs of Golden State Warriors point guard Steph Curry and new Nets and former Warrior star forward Kevin Durant. (Famularo is a New York Knicks fan, but he doesn't want to talk about that.) From his desk, he faces windowed walls, overlooking a bullpen where his ever-growing team sits packed in. 
The renowned New York leasing veteran departed Eastern Consolidated in June last year when the brokerage closed, and less than a week later, he had launched Meridian's new retail leasing division, where he serves as president. He was accompanied by five of his former Eastern underlings. 
A New Yorker through and through, Famularo, 50, grew up in Brooklyn as the son of an electrical draftsman, and his family moved to Little Italy went he was 15 years old. He skipped the traditional college experience and later entered into his father's profession, spending several years in the field despite an active dislike for the work. 
The married father of two basketball-obsessed sons — aged 11 and 12 — Famularo runs a tight ship with a loose grip. He says there are a lot of similarities to raising his two kids and dealing with his team of upstart commercial leasing professionals.
"You can't teach somebody something through one lesson; it's a series of lessons over and over. And you've got to have patience," he said. "Sometimes something that works with somebody is not necessarily going to work with somebody else." 
So far this year, Famularo's team has closed 90 leases totaling 203,050 square feet, which he said "is pretty impressive when you consider most of the spaces were between 2,000 and 5,000 square feet." He's projecting an additional 30 leases, totaling around 50,000 square feet before the end of this year.
"One thing's for sure," he said. "It's not enough." 
Famularo sat down with Commercial Observer to discuss his first year at the firm as well as New York's current retail leasing landscape.
Commercial Observer: So, to start with a serious question: How are your teeth so white? 
James Famularo: Cleaning, cleaning, regular cleaning. I don't smoke, but I drink a lot of black coffee, so if I don't go for cleanings every three months, they're not so white. 
Tell us about the move from Eastern Consolidated.
Eastern announced that they were closing, and they were very strategic about it. It was 10:00 a.m. on a Thursday morning. They sent out an email the night before, alerting everybody that there was a mandatory meeting. So, we found out when everybody [else] found out. The meeting lasted about 30 minutes. We were in the conference room, while everybody else [outside] knew. When I got back to my desk, I had 32 offers in my inbox. I felt like that was a tremendous compliment. I had no idea most of these people even knew my name. But, not one [offer] was from Meridian. So, while I was fielding the offers and considering them, I said, "I'm not a young guy anymore. I want to go somewhere and just stay there and then retire when I'm ready to. Where do I want to be?" And then I remembered a couple years earlier, Lipa [Lieberman], David [Schectman], and Abie [Kassin] came here, and they were ranting and raving [about it], and they were very happy here. So, they told me a lot about it.
Tell us about the process of talking with Meridian and how that unfolded. 
Meridian's an interesting company. [Ralph Herzka, Yoni Goodman and I] had actually a series of lunches, and we worked it out very quickly. That process is usually two or three months, and we did it in probably about three or four days. For me, it was very uncomfortable and unsettling, because I wanted to be respectful to the people that sent me offers, and I wanted to meet, but I just couldn't find the time in the day. So, I was actually speed meeting, meeting with somebody and having a coffee and saying, "All right, thank you so much for the meeting," and then I'd go to the next one and then the next one. I was keeping my options open, while knowing that I really wanted to come to Meridian.
What made you think it was going to be the best fit?
To be honest with you, I knew even before I met them. It was a combination of my conversations with David, Abie and Lipa, and also just a gut feeling. My gut serves me well, and my gut told me that this would be a great shop for me.
You brought five people with you a year ago. How many people do you have now?
Eighteen, and we just hired a new intern and we have two more guys starting in two weeks. 
What kind of person can we find on a James Famularo team? Who are you looking for, outside of just an impressive resume or CV?
When I look at resumes — and I know a lot of people look at the college [and so forth] — but I like to look at the athletic section of the resume. I feel as though if somebody played competitive sports, whatever sport that may be, they probably have a competitive nature, and that it will translate well in this niche of the business. 
Do any of your current team members have sports histories? 
Pretty much all of them, yeah. Some of them played competitive chess, some played basketball, a number of them played football and some of them played baseball. That's why I encourage my sons to play basketball and practice every day. I know if you have that competitive nature, it usually grows over time and it serves well in business.
I heard you liked to have six-hour meetings with your team on Saturdays while at Eastern Consolidated. Do you still do that? 
Now it's six hours on Sundays. 
What's the mindset behind wanting to do that? 
Well, because there's so much going on during the week, and we can't have quiet time to get organized and see what you missed and make a game plan for the following week. It works for me really well. But, as a broker, you can suggest it, but you can't demand it, you know? People ask me about it all the time, like, "you work on the weekends?"
We feel if somebody's going to trust you with a multimillion-dollar asset, people don't realize that some of the landlords hurt; they pay a mortgage, they pay taxes and they pay other related fees every month over month. If you don't make your assignment important, why would they hire you? 
You've got an active social media presence that you've said helps drive your business. What's the strategy, and what do you think makes it such an important tool for retail brokers? 
We always look to different ways to innovate and add value, so sometimes it's [60 second] videos; it's the videos with social media platforms, like Instagram, Snapchat and Facebook, and we're constantly posting on LinkedIn. We acquired the website [URL] NYCretailleasing.com, because that's the most Googled phrase out there. Any way that we can add value and innovate, that's really what we focus on. We think it's important because we don't want to get locked into one [medium]. Years ago, everybody used to do email marketing. Now, you still do, but I remember, maybe 10 or 15 years ago, you used to get a 45 percent click rate — click through and open rates. Now, it's probably 5 or 6 percent. It's not as efficient as it once was. I remember a time where you had a few new listings, you send them out, you get a bunch of inquiries and you set up walkthroughs — easy peasy. Nowadays, it's not like that. Nowadays, with Instagram and LinkedIn [and others], all through the night, my phone is buzzing with direct messages and emails from different people around the world, inquiring about this space and that space. [My] entire team does the same. 
We got the idea from the virtual tours that the resi brokers were doing early on. The feedback was overwhelming. And, you know what, it really cuts down wasted tours. I can't tell you how many times over the years we show a space, and they say, "Oh, I didn't know the back looked like this [or] the second floor and lower level look like that."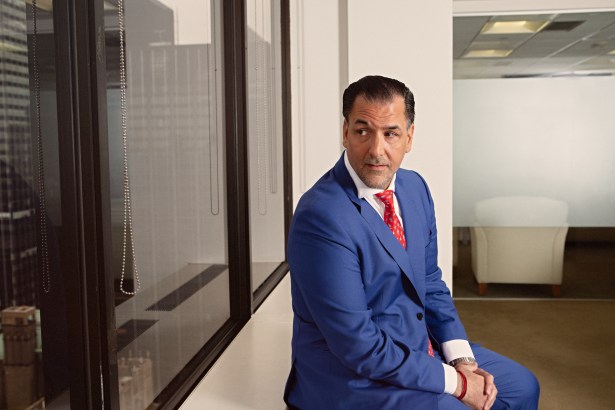 How has retail downtown — which has traditionally been an office market and was outfitted that way — fed off of the waves of new residential product sprouting in the area?
Whenever you see an increase in residential, those residents need services. They need F&B [food and beverage] and they need fitness, and in our opinion, those are the three most active categories we work in — there are other services, like dry cleaners, nail salons, hair salons and massage parlors, quick-serve bars and restaurants. The fitness and wellness categories are probably the biggest categories, and we're seeing more and more of those downtown.
With the heavy mix of office and residential downtown and the tenants needed to serve both, how would you characterize the shift in the tenant makeup in the area? 
It's really hard to tell, because there's the "unknown" factor. I remember when I was a kid, 8th Street was where everybody went to get their shoes, no matter if it was women or men or for casual wear or sportswear. And then Zappos came along and just shut the whole street down. I'm sure there are many streets like that in every city, but it was just overnight it seemed like to me. We've seen the same thing with all the record stores. Remember Tower Records and Virgin on Lafayette Street? There was like four or five of them right across the street from each other, and then Napster came along and they all vanished. So now with Amazon, nobody goes to the drug stores anymore; nobody gets big cases of water or paper towels; they just order everything online. So, in that section of retail, we're seeing holes, and we're replacing them with different fitness uses. It's hard to tell what the makeup of tenants will be there, but downtown has got a lot of great restaurants. I went to The Fulton, Jean-Georges restaurant in the Seaport; it's amazing. It's not kosher, but it's amazing. 
What do you think is missing in downtown? 
I think they've got a good mix of a lot of things, but there's some corridors, like Park Row, where they're developing like three or four buildings. And you're going to see a big change right across the street from there. Nobu went in, which was a great addition for downtown. But, I mean, it's the oldest area in the city, and I think they're pretty much covered on everything.
How does the age of an older area of Manhattan and its product appeal to the tenants you work with? 
The history of a product is good; it's always a selling point. We sold the White Horse Tavern [in Greenwich Village], the original one that opened in 1860. We sold the building, we financed it and then leased the tavern. And, during that whole process, all we talked about was the history and the people that went there, so history is very important. We just picked up a new assignment on Bleecker Street, and it was Figaro Cafe since 1956; the movie "Carlito's Way" was shot in it. So, we love talking about the history. We also rented another space on Bleecker Street — 155 Bleecker — to Citizens [of Bleecker] coffee and found out it was Back Fence, a famous rock 'n' roll place. We actually put a picture of Frank Zappa in the mid 60s, standing in front of it, on our setup.
So, the places with more history, it definitely adds character. My least favorite area in the city is Battery Park.
Why is that?
Because it doesn't have any soul, a history and character. 
What do you think about the gripes that New York City is losing its soul with so much new development? 
I don't think it's losing its soul at all. I think it's changing, but it still has soul. I explained to my sons all the time: You wouldn't believe what this city was like years ago. They're not old enough, right now, but when they're old enough, I want to play "Midnight Cowboy" for them and give them a true sense of what New York City was like in the early 70s. It was very, very gritty.
Gritty is not necessarily bad. Sean MacPherson opened the Bowery Hotel on the corner of Bowery and 4th Street. He opened it up and there were crowds of people; they were booked solid; the restaurant, Gemma, won best restaurant like three years in a row. And, I'm standing in front of the hotel — we're doing a deal with that same owner somewhere else — and it's right next door to a halfway house where people come from long stays in prison and go there to transition, and then that's right next to a meth clinic, which is on a former gas station. And in the back of it is a graveyard from the 1800s. The owner didn't put up a brick wall; he put up a fence, so you can see all the headstones. And I said, "Sean, what were you thinking when you put this together?" He said, "James, people don't come from all over the world to see the bright neon lights and the glass buildings. They want to see the grit. They want people to come over to them and ask them for money for a cup of coffee." I kind of agree with him. People want to see the graffiti of the 70s. You know, it's part of our history.
What other areas do you think still maintain that historic feel? 
I think Greenwich Village has got a ton of history; West Village; SoHo; Tribeca. But more than any other area: downtown. There's FiDi and Seaport, and there are so many old spaces, like the Paris Cafe, Fraunces Tavern, McSorley's, the Ear Inn on Spring Street. I love places like that. You can just feel the energy.
Are there any legs to the thought that leasing troubles at World Trade could spill over into the rest of downtown? 
I can't speak directly to World Trade, but overall, whenever somebody is trying to rent a large space, as long as they're flexible in dividing the spaces, I don't think there's any fear of not leasing in this city. This city is amazing. I say to all the customers who have a similar concern: It's three miles wide and nine miles long. Every single one of the six billion people on the planet want to be on this little sliver of rock. I'm extremely bullish on Manhattan. I think the sky is not falling, and I don't have any other concerns. I think we're going through an adjustment right now, but we're still extremely busy. 
What are some other prominent deals from your team? 
Grit Boxing at 9 East 16th Street. It's like a nightclub, mixed with a boxing studio, mixed with Barry's Bootcamp. The guy spent so much money on the sound system, the lighting system; he has live DJs; he has celebrities teach the class. Talk about the audio and video, he's got like a screen and it lights up in fire and goes into the music; it's an amazing experience. Let me tell you, if you're worried about getting bored during a workout? Not here, ever. But, probably [another deal] that comes to mind more than anything else is Particle Ink at 771 Ninth Avenue; it was an entire building, the old Benjamin Moore paint store. There were so many problems and zoning issues. Each floor allowed an occupancy of just two people, which rendered the building unleasable, because who's going to rent a huge space and pay a high-ticket price and only be allowed to have two people on each floor. We had to work with expeditors and architects and the department of buildings. We sorted it out. We had to get the liquor license, because after you finish the whole [Particle Ink] show, you go down to the lower level and the last scene is in a bar restaurant. We worked with the community board to get approved for the liquor license, and at the same time, we were working the lease … but we got it done. 
Sounds exhausting but fun. 
It was exhausting, but very satisfying in many different ways. We're looking forward to the grand opening.