Back on Track: How US Cities Are Reinventing Their Train Depots
---
---
Get them talking, and you'll quickly learn that train buffs and history buffs alike still haven't recovered from the demolition — 56 years ago this week — of the original Pennsylvania Station's great hall in New York City. Even as the wrecking balls did their work on the marvelous stone landmark and its soaring glass-roofed atrium, critics were already inconsolable: The New York Times that month called the affair a "monumental act of vandalism against one of the largest and finest landmarks of its age."
More recent writers — who, as with the rest of the traveling public, now have to put up with the dingy confines of the original station's subterranean replacement — have been no less censorious. And today, now that transit-oriented urban development has become a buzzy notion among planners and developers, the fiasco looks even more short-sighted.
But an ambitious $1.85 billion project to add a grand new entrance building, known as Moynihan Train Hall and on track for completion in 2022, is just one reason for the Big Apple's transit and real estate cognoscenti to get excited. Grand Central Terminal is in the midst of its own mini-expansion: The East Side Access program promises to allow Long Island Rail Road trains to serve that station by the end of 2023. And though it suffered from damning cost overruns, the Oculus at the World Trade Center PATH station nonetheless added an iconic focal point to New York City's rail infrastructure when it opened in 2016.
As environmental and lifestyle concerns alike push governments to curb car use in cities, New York is far from the only big U.S. metropolis that's seized the moment to reimagine its central rail depots. And as four ambitious projects from around the country show, train-centric renovations can often bring magnificent spillover effects to their surrounding neighborhoods as well.
Denver Union Station
Passenger and freight rail were critical to Denver's fate even before Colorado became a state in 1876. The city suffered a major setback when, in the 1860s, the Union Pacific railroad decided to lay the first transcontinental route 100 miles north of the city, through what would become Cheyenne, Wyo., but civic leaders quickly raised the funds necessary to build a connector line. Half a century later, in 1928, the construction of one of the country's longest railway tunnels finally provided a direct connection between Denver and the West Coast, helping cement the city's role as the Rocky Mountains' industrial hub.
Passengers have enjoyed the services of the city's Union Station for much of that long history, since its first Romanesque Revival structures opened for use in 1881. At its height in the early 20th century, the station offered intercity service to anywhere from Texas to the Midwest and the Pacific Northwest. But these days, just a single Amtrak line serves the city. (There are also regional commuter trains that go to suburbs and the city's international airport.)
Despite declining service, the station's central location in downtown Denver, at 17th and Wynkoop Streets, made the facility a prime candidate for redevelopment as civic leaders struggled to prime the polluted, shrinking city for the 21st century in the 1990s. Denver's mayor at the time, Wellington Webb, arranged for the city's rapid-transit agency to buy Union Station in 2001, and in 2008, longtime Denver conservationist Dana Crawford led an effort to gather local business bigwigs to invest in refurbishing the station.
A local lodging developer, Walter Isenberg, agreed to invest in a new hotel attached to the station, the Crawford Hotel, which today commands some of the city's highest nightly rates. The group also picked up a critical $6 million historical tax credit from the National Parks Service. Additional money came from the U.S. Department of Transportation in the form of a $145 million loan, proceeds from the sale of $18.4 million worth of land and a voter-approved allocation from FasTracks, the city's ambitious effort to build more rapid-transit, as well as several other public and private sources.
Since the primary work wrapped up in 2014, the transit-oriented development project has succeeded far beyond its planners' expectations. In addition to the Crawford Hotel, at least 19 other commercial projects have gone up within a two-block radius of the station since 2009, including apartments, office space and two more hotels. Planners had speculated that the station's refurbishment could lead to, at most, the absorption of 823,000 square feet of commercial space and 1,930 residential units over 10 years. In fact, developers have succeeded in bringing online well over 2 million square feet of commercial space alongside more than 3,000 apartments, with the two additional hotels as an unexpected bonus.
Washington Union Station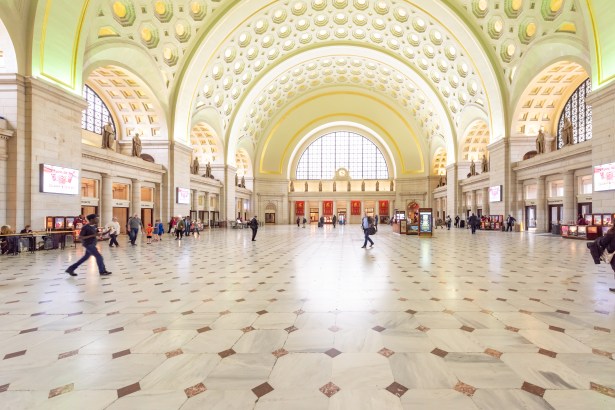 America's capital was the setting for one of the country's archetypal modern-day train station renovations when Washington Union Station got a sorely needed — and exceptionally well-executed — facelift in the late 1980s. The august station, designed by renowned Chicago architect Daniel Burnham, opened to passengers in 1907 and was never busier than during the mid-1940s, when 200,000 passengers came and went on typical days. But the advent of the interstate highway system and commercial air travel rapidly sidelined passenger train service in the 1950s and 1960s: By 1970, trains were the mode of choice for just 7.2 percent of passengers, compared with 73 percent for airlines, according to Duke University research.
Union Station declined along with the times, and though it was never quite so poorly treated as the old Pennsylvania Station in New York City, it too saw its share of misbegotten cosmetic work. On the occasion of America's bicentennial in 1976, which heralded a full calendar of festivities in Washington, D.C., that summer, the National Park Service opened a visitor center in the station, in part by installing an amphitheater in an approximately 10-foot-deep pit dug right into the floor historic building's main hall.
Though the visitor-center project cost $50 million overall — $197 million in today's dollars — only a few dozen tourists showed up on some days, according to a 1978 report in The New York Times.
By 1980, the federal government abandoned the visitor-center concept and decided to restore the building as a train station — a seminal project that would go on to suggest how other terminals around the country, including New York City's Grand Central Terminal, could be refreshed.
Starting in 1981, Congress allocated tens of millions to the station's restoration and funded the station's transfer to the Department of Transportation, emphasizing a renewed focus on passengers. Crucially, when the station reopened in 1988, it included a much-increased retail presence, including a basement food court, as well as a movie theater that remained in use until 2009.
"The restoration and renovation … became one of the area's great success stories," the Washington Post wrote in its 1994 obituary for Keith Kelly, the executive who led the effort. His work garnered awards from the Urban Land Institute and the National Trust for Historic Preservation.
Even so, by 2016, Amtrak had already decided that another significant renovation at the depot was necessary. Early this year, it announced it will soon embark on a three-year, $50 million project to expand passenger capacity, improve restrooms and add more natural light to the station's main passenger concourse. Most of the funding will come from Amtrak itself, part of the train service's $2.4 billion effort to improve service between Washington, Philadelphia, New York City and Boston.
Los Angeles Union Station
High hopes for high-speed rail in California have dimmed significantly this year: In February, Gov. Gavin Newsom announced that work on much of the planned 488-mile route between San Francisco and Southern California would be postponed indefinitely due to ballooning budgets and schedules. But that doesn't mean the entire West Coast is forsaking the future of rail travel.
L.A. may be famously resistant to mass transit, but Los Angeles Union Station, a 1939 mission-revival structure, nevertheless serves as a major intermodal hub. ("Union stations" are so-called because they were designed to serve multiple rail operators, "uniting" different companies' services.) Amtrak and commuter lines combine for a total of 188 daily trains, and the station also hosts more than 1,000 buses each weekday — which, in addition to the station's subway stop, combine to serve more than 100,000 passengers daily.
Jeanet Owens, a senior executive at the city's Metropolitan Transportation Authority, expects that number to double over the next decade — especially given that L.A. will host the Super Bowl in 2022, the FIFA World Cup in 2026 and the Olympics in 2028.
"In nine years, we fully expect to be serving 200,000 passengers per day," she said.
That's part of the impetus behind the current $3.2 billion initiative to renovate Union Station's track infrastructure along with its passenger areas, the first in-depth renovation of the terminal since it opened 80 years ago. The focal point of the project, known as Link Union Station, aims at fixing a serious bottleneck. As designed, all trains have to leave and enter the station to the north: It's a dead-end, like New York City's Grand Central Terminal. Link Union Station aims to fix that by building a rail overpass at the station's opposite end that will carry trains across US 101 and on to Southern California.
The project will dramatically improve operational efficiency, and also allow Amtrak to operate continuing through-service between San Luis Obispo to the north and San Diego to the south. (Today, passengers have to switch trains at Union Station to make the trip.)
"It will allow us to increase capacity by 60 percent," Owens said. "Trains have never operated in SoCal this way, so this is going to change everything."
Funding for that stage of the project has already been secured, through a combination of state money earmarked for rail projects as well as a $100 million contribution from Metro.
A second phase of the project — which hasn't yet been funded — will target the station's passenger experience. Today, passengers have to walk through a narrow 30-foot-wide tunnel to get between the station building and the platforms, but the renovation will expand that concourse to 150 feet, with plans to line it with shops and restaurants.
"We want to bring in additional retail amenities so that people will be able to say, 'Let's have lunch at Union Station. Where would you like to go?' " Owens said.
There's also an effort to find a private developer to build and operate an adjacent hotel — an initiative that drew direct inspiration, it turns out, from the Denver project.
Virgin Miami Central
Since Amtrak's founding in 1971, privately operated passenger rail service in the U.S. has veered in and out of extinction. When Brightline ran its first passenger service between Miami and West Palm Beach, Fla., in spring 2018, it became the country's first private rail line in 35 years, since the Rio Grand Zephyr, a train between Denver and Ogden, Utah, went belly-up in 1983.
Brightline, which has since been renamed Virgin Trains USA following an equity investment from Virgin Group founder Richard Branson, didn't build any new track for its route, instead relying on an existing freight line. But the business plan did require significant redevelopment of a downtown Miami train station that hadn't seen use since 1963.
The station site, at 400 NW 1st Avenue in downtown Miami, traces its rail roots to 1896, when it served as the southern terminal of a line that ran all the way north to Jacksonville. But service to the station came to an abrupt halt during a work strike in 1963: News footage from the time shows onlookers gathered around the original station building as a wrecking ball knocks out portions of the roof.
With Amtrak service relegated to a distant station about seven miles from the city center, the current Virgin Miami Central site lay fallow for more than half a century, the old terminal building erased in favor of nondescript parking lots. But Brightline began planning to return the nine-acre plot to its former life as a rail terminal in 2014, and broke ground a year later. Funded in part by a $600 million bond issue in 2017, the resulting 3-million-square-foot complex includes a 50,000-square-foot food court inside the station as well as street-level retail, two office buildings and a pair of residential towers with a total of 800 apartments.
Real estate investors have already betrayed their excitement. In 2017, Pacific Life agreed to lend against the project's residential component, funding its construction with a $205 million mortgage. And in May, San Francisco's Shorenstein Properties agreed to buy the two newly completed office towers for $159 million. The buildings already have a full roster of tenants, including Ernst & Young and Viacom.
Future service expansions promise to raise the station's profile further yet. Virgin Trains USA secured funding earlier this year to extend train service from West Palm Beach 150 miles northwest to Orlando, connecting that city to Miami in a three-hour downtown-to-downtown trip. Meanwhile, starting next year, Miami Central will also receive its first service by Tri-Rail, South Florida's publicly operated commuter train. It too carries passengers between Miami and West Palm Beach, but with many more intermediate stops. (There's no interstate service, alas.)