Prime Location: What Goes on in an Amazon Warehouse
A visit to a New Jersey Amazon fulfillment center, complete with priority lanes for robots and Tylenol vending machines for humans
---
---
Last year, amidst Amazon's pursuit of a second headquarters in Crystal City, Va., Mike Grella, an economic-development executive at the company, played straight into the company's reputed obsession with privacy when, in a tweet, he offered a "memo to the genius leaking info about Crystal City," warning the leaker against handling the company's nondisclosure agreement "like a used napkin."
But the company made an unexpected move last year to lay more of its cards on the table: It began offering tours at a select number of its massive fulfillment centers, where it stores, sorts and ships millions of orders.
A P.R. effort, perhaps, or part of a recruitment drive? Whatever the reason, it sounded like a dandy field trip for a commercial real estate reporter with a curiosity for logistics' bleeding edge. Armed with a rental car and a notebook, Commercial Observer set off for the Amazon warehouse tour.
The visit, on a bright September afternoon just after Labor Day, illuminated both the stirring ingenuity and the somewhat cheerless efficiency of the world's largest internet company and how it's transforming the consumer economy.
After entering through a lobby that doubled as a recruitment office — the company is looking to bring aboard 100,000 workers for the holiday push and posters advertised $100-odd sign-on bonuses for new workers — the group of a half-dozen retirement-age curiosity-seekers and this reporter were ushered into a holding room and issued a receiver and headphones: the only way to hear the guide over the cacophony that awaited inside the warehouse.
The din that greeted the group there was more numbing than overwhelmingly loud — the dull hum of tens of thousands of boxes traveling along miles of conveyor belts and roller slides.
The sights, on the other hand, were never less than striking.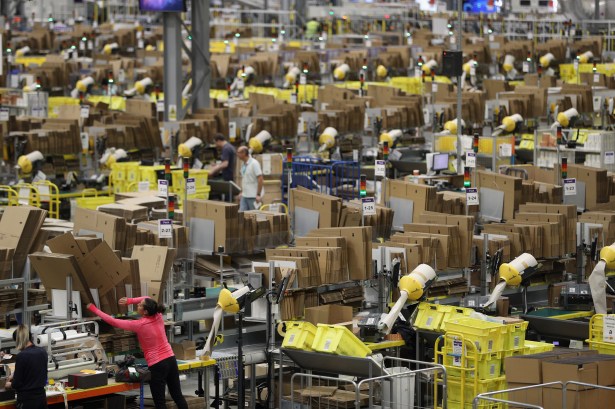 For one thing, robots on wheels — machines that looked something like miniature, shoulder-height forklifts — seemed to have free run of the 1.2-million-square-foot facility, ferrying packages from one node in the supply chain to the next.
It'd be a good idea, the guide explained, for guests to toe the painted lines that indicated pedestrian paths through the warehouse. Otherwise, visitors might interrupt the work of these self-directed couriers. Not that the robots wouldn't yield of their own accord: The guide demonstrated their deference by abruptly flinging himself in front of one as it approached, and the robot sure enough came to a smooth stop inches before a gory collision in a heartening display of inter-species tolerance.
Other functions, however, have barely evolved from warehouses of yore.
Goods arriving to the facility by the truckload for storage — both from manufacturers and from third-party peddlers whose sales are fulfilled by Amazon — were being unpacked by hand as the tour group looked on, although each parcel's arrival was also tracked by scanners.
But as the tour proceeded, computers' roles in guiding the facility's activities became increasingly apparent. At nearly every node, both human hands and automated systems helped shepherd items as they moved through the facility. It didn't take long for visitors to glean that one of the company's most critical achievements has been to implement a state-of-the-art, AI-driven fulfillment process in such a user-friendly way that Amazon's fulfillment-center workers — including the several thousand who work full-time at the 24-hour-per-day Robbinsville facility — can work alongside the computer systems with minimal training.
Computer interfaces at workers' stations typically consisted of just a few large, color-coded buttons, and relevant information was faultlessly displayed on easy-to-read screens as workers packed and unpacked goods. Amazon hires its fulfillment center workers without interviews, so they come from all walks of life with all manner of previous experience working with technology. But it was clear right away that it wouldn't take much experience to work seamlessly besides the company's robotics. In case problems cropped up, laptop-toting technicians, predominantly young men, roved the floor in fluorescent vests to troubleshoot.
Labor relations have become a crucial frontier for warehouse tenants. As the asset type returns to New York, where the minimum wage is now, like Amazon's, $15 per hour, compensation is liable to become an ever more binding economic pressure. Amazon, for one, has resisted unionization efforts among its workforce and has faced down other legal challenges too, including a 2014 Supreme Court case that questioned whether Amazon must pay workers for the time they spend standing in line for a security screening on their way home from work. (The court decided in Amazon's favor.)
There have also been questions about workers' health and safety, including some that stemmed from an incident at the Robbinsville center. Last year, two-dozen workers there were taken to hospitals after a robot punctured a can of bear repellent that was being stored in the facility. And even more quotidian activities can apparently be a strain. Posters seen on the tour instructed workers, who stand for the entirety of their 10-hour shifts, about stretches they can do periodically to avoid repetitive-use injuries. Vending machines that were scattered throughout the facility provided an unlimited supply of free items such as earplugs, pain-relief ointments and packets of Tylenol. It was hard to discern whether their presence spoke louder of the workplace's hazards or of Amazon's efforts to ameliorate them.
On the other hand, the tour left little doubt that Amazon's employee roster was blind to age, gender and any other segregator one could name. No particular sort of person was more prevalent than another, nor was the warehouse's dress code even slightly restrictive, which only served to underscore the diversity, at least at the shift the group observed. A young, punk-looking kid with an earring worked side-by-side with a middle-aged white guy who could have been a member of a motorcycle gang. Elsewhere, a woman who might have been a suburban mom picked just-sold merchandise off the shelves next to a station where a younger black man was doing the same work. It was mostly young Hispanic women who staffed a fast-paced area on the second floor where workers hustled to enclose trinket-sized purchases in small envelopes. The tour guide, himself a shift worker at the warehouse, was a middle-aged white man who said he'd had a prior career in finance and insurance sales.
That this whole motley crew meshed productively was a tribute to how well the company's systems and procedures seemed able to mediate and knit together the simple, repetitive packing and sorting tasks that employees were called on to perform. During the tour, that sophistication suggested itself as perhaps Amazon's most profound competitive advantage in e-commerce. (An Amazon spokeswoman did not respond to a list of questions by press time.)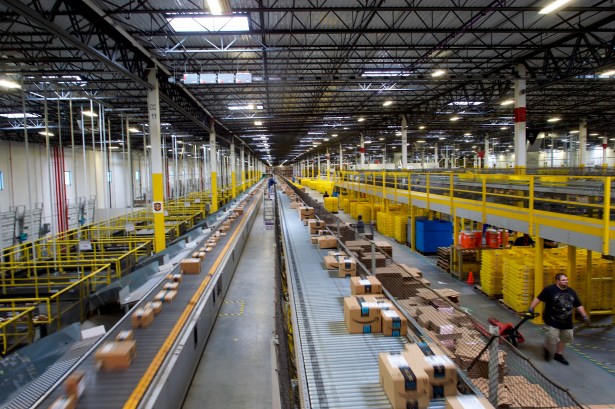 Indeed, when asked about how evolved the supply-chain and logistics operations of traditional retailers such as Macy's are, Jim Sullivan, a real estate investment trust analyst at BTIG, said that those particular companies have some ground to make up.
"I would say that they are certainly not where Amazon is," Sullivan said. "Amazon has a big lead." (A Macy's spokeswoman referred CO to a speech its CEO, Hal Lawton, gave last month championing the company's supply-chain improvements, noting that its newly reoptimized logistics network had already handled more than 1 million orders.)
Other traditional retailers are even closer to matching Amazon's efforts.
"Walmart, for example, is not far behind," Sullivan said. "Walmart was famous for its distribution efficiency even before e-commerce, and they're pretty aggressive at it." (Walmart didn't respond to an inquiry.)
As Walmart should be: There's a fortune to be made. 
The entire experience at Robbinsville was akin to a pilgrimage to the throbbing heart of global consumerism, but never more so than when watching a worker manning a picking station at work. The worker's job at a picking station is simple — to stand in front of a seven-story square tower jam-packed with a variety of objects and retrieve just-bought items. Just as a Roomba-esque robot diligently delivers the tower to the picker's station, an item name and its image appears before the picker's face on a screen. An automated spotlight adjusts itself to focus a blinking, color-coded beam on the part of the shelf where the item of interest has been stored, instantly directing the worker's attention to the right spot. The picker snatches it up, tosses it in one of several bins according to the display screen's command and bops a flashing button. All the while, a seconds counter ticks upward on the screen, presumably encouraging him or her to work as quickly as possible. Rarely does an item's retrieval take more than three seconds. 
Pickers perform this task for ten hours per day, four days per week — no sitting, remember — with two fifteen-minute breaks plus a longer unpaid lunch.
Of course, today's sophisticated supply chains and fulfillment networks are the crown jewels for e-commerce giants such as Amazon and Walmart, and details have often been jealously guarded. Global e-commerce has nearly tripled in the last five years, rising to a projected $3.5 trillion this year from $1.4 trillion in 2014, according to Shopify, a Canadian e-sales platform.
But numbers are one thing. If you fancy being viscerally walloped over the head with the weight of that statistic, take an Amazon tour.
To a journalist who spends most of his time thinking about the economy in abstract, watching pickers' screens was a remarkable experience, for the view they offered of an endless stream of just-purchased objects flashing in sequence like a manic slideshow. Few scenes render the scale and breadth of the consumer economy so vividly. A picker is instructed to grab a plastic-wrapped pair of men's suspenders. Next is a bottle of vitamins, followed by a watch battery, a textbook, a pair of women's socks and a holster for a gun.
The sheer speed and efficiency with which these flit through the system — from the shelving unit, to the picker, to the bin, and, not so far down the line, straight into the cardboard shipping box — argues for a revisited sense of what industrial space is for.
"Warehousing" is still synonymous with sedate storage. But few commercial assets offer such compelling visual evidence of their economic productivity.