Goldman Sachs-Led Fund Lends $128M for Planned Dallas Office Tower
---
---
Broad Street Real Estate Credit Partners, an investment fund managed by Goldman Sachs, has provided $128.3 million in construction debt to Kaizen Development Partners for the firm to build The Link at Uptown, a planned office tower in Dallas, Texas, Commercial Observer can exclusively report. 
The five-year, floating-rate loan will go toward the construction of a 300,000-square-foot speculative office tower in Dallas' Uptown neighborhood, sources said.
A JLL team led by De'On Collins represented the borrower in the transaction. 
The development site is located at 2601 Olive Street, where a 25-story property will soon rise. BOKA Powell is the architect for the project and Balfour Beatty is the general contractor, according to an April 2019 press release from JLL, announcing the start of demolition.
JLL's Blake Shipley and Sarah Hinkley of Thirty-Four Commercial are co-leading the marketing and leasing of the property, according to JLL's April release.
"Uptown is not only one of the most vibrant submarkets in the region, but one of the most vibrant in the U.S.," Derrick Evers, Kaizen managing partner and CEO, said in a prepared statement in April. "Its authentic blend of premier location, amenities and distinctive presence makes it extremely attractive for perspective office tenants."
Hinkley was involved in the sale of the 0.7-acre site, representing the seller, restaurateur Mike Karns, according to a November 2018 report from D Magazine. 
Hinkley told D Magazine in a statement that finding the right buyer came down to who "would strengthen the neighborhood … We chose Kaizen due to their ability to execute and develop a marquee addition to the Dallas skyline on a site that is critical for the success of Uptown."
Kaizen unveiled the project in November 2018 and then an announcement that demolition of an existing office property had begun was released by JLL several months later in April.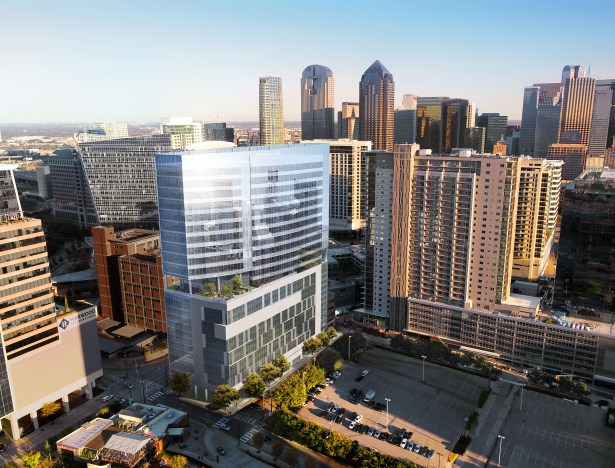 "It wasn't one of those things where the highest number was going to do it," Evers told D Magazine."[Karns] was interested in the story, and we had one to tell."
The tower will include two ground-level restaurants, overnight executive suites and an "amenity floor" that will include an outdoor terrace, according to Kaizen's website. The building will also feature a fitness center, a conference center and a golf simulator. 
Kaizan is expecting to complete the project by fall 2021, according to its website. 
Dallas is certainly on a hot streak. Non-farm job growth has expanded by 3.3 percent annually since April 2018, according to information from the U.S. Bureau of Labor Statistics.
The second quarter saw net absorption in Dallas drop slightly from the previous quarter, with 744,000 square feet taken up, pushing overall absorption up to 1.5 million square feet this year, according to a second quarter office report from CBRE. 
With the positive absorption, vacancy rates remained flat in the second quarter, while overall average asking rents climbed to $25.26 per square foot from $25.01. Class A asking rents increased from $30.95 to $31.37 in the quarter. 
Balfour Beatty
,
Blake Shipley
,
BOKA Powell
,
Derrick Evers
,
De'On T. Collins
,
Goldman Sachs
,
JLL
,
Kaizen Development Partners
,
Mike Karns
,
Sarah Hinkley
,
The Link at Uptown
,
Thirty-Four Commercial
,
U.S. Bureau of Labor Statistics