ACRES Provides $35M for The Vorea Group to Build LIC Mixed-Use Project [Updated]
---
---
Long Island-based ACRES Capital has provided $35 million to The Vorea Group for the firm to build Jackson Square, its planned mixed-use project in Long Island City, Queens, according to city records filed today. 
The two-year financing package included a $24.1 million building loan and a $10.8 million project loan. The deal closed on Aug. 15. 
JLL vice president Marko Kazanjian arranged the transaction, according to ACRES.
Vorea filed permits for a nine-story mixed-use building at 23-20 Jackson Avenue earlier this year. Located at the corner of Jackson Avenue and Pearson Street, just a couple blocks from the Court Square G and 7 train station, the project will comprise 83,000 square feet, 65,000 of which will be dedicated to office and hospitality space. KSQ Design is the architect of record. 
"This loan was particularly alluring for ACRES due to the project's location in the highly sought-after Court Square market of Long Island City, which has seen a significant amount of investment over the last decade," ACRES CEO and president Mark Fogel said in a statement. "The sponsors were able to utilize their local expertise to recognize the need for the hospitality, retail and office aspects of 23-20 Jackson Avenue, which will be ideal accommodations for what has become one of the most active residential submarkets in New York City."
The plans call for a 148-foot-tall structure, with 72 units, averaging about 902 square feet, spread throughout the top six floors and pre-leased to Sonder, a San Francisco-based flexible hotel rental start-up. The bottom floor and cellar will be utilized as retail space, while the second and third floors will be office space. Tech-focused real estate brokerage Compass has leased just over 11,000 square feet in the office portion, according to information from ACRES.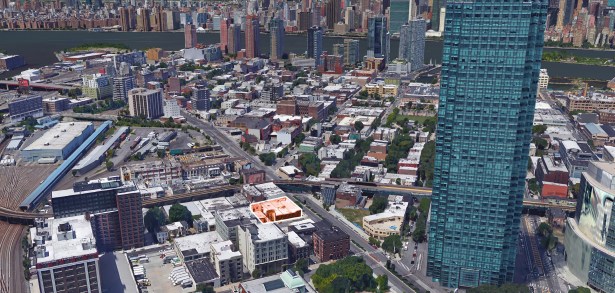 Vorea began its demolition of the existing one-story building on the 10,000-square-foot lot in July, according to its website, after filing permits for the work in July 2018. The company will manage the property once it's complete, according to ACRES. 
"The central location of the Court Square submarket and its proximity to Midtown Manhattan have attracted residents from across the five boroughs," Vorea Principal Peter Papamichael said. "With 80 percent of the building pre-leased and other prospective tenants already showing interest, 23-20 Jackson will surely continue to attract interest from a wide variety of tenants."
In 2016, Vorea signed a 99-year ground lease at 23-20 Jackson Square, in a deal that was worth about $350 million, according to a 2016 report by Real Estate Weekly. 
Vorea originally planned to include 30,000-square-feet of retail for a future project, according to its website and REW's report, but by the summer of 2017, it was reported that Lee & Associates was tapped to market for lease just over 53,000 square feet of future, built-to-suit office space from floors four through eight as well as the 30,000 square feet of retail on the first three floors of the planned development. 
This story was updated to includes comments from ACRES and The Vorea Group as well as tenant information and additional details about the size and scope of the development.
23-20 Jackson Avenue
,
ACRES Capital
,
Compass
,
Jackson Square
,
KSQ Design
,
Lee & Associates
,
Mark Fogel
,
Marko Kazanjian
,
Peter Papamichael
,
Sonder
,
The Vorea Group