Tower of Terra: Dan Cooperman's Platform Is Expanding Its Footprint
---
---
Two-twenty-five Fifth Avenue is a sleek, renaissance revival property that's seen many lives. Built in 1906, it was once the Brunswick Hotel before becoming the New York Gift Building, and today it's a luxury condo property. 
It was also part of Dan Cooperman's baptismal into the real estate business back in 1996.
The Santa Fe, New Mexico-native studied business at the University of Colorado in Boulder. An entrepreneur by nature (his dad had garment and trucking businesses), he had a t-shirt manufacturing business plus a yard business during college. With those endeavors having occupied his time, he arrived in New York in 1996 without an internship under his belt, and certainly without a career in real estate in mind.
But when developer Jon Hendel placed a job ad for a recent college grad to help analyze real estate investment opportunities, Cooperman answered it.
Hendel was working for a wealthy Japanese family at the time. He helped them acquire said property at 225 Fifth Avenue, and was running it on their behalf. Cooperman was hired to help him assess additional acquisition opportunities.
Hendel essentially acted as the real estate Yoda to Cooperman's young Jedi.
"I didn't really know what I was doing at the time but I was following his lead; we were touring properties and running numbers. He was teaching me the business and the things that were important to him when he looked at investing in real estate," Cooperman recalls.
But this first staging ground would prove exceptionally useful at providing Cooperman, who is now the chief originations officer for Terra Capital Partners, with the kinds of tools any real estate pro would find useful.
He learned about timing. It was an interesting moment to be a newbie in the market, which was sandwiched between two crises: the Savings and Loan crisis and the dot-com crash. 
"In retrospect, we should have been buying everything," he said. "The market was very good from an opportunity standpoint."
Hendel's next purchase was 499 Seventh Avenue, a 200,000-square-foot building at 37th Street and Seventh Avenue.
The broker on that sale? CBRE's Darcy Stacom. So, he learned about the industry's powerhouses.
"Today, she's selling the Chrysler Building," Cooperman said with a laugh. "I remember Jon saying, after we closed the deal, 'I will never hire anyone other than Darcy if I'm selling a building.' She was just that good, and still is."
The Garment District property was only 50 percent occupied at the time of the purchase, and in need of some serious TLC. Hendel put Cooperman onsite so he'd learn how to run it.
"I was pretty disappointed," Cooperman said and laughed. "I just wanted to be buying buildings — not that it was ever my money. But he said, 'Trust me; this'll be good for you.' "
Cooperman shared an office with Tony Malone — the building's super — who was "not thrilled" to be splitting an office with a 22-year-old chaperone.
But, "I saw every single person that came through that building. I started negotiating leases, working on improvements to the property, and really learned what it takes to run a building," Cooperman said.
With some elbow grease, the property's occupancy soon increased to the mid-90s, leased entirely by garment tenants. "Jon's thesis was that other Garment District buildings were being converted to office, so we should keep it as garment because there'd be fewer buildings available for those tenants and we'll be able to drive prices up."
He was right. Around the same time, advertising agency Bates USA leased 400,000 square feet of office space across the street at 498 Seventh Avenue; the first big non-garment tenant to go into the area.
Twenty-three years later, many of these early lessons are coming into play for Cooperman, 45, at Terra.
"We're consumers of information and observers of society. We spend a lot of time talking about secular shifts that are taking place and the way that we as a society consume space," he said of the firm's approach to lending today.
It's an exciting time for Terra. In February 2018, Andrew Axelrod's hedge fund Axar Capital Management acquired a stake in the firm — terms of the deal weren't disclosed — and in December the company received a $150 million line of credit from Goldman Sachs, and expanded its mezzanine debt and preferred equity investment strategy to include senior and stretch-senior loans.
"Dan is a prolific provider of capital in a specific part of the market," said Dave Karson, an executive managing director in Cushman & Wakefield's equity, debt and structured finance group. "We've had good success with Dan, and now his platform has expanded into other parts of the capital stack — so we have a lot more projects to touch base on."
Terra Capital Partners was started 15 years ago by Bruce Batkin and Simon Mildé. Cooperman met the two shortly before its formation, when Mildé offered him a role at his firm Greenwich Group, sourcing debt and equity as well as helping to sell assets.
At the time, Batkin and Mildé were working together on an assignment to help RFR Realty's Aby Rosen and Nick Santoro (who later joined Centennial Bank) raise money for a mezzanine loan fund.
Batkin's first impressions of the young Cooperman were that he was "thoughtful, creative, a good thinker and gifted in terms of his social ability to relate to people," he said.
Back then, mezzanine debt's place in the market comprised a fraction of what it does today, the big mezz player at the time being Capital Trust.
The trio saw a market opportunity: Batkin and Mildé started Terra Capital Partners in 2002 as a mezzanine platform, with Cooperman tackling originations. They found a capital partner in Australia—Rubicon—who was eager to invest in U.S. real estate due to the dearth of investment opportunities down under, and they embarked on a mezz lending program between 2003 and 2006, originating $1 million to $10 million mezzanine loans behind newly originated CMBS conduit loans.
In carving out their market niche, Cooperman had asked lenders he spoke with during his debt placement days what void they were seeing in the capital stack. "They said, 'Mezz has only been in some of these big deals. How about mezz for smaller deals and middle market borrowers?' So we came up with this thesis, created a product, and did almost 40 or 50 loans behind Credit Suisse, Bear Stearns, Morgan Stanley, J.P Morgan and Natixis [loans]."
CMBS was really "hockey sticking" back then, Cooperman said (meaning that its originations had gradually increased then skyrocketed), but the Terra team saw the market shift dramatically by the end of 2006. "I didn't have multiple cycles of experience, but Bruce and Simon did," Cooperman recalls. "And when we'd sit down to go through deal opportunities, we were seeing lenders offering more and more leverage while charging less interest. They both said, 'This is not going to end well.' "
Terra decided to pump the brakes on putting dollars out and told their overseas partner that they thought it was time to exit the business, or at least start to sell off pieces of the portfolio.
But their capital partner, "from halfway around the globe, saw the world very differently and said we needed to keep growing," Cooperman said. "We had exclusivity; he couldn't do anything in the U.S. without us. So he ultimately bought us out of our interest in the portfolio. We exited in June of '07 and experienced some sellers' remorse because the market was still continuing to go up for about three months. But then 2008 happened and we felt pretty good about our decision."
That prescience and forward-thinking would later become synonymous with Terra's name.
After their exit, Batkin, Mildé and Cooperman still had a business, but they didn't have capital. So Cooperman, then unmarried and without a mortgage, took the opportunity to move to Buenos Aires briefly.
One month after he left, Bear Stearns failed.
"I came back in August and said, 'Bruce, Simon let's get the band back together.' Then — Boom! Lehman Brothers, AIG, Fannie Freddie went down and then you had Madoff. It was a foreshadowing of the new cycle that we now have today," he said.
Batkin, Mildé and Cooperman kept their heads down and continued reconstituting the company. The distress led to plenty of great market opportunities, but raising money when people were licking their wounds post-Madoff wasn't easy.
Fortunately, their well-timed market exit created a compelling story to tell. "People said, 'You're the smartest people ever.' And so, riding on that story and basically tapping into a different means of raising capital, we started the company again."
By 2010, Terra was writing mezzanine loans on cash-flowing assets: Class A office buildings in prime locations in major markets and getting paid 15 percent. ("That was awesome," Cooperman said.) Then a year or two passed and senior lenders returned to the market. As everyone started focusing on cash-flowing deals, Terra turned its attention to value-add.
One of the first value-add deals the firm did was on the $14.5 million acquisition of the UBS Tower in Downtown Nashville in September 2013. The property was bought out of receivership.
The firm had "a good run" ahead of other lenders piling into the value-add space, at which point they began focusing more on construction lending.
"I think [looking ahead is] particularly valuable in our space because, as the world is changing so quickly because of technology and lifestyle, the way that real estate has been used is changing enormously and very quickly," Batkin said. "Dan tries to look around the corner and ask, 'Will this piece of real estate we're financing today hold its value or increase in value because of the changes in use that are taking place, and will likely take place over the next few years?' Looking forward and trying to be ahead of the curve is a key component in how Dan operates."
Over the years, Terra's origination strategy has been dictated partly by where the team sees the market heading and partly by the lending and investment opportunities where they see the fewest kids in the sandbox.
"The debt markets are very competitive and there's an exceptional amount of capital out there," Karson said. "If you're going to be in the lending market, you have to figure out your niche and where you can compete. I think Dan has been very good at competing on structure; he's generally lending to quality borrowers in strong locations, but he does a job in creating structures around his loans that are interesting to his borrowers while still protecting Terra and letting him get the pricing that he needs on his loans."
Karson gave the example of a recent deal he worked on with Cooperman in which Terra provided a preferred equity investment for a Seattle-based client.
"We had a client that owned two garden-style multifamily properties with existing long-term, senior financing on both," said Karson. "The owner was looking to generate some cash out of those properties, which was somewhat complicated because you couldn't refinance [without incurring] significant prepayment penalties to pay off the long-term debt."
The best option was to raise subordinate capital. "The added complication was that many senior loans don't allow the transfer of control of the assets [to a mezz lender]," Karson said, "so we needed to come up with a structure that was permitted by the senior lender and [which] would also work for the subordinate capital provider. Dan was able to figure out a structure that allowed him to make a $22 million preferred equity investment into these properties and stay in compliance with the senior loan, not trigger prepayment penalties, and figure out a competitive rate that the owner found interesting."
Recently, Terra also provided a $57 million bridge loan to CGI Merchant Group for the recapitalization of a mixed-use property in Miami which also included the conversion of a $16 million mezzanine loan into a first mortgage.
And with value-add and construction deals right in its wheelhouse, the firm doesn't shy away from what this reporter referred to as "hairier" deals. Cooperman prefers to call them "unique" or "complex".
"Our DNA is in mezz lending," Cooperman said. "So, our comfort providing last dollars in these situations is probably greater than some of the funds that were raised to focused on traditional first mortgage stuff."
"He's incredibly bright and very hard-working, but he has the ability to take a step back and understand the bigger picture of the transaction," Chris Buccini, co-president of The Buccini/Pollin Group, said of Cooperman. "Real estate is hard at the best of times, but he's the guy you want to do business with because he makes difficult transactions easier to work on."
Mark Fawer, a partner in the real estate practice group at Greenspoon Marder, describes Cooperman as "a consummate dealmaker" who is "very market-savvy and able to identify those areas in the marketplace where Terra can provide good, intelligent capital."
Having come from the brokerage side of the business, what was most important to Cooperman when he was helping set up a lending platform was ensuring surety of execution — another of Terra's top calling cards today.
"Dan and the entire team at Terra are good guys: solid, honorable and fair," said Ben Bernstein, a co-founder of Brooklyn-based RedSky Capital. (RedSky has closed a land loan in Miami with Terra and is currently working with them as a preferred equity investor on a construction project in New York, details of which Bernstein declined to divulge.)
"They're straight to the point. They told me what they could do and they did it," Bernstein said. "They don't talk a big game then not follow through. They're quiet and understated but they perform, which is rare in NYC real estate. They understand the real estate side, they're not just credit officers, and they're fast and quick and make thoughtful decisions. For me, that's paramount."
It's a sentiment echoed by Buccini: "Certainty of execution is key. Often, I'll go to Dan to give him first crack at a deal. I know he'll dive right in, and if he says they're going to do it, they're going to do it. Terra is a very non-bureaucratic organization and you get to the decision-makers very quickly."
As such, Cooperman spends a lot of time on the front-end of a deal before ever issuing a term sheet. "When I give a borrower or broker a term sheet, I can say, 'This has been blessed by credit; we've gone through it and we understand the issues. Unless something comes up in due diligence that was hidden, we're going to close this deal.' "
The firm was very active last year doing construction mezzanine loans, partnering with firms such as Pacific Western Bank and Bank OZK, but now it's busy taking those loans down alone.
As for lending preferences, "we as a firm have always been very bottom-up; we don't red-line markets or property types. We think that there are good opportunities in bad markets and in markets that are really beat down by the press, you can oftentimes find a good deal," he said.
Again, those diamonds in the rough have the tales to tell that Terra likes.
"Some lenders don't want to deal with stories," Cooperman said. "They just want to be able to go into their committee and say, 'This looks like just like the last six deals that we did.' And that's fine, I'm not talking bad about that business model, it's just not us. I think our DNA as owners and operators and developers ourselves in previous lives gives us the ability to think like a borrower and stand in their shoes."
Also, in the 200-plus deals Terra has done, it's never lost a single dollar.
"We've been doing this for 15 years and never had a loss in principal," Batkin said. "I don't want to say it's unique, but it's an unusually strong track record. We've focused on middle market and building diversified portfolios with virtually every property type in them, and we've been location-agnostic and deal-specific. Dan's strength in looking around the corner to see where the puck is going is an important part of why we've never lost any money."
"The key as a lender — and, I think, the reason why we've been so successful and have never had a loss — is that we're not having knee-jerk reactions [when a problem arises]," Cooperman said. "We sit back and we assess the situation. We make an informed decision, and it's based on a lot of experience."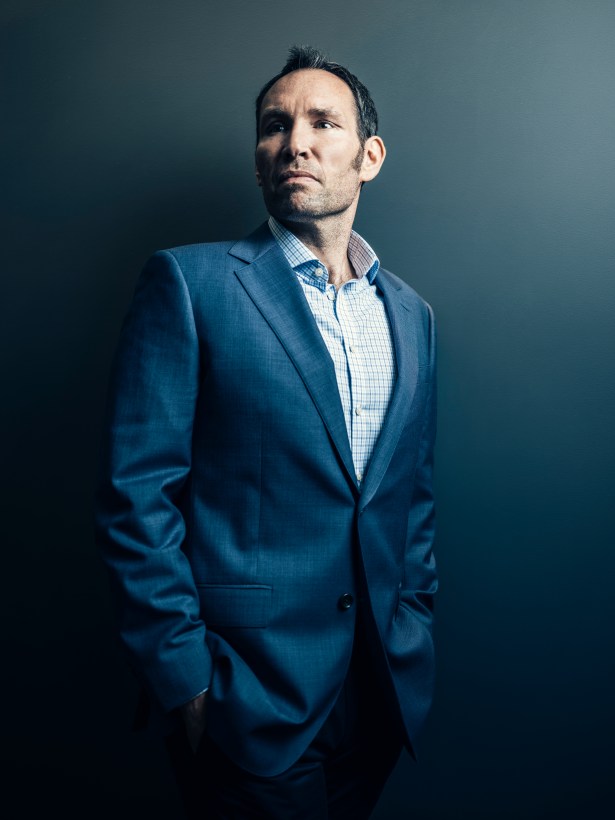 Ben Bernstein
,
Bruce Batkin
,
Chris Buccini
,
Cushman & Wakefield
,
Dan Cooperman
,
Dave Karson
,
Greenspoon Marder
,
Mark Fawer
,
RedSky Capital
,
Simon Milde
,
Terra Capital Partners
,
The Buccini/ Pollin Group