Panelists Mull a Midtown Meant for Millennials
---
---
Updating Midtown Manhattan's commercial stock is a project with generational scale. After all, the average building there is well more than half a century old.
But in chasing that project, Midtown developers—and tenants and their representatives—are taking generational inspiration, emphasizing improvements they're betting will help commercial tenants chase millennial workers. It's an urgent endeavor: As of last year, millennials for the first time comprise the biggest share of the U.S. workforce, according to Pew Research Center.
At Commercial Observer's Midtown Forum yesterday, in a conversation moderated by Zetlin & De Chiara partner Michael Zetlin, panelists who've put their money on the line in the neighborhood discussed how they're tackling the challenge of making some very young workers comfortable in some very old buildings.
"There's a war for talent. That has got to be at the forefront," said Tommy Craig, the top executive in the New York region for Hines, who is in his mid-60s. "Anyone my age understands that, for any work that I do, it's completely necessary for me to leverage off of a different generation that has got digital skills."
The burgeoning flow of new workers means a new set of expectations about how offices will be laid out—one that often goes against the grain of the walled-off, subdivided floor plates that Midtown office buildings were first set up to accommodate. Midtown denizens of yore may have lusted for the prestige of a corner office, but more recent arrivals yearn for a more collaborative vibe, according to Granit Gjonbalaj, the head of real estate for WeWork (WE).
"They want to feel fulfilled; they want to enjoy what they do," Gjonbalaj said of millennial workers. "They're OK sacrificing some of their comfort [by forsaking corner offices] and by being comfortable going into an open floor plan."
In many cases, rejiggering floor plans to fit fresher tastes can take significant reinvestment. But employees' preference for open workspaces and a vogue for exposed building infrastructure can also make for solid economics.
"What millennials want is often consistent with good business sense," Hines noted. "Most are willing to be in open space. That means you can move to a new building at a high rent, because you can get much higher density ratios."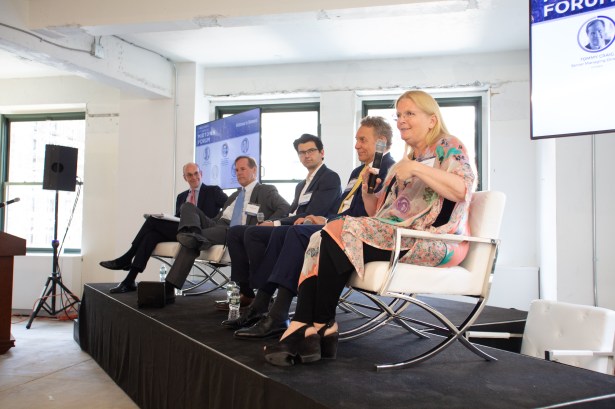 Stephen Meringoff, a managing partner at Himmel + Meringoff Properties, spoke with bemusement about how his firm has watched the portion of its portfolio made up of older Manhattan industrial buildings find a new cachet in a market obsessed with reclaiming loft-like space for office use.
"Midtown South didn't have a name when I started," Meringoff said, recalling that the area north of Madison Square Park was unlabeled on maps for taxi passengers a decade ago. "Today, Midtown South has become the darling. The desire for [open office space] by creative types has made it easy to lease our Midtown South space."
The phenomenon may have been, in Meringoff's words, "impossible to predict," but it's made some of the landlord's assets, like a once out-of-the-way office building on 10th Avenue and West 57th Street, unexpected winners.
Even so, the worth of an address in the Plaza District—generally defined as the area between 42nd and 59th Streets between Third and Seventh Avenues—hasn't entirely disappeared, thanks largely to the sheer convenience of commuting there, according to Darcy Stacom, the head of capital markets for New York City at CBRE (CBRE).
"We're seeing a lot of big financial institutions spend a lot of money [in Midtown], and a lot of law firms," Stacom said, a phenomenon she tied to the neighborhood's location. "When you're billing in 15-minute increments, you'd better be on time."
Darcy Stacom
,
Granit Gjonbalaj
,
Michael Zetlin
,
Midtown Forum
,
Pew Research Center
,
Stephen Meringoff
,
Tommy Craig
,
Zetlin & De Chiara
,
CBRE
,
Himmel + Meringoff Properties
,
Hines
,
WeWork