Presented By: SL Green Realty Corp.
Building a Sustainable City: SL Green Prioritizes an Environmentally Conscious Ethos
---
---
In a city with more than one million buildings, 450 million square feet of which are Manhattan commercial real estate alone, developers and owners have an outsized responsibility to help mitigate climate change and build a resilient New York.
As New York's largest commercial landlord, SL Green is leading by example, implementing a comprehensive corporate sustainability approach built upon decades of experience. Demonstrating its leadership in 2016, the firm partnered with the New York City Mayor's Office of Sustainability and pledged to help reduce citywide emissions 80 percent by 2050. Focused on an environmental, social and governance (ESG) framework, SL Green's award-winning sustainability initiatives minimize environmental impact, increase resiliency, engage with the local community and create long-term value across its industry-leading portfolio.
"Because of our extensive footprint throughout New York City, our implementation of cutting-edge technologies and our deep partnerships with tenants and policymakers, SL Green is uniquely positioned to lead the industry's efforts in reducing carbon emissions and to set the standard for best sustainable practices," said Edward V. Piccinich, chief operating officer at SL Green. "From construction and capital investments to corporate culture, our commitment to sustainability impacts decisions throughout New York."
The firm's sustainability program is built around six pillars that filter through the life cycle of every asset: reduction of energy consumption, procurement of energy from renewable resources, standardization of facility management, the pursuing of portfolio-wide green building designations, engagement with tenants on best practices, and analysis of science-based emissions targets.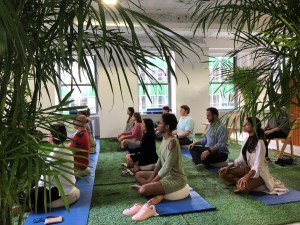 SL Green has been pursuing green building designations across its portfolio for the past ten years. In 2009, it was one of the first developers to adopt LEED certification for existing buildings. Today, it operates 15 million square feet of LEED-certified properties. SL Green's LEED properties reduced energy consumption by an average of 729,000 kWh/year. This is equivalent to 525 metric tons of CO2 avoided per building, or 115 cars being removed from the road.
"SL Green's commitment to LEED demonstrates truly tremendous leadership. Through their participation in LEED volume, SL Green serves a model for the international community. Buildings that achieve LEED certification are lowering carbon emissions, conserving resources and reducing operating costs while also prioritizing sustainable practices and creating a healthier environment. Because of innovative companies like SL Green who have taken a portfolio-wide approach to sustainability, we are increasing the number of green buildings and getting closer to our goal of a sustainable, healthy future for all," said Mahesh Ramanujam, president and CEO of the U.S. Green Building Council.
In recognition of its operational excellence, the U.S. Environmental Protection Agency (EPA) and the U.S. Department of Energy (DOE) awarded SL Green the prestigious 2019 ENERGY STAR Partner of the Year – Sustained Excellence award for the second consecutive year. The firm is also participating in the International WELL Building Institute's (IWBI) WELL Portfolio pilot program, where it intends to pre-certify 22 buildings accounting for 18 million square feet by the end of 2019.
In addition to modernizing its existing portfolio, SL Green is committed to ensuring all new development meets and exceeds the highest sustainability standards. With 3 million square feet of new sustainable development across One Vanderbilt and One Madison Avenue, SL Green is developing state-of-the-art, low-carbon buildings powered by clean energy. One Vanderbilt, the new skyline-defining tower slated to open in 2020, is on target to achieve the highest levels of LEED and WELL certification. The supertall features $17 million in sustainable design above-code requirements, and the building will achieve one of the lowest carbon footprints among buildings with similar density and scale in New York.
"By exceeding the city's environmental standards, SL Green is demonstrating that it's serious about elevating New York to an international pillar for sustainable development," said Carlo Scissura, president and CEO of the New York Building Congress. "Projects like One Vanderbilt prove that thoughtful construction methods can be a solution, and not a contributing factor to climate change."
SL Green is also utilizing innovative technology to connect 20 million square feet of office space to Integrated Energy Solutions' (iES) real-time energy management platform, which allows seamless communication between the grid, tenants and ConEd, helping engineers optimize energy use to improve tenant comfort, reduce operating expenses and lower energy consumption. To maximize building efficiency, SL Green has installed occupancy sensors throughout its portfolio, which provide foot traffic analytics that inform adjustments to HVAC systems based 
on demand.
Beyond physical infrastructure, SL Green demonstrates its commitment to corporate citizenship and social responsibility with a focus on its employees, tenants and community. One such initiative is Living Green, in partnership with Better Spaces, which offers tenants and employees an amenitized experience including wellness programs, educational speaking events, health-food pop-ups and fitness classes. At the community level, SL Green has hosted more than 150 events to encourage tenants and employees to volunteer throughout the city. Community engagement and philanthropy are foundational to SL Green's social mission, which has been recognized by the Mayor's Office of Service's Changemaker Award for two consecutive years.
SL Green continues to lead by example on sustainability, building and operating the greenest portfolio in the market. More than a typical developer, the firm is setting the standard for a responsible corporate culture that prioritizes sustainability and an environmentally conscious ethos among its employees and partners.
Carlo Scissura
,
ConEd
,
Edward V. Piccinich
,
ESG
,
HVAC
,
Integrated Energy Solutions
,
LEED
,
Mahesh Ramanujam
,
Manhattan
,
New York Building Congress
,
New York City's Mayor Office
,
Sponsored
,
sponsored-link
,
Sustainability and Green Development
,
U.S. Department of Energy
,
U.S. Environmental Protection Agency
,
U.S. Green Building Council