Presented By: The Moinian Group
The Moinian Group Branches Out: How Tech And Lending Augment Their Vast Portfolio
---
---
The Moinian Group, one of the largest privately-held real estate groups in the U.S., has recently taken their market expertise into other areas, branching out into lending and technology with two new arms of their company.
Currency M, led by Moinian Group's Mitchell Moinian, is The Moinian Group's venture investment arm, providing early-stage investment, support and resources to innovators seeking to redefine the built environment.
This new division of The Moinian Group operates on three pillars of business: providing direct access to capital without having to get mired in bureaucracy, offering strategic guidance on how to best position and grow their companies, and launching distribution for start-ups by helping them unlock the New York market, giving them direct access to senior leadership for potential partner and customer companies.
With investments in 11 companies to date and counting, 2017 saw the company invest in Ollie, a co-living company that provides furnished studios and shared hotel suites with hotel-like amenities, and Nestio, a multifamily marketing and leasing platform.
The company recently hosted New York's largest commercial real estate tech event, DisruptCRE, at Sky. The event hosted real estate's top tech innovators and entrepreneurs, who discussed topics including data collection and analysis, cybersecurity, smart building and unlocking value.
Technology-wise, The Moinian Group innovates in practice as well. It was the first real estate company to use Google Tour Creator's virtual reality platform to showcase their properties.
The Moinian Group also now runs Moinian Capital Partners, which provides flexible financing solutions for premier CRE projects throughout the U.S., and it has committed close to $1 billion into the CRE market. Its latest investment, in conjunction with ZOM Living, is in Luma at Miami Worldcenter, a 43-story luxury apartment tower in the heart of Downtown Miami.
Founded in 1982 by CEO Joe Moinian, The Moinian Group is one of the largest privately-held real estate groups in the U.S., with a portfolio of over 20 million square feet across major cities including New York, Miami, Dallas and Los Angeles. Moinian funds, develops and owns properties in every major asset category, including office, hotel, retail and residential.
The Moinian Group is also a true family business. Joe Moinian has been assisted in the company's rise by his son Mitchell, who runs Currency M, and by his daughter Max, a recent MIT graduate with a master's in city planning and who plays a key role in aspects related to design and development.
The Moinian Group's latest project is 3 Hudson Boulevard in The Hudson Yards District. Developed in conjunction with Boston Properties, 3 Hudson Boulevard will be a 2-million-square-foot, mixed-use standalone tower that will provide 1.8 million square feet of Class A office space and open floor plates with sweeping, 360-degree open air views. Due for completion in 2021, the building's foundation is already in place.
Architecturally distinct, with clean massing and textured facades, 3 Hudson Boulevard fronts both the subway entrance to the 7 train—making it the most easily access skyscraper in the Hudson Yards neighborhood—and the new, four-acre green space Hudson Park. The building also has street frontage on three sides: 11th Avenue, 34th Street and Hudson Boulevard.
Moinian's growth has been based on bold but reasoned investments. In 1982, Moinian's first purchase was 450-460 Park Avenue South. But, seeking to make a substantial impact off the bat, Joe Moinian acquired a nine-building portfolio in the Flatiron District soon after. Subsequent years saw the acquisition of the King Edward Hotel in Midtown, 60 and 72 Madison Avenue and 1775 Broadway, now known as 3 Columbus Circle.
"We are always enthusiastic about New York," said Joe Moinian. "The demand to work, play, live and learn here has only increased over time. The amount of new development taking place in the city makes things exciting."
In March, The Moinian Group added to this excitement with the completion of a $595 million refinancing of the company's 3 Columbus Circle, the former Newsweek Building and home of The Moinian Group's headquarters, which gave Moinian full control of the iconic Class A office property.
Another of Moinian's projects is Sky, the country's largest single-tower residential development. Designed by Rockwell Group, Sky is a 71-story tower of luxury rentals with 1,175 units and 70,000 square feet of amenities, including over 15,000 square feet of fitness space operated by Life Time Fitness. Nearby, Moinian also owns Oskar, a 13-story, CetraRuddy-designed luxury rental with 164 apartments that leased up in under a year.
Between 3 Hudson Boulevard, Sky, Oskar, Atelier and 220 11th Avenue, The Moinian Group owns over 4 million square feet of luxury property along 11th Avenue in the Hudson Yards district, a stretch the company refers to as The Moinian Mile.
The Moinian Group also has a significant presence in midtown and downtown Manhattan. In the former, Moinian's 535-545 Fifth Avenue occupies a full block along Fifth, with tenants including the NBA Store. Downtown, the company secured $131.5 million in financing for 2 Washington Street, a partial reconversion that will be transitioned to 345 luxury rentals with 10 floors of amenities including a rooftop pool. This property joins the adjacent Ocean at One West Street, 90 Washington Street, The Renaissance at 100 John Street and the upcoming 7 Platt Street in Moinian's downtown Manhattan luxury residential portfolio.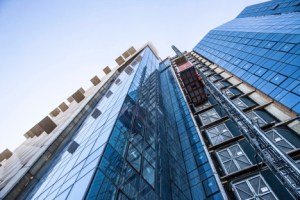 The company is branching into Brooklyn as well with 123 Linden Blvd. Offering 467 luxury rental residences and over 50,000 square feet of amenity space (including a 22nd floor pool) spread across four floors, the property is scheduled to launch this summer.
"One hundred twenty-three Linden is the culmination of a successful synergy between us, Bushburg Properties and Hill West Architects," Joe Moinian said. "It was important for us to partner with a seasoned Brooklyn developer on this project, as it was our first venture into the Brooklyn market. Bushburg Properties' knowledge of the market, paired with our extensive track record has created a powerful synergy that is sure to break records. Everyone has continually delivered for what will become Brooklyn's greatest development."
In addition to their properties in New York, the company has added the Renaissance Tower in Dallas, International Jewelry Center in Los Angeles' Downtown and several upcoming projects in Miami.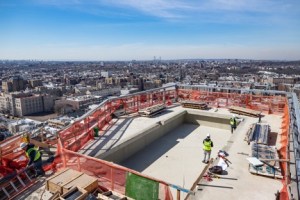 "We have spent our entire history investing, developing and leasing a wide range of properties in the country's most competitive markets," Moinian said. "We have always taken the long view, holding properties until market conditions are right and then building to the highest levels of excellence and elegance. We strive to be ahead of the curve."
But while The Moinian Group prides itself on its nationwide reach and its success in areas outside traditional real estate sectors, New York real estate will always be its pride, joy and central focus.
"New York is like the best fashion," said Moinian. "It never goes out of style."
123 Linden Boulevard
,
1775 broadway
,
3 Columbus Circle
,
3 Hudson Boulevard
,
450-460 Park Avenue South
,
535-545 Fifth Avenue
,
60 and 72 Madison Avenue
,
7 Platt Street
,
90 Washington Street
,
Boston Properties
,
Bushburg Properties
,
CetraRuddy
,
Currency M
,
Dallas
,
Downtown
,
Flatiron District
,
Google Tour
,
Hill West Architects
,
Hudson Park
,
International Jewelry Center
,
Joe Moinian
,
King Edward Hotel
,
leasing
,
lending
,
Life Time Fitness
,
Los Angeles
,
Luma
,
Luma at Miami Worldcenter
,
Miami
,
Midtown
,
Mitchell Moinian
,
Moinian Capital Partners
,
Multifamily
,
Nestio
,
New York
,
Newsweek Building
,
Ocean at One West Street
,
Ollie
,
Oskar
,
real estate
,
Rockwell Group
,
Sky
,
Sponsored
,
sponsored-link
,
The Moinian Group
,
The Moinian Mile
,
The Renaissance at 100 John Street
,
Zom Living